(click on photos to enlarge image)
HESTER BATEMAN REAPPRAISED
Because the output of the Bateman workshop was prolific and of fairly good quality its proprietor, Hester Bateman, has gained the reputation of being one of England's most famous female silversmiths. I believe however that this reputation is undeserved since there is no evidence either that she was a silversmith or that any of the plate that bears her mark was actually made by her. If accolades are in order they should go to her son Peter for it would seem that it was on his shoulders that the output of her workshop and its quality fell.

Hester Neden Married John Bateman, who as a chain maker, in 1732 and they had five children. Their son, Peter, who was born in 1740, was apprenticed to his brother-in-law Richard Clarke to learn the craft of the goldsmith in 1755. Clarke had learned his craft from Benjamin Pyne, recognised as a large worker who produced good quality plate, and it can therefore be deduced that Peter Bateman, who was made free in 1761, had learned the skills of a large worker.

John Bateman died in 1760 leaving his entire estate to his wife Hester but as there is no evidence that he was a freeman of the Goldsmiths' Company or that he had ever registered a mark at the Hall (see ENDNOTE) Hester must have been unable to exercise a widow's right to freedom by courtesy. She was however given the right to register a mark at Goldsmiths' Hall which she did in 1761, the year in which her son Peter became qualified to practice as a silversmith. It seems that, although Hester relied on Peter to produce the plate that came out of her workshop, she registered her mark in her own name and employed her son in the capacity of journeyman. Under these circumstances it is strange that she registered this first mark as a small worker. Peter's younger brother, Jonathan, who had also been apprenticed to Richard Clarke, joined him in their mother's workshop in 1769 and he too must have been employed as a journeyman.


Hester never took her sons into partnership and continued to mark the plate produced in her workshop as if it were hers until she retired, at the age of 82, in 1790. For this reason it was she who was recorded in the Parliamentary report of 1773 and, since her workshop was producing plate other than small work, she was recorded as 'goldsmith' although she was later registered as 'Spoon maker'. It was only after their mother's retirement that Peter and Jonathan took over the workshop in their own right and they registered a joint mark at Goldsmiths' Hall in 1790 (Grimwade 2142).

Unfortunately Jonathan died in 1791, three years before his mother and only months after the partnership was formed, so the partnership was short lived. However Jonathan's wife Ann needed support so Peter took her into partnership on his brother's death and in 1791 entered a joint mark with her at Goldsmiths' Hall (Grimwade 2140).
Peter died in 1825 by which time Ann's son William was in partnership with him and thus became responsible for the output of the workshop but, as can be seen, although Peter never entered a mark in his own name he had been the prime mover in producing Bateman plate since the death of his father.

NB: Heal records Jonathan Bateman on his own as 'goldsmith' in 1784 but as there is no record of a mark in his sole name and as the address given by Heal is that of his mother's workshop it seems that Heal's entry is misleading and that, although free as a goldsmith, he, like his brother, was only employed as a journeyman at this date.

ENDNOTE
Almost certainly the reason for John Bateman's failure to seek recognition by the Goldsmiths' Company was because chains were exempt from marking.



Hester Bateman hallmark, first entered 1761



Peter Bateman & Jonathan Bateman hallmark, first entered 1790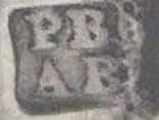 Peter Bateman & Ann Bateman hallmark, first entered 1791


Peter Bateman, Ann & William Bateman hallmark, first entered 1800


Peter Bateman & William Bateman (I) hallmark, first entered 1805


William Bateman (I) hallmark, first entered 1815


William Bateman (II) hallmark, first entered 1827


William Bateman (II) & Daniel Ball hallmark, first entered 1839

---
David McKinley
- 2018 -

David McKinley devotes much of his time to researching the history of silversmithing in England with particular reference to hallmarking at the London office. He writes for both The Silver Spoon Club of Great Britain and The Silver Society.

David McKinley is the author of the book THE FIRST HUGUENOT SILVERSMITHS OF LONDON
Information about the content of this book and the discounted price applied to members of ASCAS is available in September 2011 Newsletter