by Martine D'Haeseleer
(click on photos to enlarge images)
PHILIPPE WOLFERS' JAPONISM IN BELGIUM
Do women art lovers and silver experts have another approach to History of Art?

When looking at an object I first open myself to my inner voice of intuition and only later I start to make analogies, rational research and all the study work.

When Don (Don Soeffing) phoned me:

'Martine, I did find a small set, the form looks like cloth tied by a rope. It looks like something designed by Gorham or Tiffany but wears the German marks with that special Triangle of Wolfers, the Brussels Silversmith.'

'Thrilled', I told him. 'All right just send it to me and I'll find out about it'

When seeing this set, I knew immediately that it was really special, like the 'missing link' of the human chain. ! ! ! ! ! ! !

Quite enthusiastic with my findings, I decided to share the story of the Wolfers set with you.4>



The tiny mocha or tea set consists of three pieces and a tray.
In our vocabulary this type of set is called 'egoiste', because it was meant for the use of one person only.
Three tiny pieces are shaped as purses or pouches made of silver cloth tied with a rope of silver threads.
The silver sheets thus formed show the folds created by the squeezing of the rope.




three pieces mocha or tea set and a tray



The spout of the mocha or teapot cracks out through the cloth of the body, showing the cuts in the cloth, which gives a very special effect.
The result is quite unexpected and is proof of Wolfers' extraordinary creativity, sense of originality and humour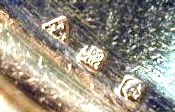 hallmarks
800
MILL

Germany hallmark
(since 1888)

Wolfers Frères:
workshop hallmark

Belgium: 800/1000 standard
(1868-1942)
My personal intuition made me ascribe this design to Philippe Wolfers for different reasons.
Ph. Wolfers came from a dynasty of Belgian silversmiths and jewelers of German and Dutch origins.
Ph. Wolfers took lectures in drawing and sculpture at the Academie Royale des Beaux Arts in Brussels, where he also formed lifelong friendship with other artists, many of which would become colleagues in later artistic ventures.
He entered his father's workshop at the age of 17 and trained as apprentice there.



The form and ornamentation of this set is totally set apart from Philippe Wolfers' known creations of the 'Japonistic' period (Japanese style).
No similar object is illustrated in the different exhibitions' catalogues or studies made about Wolfers.
We know that Philippe Wolfers became familiar with Japanese art through the opening of 'La Maison Japonaise' in Brussels (1866) and the Vienna world exhibition in 1873 as well as the International Exhibition in Paris in 1889.
At the beginning Wolfers' designs showed very superficial Japanese influence achieved mainly by the adding of typical decoration such as bamboos, fans and flowers - in my opinion these works could be rather attributed to the Aesthetic style.

Bamboo style decoration
(photo courtesy Museum of Design - Gent)
The Japanese style became more pronounced when Wolfers started to give priority to curve and sweeping lines.
By the end of 1880 the Japanese style was fully developed, since 1878 Tiffany in New York and Philippe Wolfers in Brussels created forms totally inspired by nature with asymmetrical floral or vegetal ornamentation.
Tea and coffeepots did lose their classical forms and just blossomed in untraditional vegetal forms.



From time on we can date numerous drawings of orchids, iris, fuchsias, freesias and cyclamens and many other flowers and plants which P. Wolfers incorporated in his designs of silverware and jewellery.
In 1894, at the time of the Universal Exhibition in Antwerp, Ph. Wolfers introduced his delicate and original new designs.
In 1897 Ph. Wolfers participated in the Universal Exhibition in Brussels, the work shown are proof of Wolfers superior talent as sculptor, ivory engraver and master chaser.
His inspiration being constantly renewed by practical experience, P. Wolfers creates true works of art.
This new and uncommon interpretation of the form caused quite a stir after Wolfers' participation in the Exhibition of 1897 in Brussels.




Philippe Wolfers artifact with vegetal ornamentation
Vivid discussions and many illustrations of Wolfers' work are found in the Revue des Arts Decoratifs and in the Revue L'Art Ancien et Moderne.
More involved studies show that Belgium was one of the birthplaces of the sources of Art Nouveau.
At the time of those two Universal Exhibitions (1894 and 1897) the personal creations of Ph. Wolfers merged with the achievements of the Wolfers House of which he assumed exclusive artistic direction.
His aim was to free himself from the commercial aspect of silversmithing.
He created his own workshop employing highly skilled silversmiths, engravers, sculptors, enamellists, ivory carvers and lapidaries. In this selected environment he then created and had executed his line of 'Pièces Uniques' (unique pieces), which he signed with his own monogram – PW.
The quite unexpected design imitating 'cloth tied by a rope' of the set at hand lets us draw design parallels between Philippe Wolfers and American production such as works by Tiffany, Gorham or Whiting, in a more 'trompe l'oeil' style, - see also the coffeepot made by Whiting Mfg. Co., New York, ca 1883 - Dallas Museum of Art. - Book ref : 'Silver in America', page 169.)
More about 'The Wolfers'
Wolfers became one of the most famous Belgian and Brussels silversmith companies of the 19th century, its reputation comparable to those of Emile Puiforcat, Odiot or Aucoc in Paris, Garrard in London, Tiffany or Gorham in America.
In the first half of the 19th century, three young German silversmith brothers, Edouard, Guillaume and Louis Wolfers established two workshops in Brussels.
In 1852, Louis Wolfers (1820-1892) registered his makers' mark, consisting of a letter W above a boar's head.
After their apprenticeships, his three sons, Philippe, Max and Robert, were sent to prospect for business in France, Germany, the Netherlands and Austria.
As a result, the Wolfers firm associated with Bonnebacker of Amsterdam, P. Krischer in Düsseldorf, Goldschmidt in Köln, and Friedlander in Berlin. This explains why some German assay and retailer's marks are punched with Wolfers silversmith marks.
At the end of the 19th century 'Wolfers Frères' silver was mostly heavy, cast or hammered; the decoration chased and engraved.
Wolfers' workshops employed high skilled workers, there was no room for low quality stamped production.
At the beginning of the influence of the Japanese style, Philippe was the artistic director and designer for the family Wolfers workshop called 'Wolfers Frères'.
He played a very important role in the development of the Art Nouveau in Belgium.
Their workshop's mark was that special 'triangle with three stars' in fact:
three pentacles (5-point stars contained in a triangle), which is a rare example of a personal mark using Masonic symbols.
And this is the mark we find on the tiny tea or mocha set.

Research work:
Unfortunately there is not much research work about Wolfers Frères designs. The archives and lots of drawings were scattered when the 'House' Wolfers Frères closed the doors of the workshop in 1975.
I searched in exhibition catalogues and did not find any information about the origin of this very peculiar design.
Help Wanted! :
I really wonder how this object came to the US?
So if you do have any information about this design or object, please don't hesitate to contact me at: info@silverbel.com
A selection of Bibliography

The Studio - Londres - 1898 - 1899 - 1900 – 1902
The Magazine of Art - Londres: 1899-1901
The Artist - Londres: 1900-1901-1902
The Craftsman Syracuse - New-York: 1904
Sources of Art Nouveau. S.T. Madsen - Philippe Wolfers - New-York 1955
'Modern Silver 1880-1940' Mrs Krekel Aalberse-Amsterdam 1989
'Silver of a New Era' Museum Boymans – Van Beuningen, Rotterdam and Museum Voor Sierkunst, Gent 1992


Martine D'Haeseleer
www.silverbel.com
This article was published in 'The Journal of the Silver Society of Canada' 2003,vol.6 N°1 and edited in English with the kind help of Dorothea Burstyn (Silver Society of Canada) and Janet & Ricardo Zapata (New York Silver Society)