(click on photos to enlarge image)
ANTIQUE SILVER TOYS MINIATURE



Silver toys have been made in many countries in the world but nowhere as high a production figure as those made in Holland and Great Britain. The demand for silver toys started in the late 17th century and continued through to the end of the 19th century when for economic reasons and change of fashion the demand for silver toys diminished. However, miniature dolls house toys continued to be made in pewter, wood and brass and today they are still being produced in Holland.

The fashion of dolls house was at the origin of this surge of demand. It came from Germany at the end of the 17th century, though models of it had been made for many years before this. In Holland, it became fashionable amongst wealthy young ladies to furnish dolls houses with tiny silver toys which were exact copies of furniture and fittings used in their own homes. The dolls house was used to show to the girls how the interior of the house should be laid out, so that the young lady had the right education when she had their own home to manage. The novelty caught on, and wealthy merchants and bankers wives took it on board and decided their dolls houses would be equipped with every finest silver toy object of furniture and accessories one would expect to find in an 18th century luxurious mansion of Holland or London.

There was great rivalry amongst the ladies to ensure that their dolls house was equipped with the latest fashion furniture and miniature silversmiths were constantly required to provide new models in household furniture to exhibit to family and friends. These silver toys were not meant to be played with by children, especially as many of them were so small they could easily be swallowed by a baby. Silver toys specially made to be played by children were much larger, about a third the size of a proper object, and are very rare today as most of them, damaged by use, have been melted down centuries ago.

Silver toys items are very scarce and highly collectable today and a tiny pot half inch high made in the 18th century by a well known silversmith can fetch thousands of pounds. The examples shown below are of recent production and every item costs less than £100.


In Amsterdam, whole families were involved in creating these tiny articles of silver because the demand was so great. Some of the well known silversmiths dedicated to making toys in the 18th century were:
Arnold van Geffen and family1764
Peter van Somervile and family 1710
William van Strant and family 1715
Today, most of the items made by these silversmiths would be in four figures to buy at auctions, plus commission, plus vat.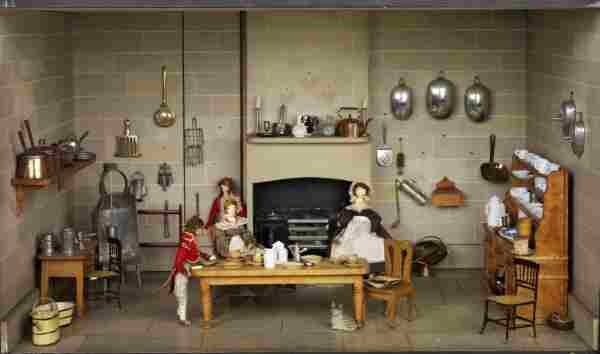 A picture of the interior of a Georgian kitchen fitted out with silver toy utensils
Courtesy of Victoria and Albert Museum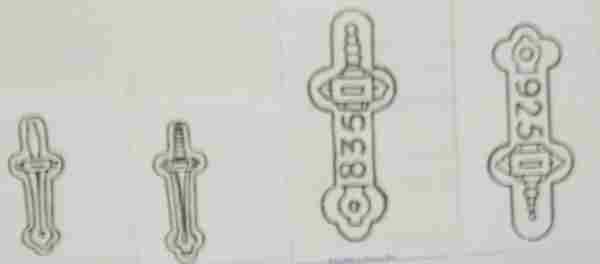 It is the design of the swords starting with the smallest on the left which denotes its period of manufacture


The Dutch Government introduced a hallmarking system based on an alphabetical letter denoting the year of manufacture of the silver item. This started in 1815 and the letter was set within a circle after 1835. This was similar to the British date letter system.

The interest in making tiny copies or miniatures of items in everyday use dates back hundreds of years. Man seems to have always had a yearning to miniaturise objects. The craftsmen always liked to model items which were made in their respective trades. Glass blowers would make tiny glasses, exact replicas of the originals. Cabinet makers would make tiny dolls house furniture of a standard equal to, if not better, than full size original. The making of tiny objects was indeed a craft of love. It was, and still is, a fairy tale world. It is the world that was laid out in Gulliver's travels, revealing minuscule objects which are exact copies of the real thing.

It matters not what type of materials were used in the construction of the tiny replicas. European adults have taken, since at least the 17th century, an interest in tiny toy objects they could display in dolls or baby houses. Although originally intended for children to use, the tiny toy replicas fascinated the adults even more. So much so, that the child was allowed to see the interior of the dolls house, only under parental supervision, and with strict instructions they could look, but mustn't touch.

This obsession of miniaturising everyday items has not diminished over the years and even today there is a growing demanding market seeking even tinier and more accurate dolls house toys in silver.

From the history of toy miniatures it can be seen that Holland, America, Great Britain, France and Germany have shown a definite interest in tiny toys. However there are other countries that have entered the silver toys market. China and Russia have produced small silver toys but not in any profusion like the Dutch. We in England use the term 'silver toys' which suffice in naming the item, but the word miniature needs to be included when meaning items so small they will not look out of place in a dolls house. The Dutch word for silver toys is zilverspeelgoed.

It was Holland who seemed to specialise in silver toys to be kept in display cabinets. Today, it is still possible to build up a wide collection of these amusing collectables. The English silversmiths usually concentrated on dining tableware plates, dishes, cutlery, coffee pots and candlesticks. The Dutch kept on producing silver toys they could sell in their country and export. One of the main toys they sold was groups of people (men, women and children) engaged in everyday activities.
Small character displays continue to be produced today, often employing ancient moulds used by their forefathers. In the majority of cases the figures are mounted on silver bases on which are stamped the Dutch hallmarks and maker's initials. Silver toys are still made today in Schoonhoven, Holland.

The best known craftsmen in the UK established in the late 17th to mid 18th century were George Mountjoy, and later, David Clayton. They both made superb silver toys, the majority being household and dining accessories; a great many of which can be found at the Victoria and Albert museum.

In many ways they were superior to their Dutch rivals. In the early 18th century there were more than 40 resident silversmiths working in Amsterdam on producing silver toys, many specialised in this art.

Very few books have been written on the subject of silver toys, and it is 30 years since Victor Houart wrote his magnificent book called Miniature Silver Toys which has been translated from the French by David Smith. He states himself that a great deal of research is still needed on the silversmiths of those days and the making of silver toys in England; a subject of which little is known.

These tiny chalices were called Snake cups in Holland. This one is a 19th century copy and is clearly stamped with a small sword, over which a key has been pressed to denote articles for export 1852-1953.

It is a fascinating hobby collecting tiny silver toys and miniatures. It is apparent from the volume of sales on eBay that most of the items on sale are now slowly increasing in price. The practice of collecting these comparatively cheap silver toys is a good hobby and investment. Americans are selling many toys but the European buyer has to pay high postage and possibly import tax.

There were thousands of these tiny silver toys made, and many of them especially the toys from the 18th century are in museums around the world, or in wealthy people's collections. It is easy today to start a collection, the prices, though they are rising, are still affordable, and antique shops and fairs do sell them. Although the toys may have been manufactured in the 19th century they are increasing in value and will become scarce.
They also made many kinds of wild animals and birds. In fact there was nothing these silversmiths seemed to have overlooked. It is a delight to see how their imagination has expanded into making sets of coach and horses with and without passengers. They made sleighs, pulled by horses, and oxen. The sleighs are often filled with tiny models of passengers and driver, and, although the figures are no more than half an inch high, they are dressed in fashionable clothes of the period and are not only sat in their transport but carry umbrellas, swords and walking sticks.

For many years there was very little interest in these tiny silver toys, some with centuries of history behind them. Even today it is near impossible to find information about the famous silversmiths of the 18th and 19th century. Although there are copies and forgeries appearing, many pieces bear town and maker's mark.

This is a book the author has written on the subject of silver toys and miniatures.