(click on photos to enlarge image)
A LOVING CUP OVERFLOWING WITH INTRIGUE

This loving cup holds an interesting provenance yet, at first glance, there is nothing particularly different or fancy about its appearance.

Loving cups have a varied history dating back centuries. They were oftentimes given as christening presents in the 18th and 19th century and this loving cup has that exact history.

Made near Birmingham by the manufacturing business of Matthew Boulton and John Fothergill, the cup bears the hallmarks of the first year of the Birmingham Assay Office - 1773. Boulton (1728-1809) was a key figure in the lobbying of Parliament to open an assay office in Birmingham.

Birmingham is a city located in the Midlands of England and is a highly industrialised area, being noted for manufacturing from 1730 to the present day. In 18th century, Birmingham had a reputation for silversmiths, commonly called "Toy Makers" , who made everyday items such as buckles, snuff boxes, caddy spoons and trinkets. Matthew Boulton's father was one such toy maker. In 1749, at the age of 21, Matthew entered into partnership with his father. By the mid-1750s he was effectively running the business. His father retired in 1757 and Matthew took full control of the toymaking business. He inherited wealth not only from the estate of his father, who died in 1759, but also from the vast estate of his first wife who died a year later in 1760.

By this time manufacturing there had increased rapidly with the rise of industrialisation. With accumulated capital and industrial enterprise the innovative Boulton established a large factory near Birmingham, known as the Soho Factory, which was completed in 1762. It was said to be the largest factory in the world at that time.


Matthew Boulton was an innovator in manufacturing as he improved workers' output by making several significant changes: good light was provided for work areas; work stations were well ventilated; and separate departments were established on the factory floor, resulting in specialisation and speeding up of production (close proximity of each department); and labour-saving devices, such as steam engines, were employed. He introduced a social insurance policy allowing workers compensation in the event of injury or sickness.

Boulton was a co-founder of the famous Lunar Society and moved in such circles of intelligentsia and influence as included fellow Lunar Society members Erasmus Darwin, James Watt and Josiah Wedgwood.

Prior to 1773 the closest assay office to Birmingham available for the mandatory assaying of precious metal items was located in Chester, approximately 76 miles (122 km) away. It was expensive of both time and money to have precious metal goods move between Birmingham and Chester for assaying before being available for marketing in Birmingham. Loss and damage on the journeys also posed risks. Both the Sheffield and London Assay Offices were even further afield.

In the words of Sir Charles Jackson, in his mighty reference tome, Jackson's Silver & Gold Marks of England, Scotland & Ireland:

The Birmingham silversmiths were anxious that their trade would never truly prosper without an assay office of their own. Petitions were presented to Parliament on the 1st of February 1773 by manufacturers of plate in Sheffield, and on the following day by others of Birmingham, praying for the establishment of assay offices in their respective towns. The petition for Birmingham was prepared by Matthew Boulton. Their lobbying was successful and resulted in an Act (13 Geo.lll. c.52) being passed, whereby new assay offices were established in Birmingham and Sheffield.

The establishment of the assay office at Birmingham in the year 1773 was due mainly to the exertion of one man - perhaps the greatest Birmingham man ever - Matthew Boulton, who, whether as an inventor, designer, or manufacturer of great and small things, useful and ornamental, left his mark, and an estimable one, on everything he touched.

The town mark for Sheffield was a crown and for Birmingham, an anchor. The Birmingham Assay Office opened on 31 August 1773. Boulton was its first customer.

Matthew Boulton and John Fothergill were in a 20-year partnership from 1762 until Fothergill's death in 1782.

Their silverware assayed in Chester prior to the opening of the Birmingham Assay Office bore their makers' mark "B&F" in a rectangular cartouche.



Whereas their makers' marks registered at the Birmingham Assay Office
- and used on this loving cup - are 'MB' and 'IF' in two separate rectangular cartouches.

The marks have suffered from being zealously polished over their 240+ years

The Birmingham Assay office year mark for 1773 is 'A', the town mark is an anchor


Ownership of this loving cup can be reliably traced back to 1802 when it was given as a christening present to William Bourne lll of Derbyshire, UK. His grandfather, William Bourne l (1747-1823), who married Edith Dawes in 1770, was the founder in 1809 of Denby Pottery, at Denby, Derbyshire, UK.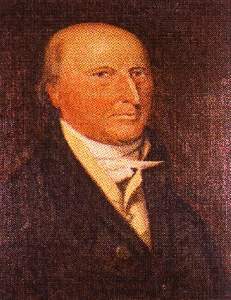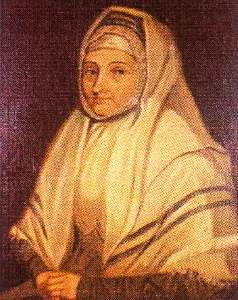 William Bourne l and Edith Bourne (nee Dawes)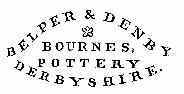 Reproduction of early pottery marks impressed on the base of the wares (used 1809-1830s)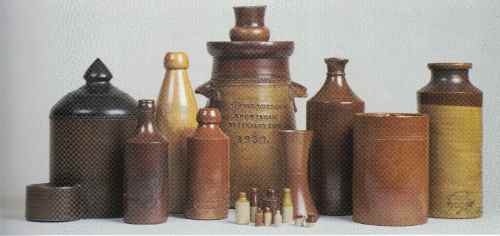 Butter churn dated 1835 with a selection of 19th century and early 20th century Denby pottery


As William Bourne l also had a Pottery at nearby Belper, he gave the onerous task of running the Denby business to his youngest son, Joseph. It became an enterprising expansive pottery business that continues to this day. Joseph had three older siblings who survived to become potters, including William Bourne ll (1773-1819), the first-born son of the family.

William Bourne ll fathered William Bourne lll (1802-1869) who received this loving cup on the occasion of his christening.

The initials 'WB' are engraved on one of the handles.


In 1829, William lll married Elizabeth Ann Harvey of Milford, Derbyshire.

William and Elizabeth moved from Derbyshire to live in London where William managed the sales and export business of Denby Pottery. There were no children from this marriage.

Two years after the death of William lll in 1869, a babe was born into the extended Harvey family at Derby - a grandniece for Elizabeth, a daughter of her nephew William Harvey and his wife Elizabeth (nee Tomlinson). The babe was christened Edith Bourne Harvey. The Bourne and Harvey families shared close friendships over a number of generations and there were three marriages between Bourne men and Harvey women.

As a christening gift, Great-aunt Elizabeth gave Baby Edith her late husband's christening loving cup.


Edith set sail for Australia in 1897 and safely packed her christening present in her luggage. She married in 1904 and brought up her family in southern New South Wales.

This loving cup has been passed down through the women in the Harvey family in Australia and is now in my possession, being a granddaughter of Edith. It is of enormous sentimental value and I believe it is of some significance because of the importance of its makers, Boulton and Fothergill, the date of manufacture and the assaying of it in Birmingham Assay Office's first year of operation.

Family legend has it that this loving cup was possibly originally a christening gift in 1773 to William Bourne ll, who was born in that year. The year 1773 coincides with the year of the cup's manufacture and the engraved initials are WB. Might it have been from his father, William I, the founder of Denby Pottery?

Perhaps this is romancing the story, yet it is a tantalizing - and not unfeasible - thought.

The loving cup was made three short years after Captain James Cook had 'discovered' the east coast of the continent now known as Australia and 15 years before the English set up a colony there. The Bournes and the Harveys of that era could not have entertained the thought that one day this simple, elegant christening gift would find its home in such a far-off land.


REFERENCES

Christine Erratt, The Harveys of Milford

Irene and Gordon Hopwood, Denby Pottery 1809 - 1997 Dynasties and Designers, ISBN 0903685523

Ian Pickford (Editor), Jackson's SILVER & GOLD MARKS of England, Scotland & Ireland, ISBN 0907462634

Various website including:

www.silverscollection.it

www.armourershall.co.uk/loving-cup

https://theassayoffice.co.uk

spartacus-educational.com/SCboulton.htm

www.jquarter.org.uk

www.libraryofbirmingham.com

www.npg.org.uk




---
Christine Erratt
- 2017 -