YOUR GUIDE TO AUGUST NEWSLETTER: articles
new members
members' window
mail to ASCAS
replies to questions
a page per month
a silversmith per month
a word per month
a book on my shelf
a crest per month
contributors to this Newsletter
search engine
disclaimer and privacy policy
---
A new article for ASCAS website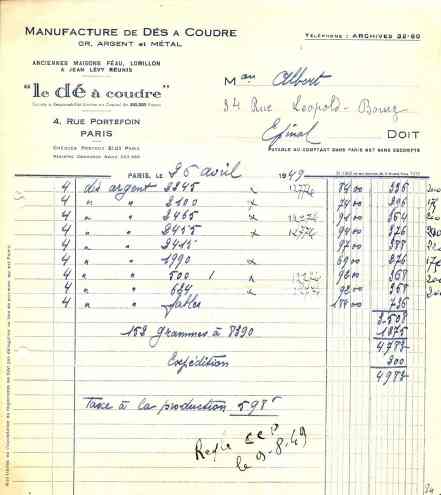 Magdalena and William Isbister present:

Late Nineteenth and Early Twentieth Century French Silver Thimble Masters' Mark



My wife has been interested in thimbles since the early 1970s and I became interested as a result of buying thimbles for the collection during my many trips overseas to medical meetings and conferences. It became mandatory for me to learn something about the items that I was searching for and over the years, I became interested and a collector too! During the time of our collecting, we have managed to amass a modest number of French thimbles and we have spent many hours studying their markings and trying to identify their makers. The assay marks for French silver are well documented and will not be discussed further in this paper....
click here

---
New members
Welcome to new ASCAS members:
MÚlanie Lecorneur - France
Katherine Williams - USA

---
Mail to ASCAS: e-mail
silverassociation@yahoo.it
Melanie Carne writes:
... I recently purchased a lot of what I thought was old silver plate. I came across a piece that is rather unusual and has hallmarks similar to those in some of your articles. I am a layperson and I'm definitely no expert. I need someone to help me accurately identify this piece. Any assistance from you would be highly appreciated thank you.
Sincerely,
Melanie Carne
Looks as pseudo hallmarks used by George Roth, see my website at http://www.silvercollection.it/germansilverhallmarks4.html
In this case could be 800/1000 silver
Giorgio Busetto
---
---
---
"A PAGE per MONTH"
In this column we presents a page obtained from makers' brochures, books, auction catalogs, advertising or whatever other printed paper, related to silver, that may be of interest for ASCAS members.
The images will be published at a "low resolution" level and for private and personal use only.
This column is published under the kind permission of Giorgio Busetto's website

This month ASCAS presents a leaflet announcing the issue of the commemorative hallmark celebrating the Diamond Jubilee of Queen Elizabeth II

DIAMOND JUBILEE HALLMARK
1952-2012

The Diamond Jubilee was the fourth commemorative hallmark celebrating the Reign of Queen Elizabeth II. It followed the Coronation mark (1952), the Silver Jubilee mark (1977) and the Golden Jubilee mark (2002).
---
"A WORD per MONTH"
In this column we present an abstract from a page of the "What is? Silver Dictionary"


courtesy of





THE GOLDSMITHS' HALL

THE BIRTHPLACE OF THE WORD "HALLMARK"

The Goldsmiths' Company is one of the twelve Great Livery Companies of the City of London.

The origin of the Company dates to the 12th century when acted as a guild for goldsmiths trade, silversmiths and jewellers.

The general members of the Company are called Freemen. Becoming a member of the Company is achieved by Service (serving and completing apprenticeship), by Redemption (nominated and seconded by members and paying an entrance fee) or by Patrimony (having a parent with the status of Freeman at the time of applicant's birth).

Above the Freemen is the Livery, which is composed of Liverymen elected from the Freemen of the Company.....

MORE...
---
"A SILVERSMITH per MONTH"
TESSIERS LTD

The firm claims to have been established in 1812, possibly by the descendants of Etienne de Tessier, a Huguenot refugee who arrived in England in 1712, but the first information about the business are in an 1841 directory listing a Griffin & Tessier, goldsmiths and silversmiths, at 32 South Audley Street.
One of the partners was Louis (Lewis) Alexander Tessier (c.1795-after 1861) who in 1851 advertised as Louis Tessier & Sons, active as artists in hair mourning jewellery at 32 Conduit Street and 32 South Audley Street.
After the retirement of L.A. Tessier (1857) the business was continued by his sons Henry Thomas Louis Tessier (1816-1891) and Edward Tessier.
The partnership, active also at 26 New Bond Street, was dissolved in 1869....
more
---
"A CREST per MONTH"
ARBUTHNOT





A peacock's head
The crest of Arbuthnot family (Bart., Edinburgh).
The motto is 'Innocent and true'
The crest was found on a silverplate Mustard pot (unmarked) and on an accompanying silverplate Mustard spoon made by Mappin & Webb


---
---
Closing our August 2016 edition of ASCAS Newsletter I hope you have appreciated its content.
Your comments, suggestions and advice will be of great help.

My thanks to Allen Carlson, Melanie Carne, Magdalena and William Isbister for their precious contributions.

Giorgio Busetto
Secretary
DISCLAIMER AND PRIVACY POLICY
ASCAS is a community of people having a common interest in antique silver.
It is a non-profit association without commercial links. Membership is open to whomever has a true interest in this subject matter.
ASCAS has no real property and no fees are requested nor accepted from members.
ASCAS keeps in touch with its members only through periodical newsletters, e-mails and web-site updating and ignores and is not responsible for any other activity pursued by its members.
Likewise, ASCAS is not responsible for opinions, evaluation and images displayed, and in any form published or supplied for publication, by its members who, in any case, maintain the property of their works and assure the respect of national and international legislation about Intellectual Property.
ASCAS does not have the full addresses of its members (only town, country and e-mail address are requested for membership).
ASCAS handles and protects with care its members' e-mail addresses, will not disclose the addresses to third parties, will use this information only to reply to requests received from members and for communications strictly related to its activity.
These rules are expressly accepted by submitting the membership request.