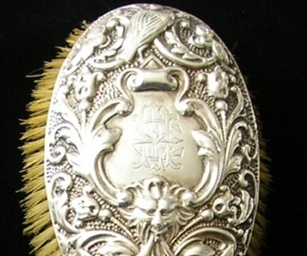 Sara L. Russell presents:

The story of a well travelled hairbrush



Once upon a time, Back in 1911 in fact, when the days of Art Nouveau were lazily drifting towards the more upbeat days of Art Deco... The brilliant silversmiths Levi and Salaman made a beautiful matching hairbrush and mirror set, in their workshops in Birmingham.
Both hairbrush and mirror were made in a wonderful design, almost magical in fact....
click here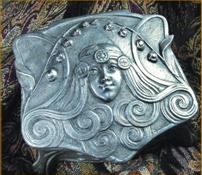 Joanne Wiertella presents:

The Language of Flowers



Flowers have been greatly esteemed since the dawn of civilization. Ancient Egyptians painted them on their temple walls and the withered remains of flowers have been found in ancient tombs around the world.
The colorful and fragile beauty of flowers has given rise to countless culturally symbolic meanings, and folktales about flowers have abounded from the earliest times --although not in the Western World until the end of the Middle Ages....

click here

---
Welcome to new ASCAS members:
Richard Adler - USA
Phyllis Argo - USA
Sharon Hoff - USA
Carolyn Ienna - Australia
Elizabeth Milkins - Australia
Massimiliano La Russa - Italy
Santiago Rodriguez Santafe - Austria
Emile Shalala - Lebanon
Steve Swan - England UK
Jack F. Wilson - USA

---
Members' Window # 39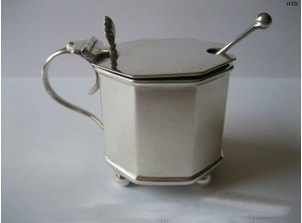 Robert Massart:

An Octagonal Edwardian silver mustard pot



a heavy and good quality Edwardian English sterling silver mustard pot, complete with its matching spoon and blue glass liner......

click here

---
Ian Cook writes:
... I have attached some pictures of two pieces which I would like help to identify.
The first is a Britannia Silver Salt, fairly large for its type with a diameter of around 7cm and weighing 72g.
I have tried to date it but do not know how to read such hallmarks. Slightly rubbed, I believe the maker to be H & O perhaps you could enlighten me on its date and where it was assayed.

The second piece is very unusual in shape, and the hallmark (near the handle) is so rubbed even with a 30x loupe I can only make out an anchor which is at an acute angle.
I was wondering if you could possibly put a date on it by the design?
Very best regards
Ian Cook
---
Suzanne Meursinge writes:
.. I would like to ask you if you can help me to determine the use of an object.
Do you know what this spoon is for?? It's nickel plate Norblin & Co. Galw. Warszaw, Polish, Fraget.
Is it a snuffer? or for any drink, tea???
The measure is ca. 25,5 cm- ca. 10 inch.
I will be very thankful
Suzanne
---
John Shields writes:
.. I hope that you or someone in the group can help me. Recently I was given this antique silverware set from my mom, she had gotten it from her mother who had gotten it from her aunt who was married to a gentleman who had fought in the civil war. I have received some e-mails from other silverware sites and they are telling me it is Fiddle Thread, can you please help. Here is some of the info from the back of the handles.


Sommer
Herrmann y Cia
Mexico


There is also another marking that looks as if there is a bear in the middle of the these words


BERNDORF
ALPACCA


John Shields
---
Bob Kelly writes:
.. I have this spoon, it is in rough shape.
The marks are. Top of spoon, D&A, inside a crown kind of mark.
Running down the shaft of the spoon is A & N, each in a square with round edges. CS in one oval, L in Square round edge. The last mark is, AI or A1 in an oval.
That is all the marks I can see. Spoon is 8.75 inches long; bowl 3 ins long and 2 inches wide. Wide part of handle is 2 inches long and 1 inch wide. The thin part of the handle is 2.75 inches long and .25 inches wide.
This meets a slighter wide bit at the bowl. The spoon is very thick.
Any information you can give me would be great.
Thank You in Advance.
Bob
---
Mike Stansbery writes:
.. I'm researching information on the hallmarks of a couple silver items that I was unable to identify. I have taken the liberty of attaching photos of the hallmarks, and I am hoping you can tell me what they mean. I am NOT educated on silver, though I know a lot more about it now that I have found your site.
At any rate, the following hallmarks come from a silver creamer (left) and from a silver sugar bowl (right).
Thank you in advance for whatever help you can give me
Sincerely,
Mike Stansbery
The maker of the sugar bowl (right) is E.G. Webster & Son , New York .
I'm unable to identify the maker of the creamer and I trust on ASCAS members help.
Giorgio Busetto
---
Alessandro Colemann writes:
.. I'm looking for information about a condiment set I recently bought.
I believe it was made around 1950-1960 and, according to the seller, the maker was the well known silversmith Fornari (see http://www.fornari1905.com/about_fornari.php).
I'm not quite sure about this attribution as the piece bears Fornari's label and a silver mark "AL20" unknown to me.
Any help would be greatly appreciated.
Alessandro Colemann
the mark AL20 refers to Ricci Argentieri Alessandria Spa - C.so Acqui 219 - Alessandria (Italy) belonging to A. CESA & C. Spa group (also "CESA 1882" belongs to this group).
Lozenge's mark was used in Italy between 1950/1970.
I believe that Fornari was only the retailer of your pieces
Giorgio Busetto
---
Fred Sinfield writes:
... Here is another example of "riempito" used for the grip of a paper knife.
In article
#29, "ARLECCHINO" is an explanation of the Italian Regulation covering the manufacture of precious metal coating on a resin base.
The finial and shaft of a paper knife, 150mm long, is an example of this technique. Included in the capital is an octagonal seal with "Fl"? "DG e Ag", with the same seal on the shaft punched with "5÷7" and "?".
Stamped on the blade of the 40gram knife is the Florentine maker's mark consisting of a pentangle, "1388" and "Fl" together with the silver standard of 925.
My question is: Who was the maker and when he was active?
Regards,
Fred
This piece was made after 1970 and before 1990, but, unfortunately, I was unable to identify the maker
Giorgio Busetto
---
Martine D'Haeseleer writes:
... Does someone, in the group of silver' specialists, know more about this object and marks?
The marks seem to be 19th Century - Portugal
Hallmarking, is 'probably' from Portugal, with the P for the city of Porto.
Can one of you find more info about the city and period, I don't have that book.
Thanks a lot
Martine
---
Philip Moore writes:
... Can you please give me some information on a fruit knife I have found among my mothers effects?
It is 3" long when folded. The handle is mother of pearl. The blade is stamped with a crow / lion / g which I think is Sheffield 1924-5 Then it is stamped FH in a circle which ends in an arrow head.
Any info you can supply would be gratefully received.
Thank you
Philip Moore
I believe that the maker is Francis Howard Ltd, 1900..1986 (entered Apr 1901). Registered also in Glasgow and Edinburgh
I'm working on www.silvercollection.it to a wide list, partly illustrated, of makers' marks of England, Scotland and Ireland (about 3000 marks). I'll use your photo to illustrate this mark.
Giorgio Busetto
---
---
Replies to questions
Norma Young sends an interesting addition to Malcolm Stander's article "HISTORY THROUGH SILVER TROWELS" in June Newsletter:
Hello Mr. Busetto,
Malcolm Stander asks for more information about Sir Herbert James Stanley (to differentiate him from another Sir Herbert Stanley of Britain).
It's quite interesting to see how many pieces of Stanley material Mr. Stander acquired with the ceremonial trowels. I don't know where the author lives, but by great coincidence I too own a fine piece of presentation silver to Sir Herbert which I found recently in a local auction!
My covered urn is inscribed "To H.E. Sir Herbert Stanley KCMG on the occasion of their visit to Livingstone in 1926, from Athlone & Alice".
Of course Athlone & Alice refer to Earl of Athlone and his wife Princess Alice, Countess of Athlone. As minor members of the British royal family, their crest & motto is engraved on the front.
Herbert James Stanley (1872-1955) was, in 1924, created Sir Herbert J. Stanley. He was Governor of Northern Rhodesia up to 1927 (starting year ??? ), then Governor of Ceylon (now Sri Lanka, 1928-31), High Commissioner to South Africa (1931-35), then Governor of Southern Rhodesia (1935-42).
I believe he stayed in South Africa after his diplomatic position ended and died there. I cannot find any trace of him or his wife having surviving descendants. He is noted for assisting European Jews to settle in Rhodesia as the WW 2 was going on in Europe. It's possible he was of Jewish background as I believe he came from London.
Interestingly for a piece of silver given in Rhodesia (Zimbabwe) but now in Canada, the Earl of Athlone was a Governor General of South Africa (1923-30), and then Governor General of Canada (1940-46).
Princess Alice was a grandchild of Queen Victoria -- if memory serves correctly, possibly the longest surviving grandchild.
My conjecture is that Sir Herbert & Lady Stanley's estates may have devolved to family who immigrated to Canada --- Vancouver has had a large group of South Africans over the last 20+ years, and a good population of South Africa Jewish background as well.
Regards
Norma L. Young
Vancouver, BC,
Canada
---
---
"A PAGE per MONTH"
In this column we present a page (one page only) obtained from makers' brochures, books, auction catalogs or whatever other printed paper, which may be of particular interest for ASCAS members.
The images will be published at a "low resolution" level and for private and personal use only
| | |
| --- | --- |
| | This month ASCAS presents a page of " silver fruit knives and card cases" from the "1889 ILLUSTRATED CATALOG" |
---
"A WORD per MONTH"
In this column we presents an abstract from a page of the "What is? Silver Dictionary"
courtesy of


HOLY WATER FONT

A holy water font is a vessel used for holding holy water. They are sometimes imbedded in the walls, and sometimes rest on a pedestal. The shell-shaped font which has persisted was introduced in the 17th century. The most ancient portable fonts for use in aspersions were pails of lead or bronze covered with silver. The present form of the aspersorium was introduced in the 13th century. The most ancient portable fonts are in the form of pails and shaped like truncated cones. Those most prized for their antiquity are of lead or bronze, sometimes even of wood covered with a sheet of wrought metal. However, if there ever existed ancient silver or silver-gilt fonts, it is evident that they have not come down to us.......
more
---
---

Closing our JULY 2007 edition of ASCAS Newsletter I hope you have appreciated its content.
Your comments, suggestions and advice will be of great help.

My thanks to Alessandro Colemann (Italy), Ian Cook (England), Martine D'Haeseleer (Spain), Jayne Dye (USA), Bob Kelly, Robert Massart (Belgium), Suzanne Meursinge (the Netherlands), Philip Moore (England), Sara L. Russell (UK), John Shields (USA), Fredric Sinfield (Australia), Mike Stansbery (USA), Joanne Wiertella (USA) Norma Young (Canada), for their invaluable contributions.

Giorgio Busetto
Secretary

DISCLAIMER AND PRIVACY POLICY
ASCAS is a community of people having a common interest in antique silver.
It is a non-profit association without commercial links. Membership is open to whomever has a true interest in this subject matter.
ASCAS has no real property and no fees are requested nor accepted from members.
ASCAS keeps in touch with its members only through periodical newsletters, e-mails and web-site updating and ignores and is not responsible for any other activity pursued by its members.
Likewise, ASCAS is not responsible for opinions, evaluation and images displayed, and in any form published or supplied for publication, by its members who, in any case, maintain the property of their works and assure the respect of national and international legislation about Intellectual Property.
ASCAS does not have the full addresses of its members (only town, country and e-mail address are requested for membership).
ASCAS handles and protects with care its members e-mail addresses, will not disclose the addresses to third parties, will use this information only to reply to requests received from members and for communications strictly related to its activity.
These rules are expressly accepted by submitting the membership request.