Two new articles for ASCAS website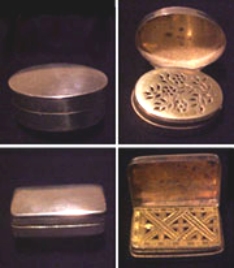 Vinaigrettes



Candice Hern, romance novelist, is a new member of ASCAS. In this article she presents her collection of Georgian silver vinaigrettes
Vinaigrettes, a highly popular item from the late 18th century through the mid-19th century, were small containers used for holding various aromatic substances, usually dissolved in vinegar. A tiny piece of sponge, soaked in the liquid, was contained beneath a grill or perforated cover.
click here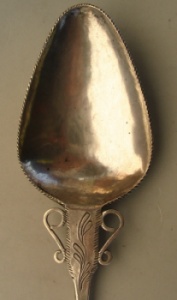 Giorgio Busetto presents:

Hispano-American silver: the "TOPOS"

Argento Ispano-Americano: "TOPOS"



An odd pin in the shape of a spoon, used by Bolivian women to keep their shawls closed

This article is available in two versions English

/ Italiano

---
New members
Welcome to new ASCAS members:
David Berman - USA
Lars Björkman - Sweden
Gabriele Bonetto - Italy
Vera Bradford - USA
Charles C. Cage - USA
Norma Cal - USA
Juan Camos - Portugal
Mary Clarke - South Africa
Elizabeth A. Clough - USA
Mark Daniels - England UK
Mary Dostal - USA
Emanuele Felicioni - Italy
Alan Goldsmith - South Africa
Suzanne Gouin - Canada
Maureen Heenan - USA
D.L. Irish - Australia
Pat McCarthy - Canada
Lucia McKay - USA
John McTavish - Canada
R. Milburn - England UK
Willand Ringborg - Sweden
Susan Urquhart - USA
Ronald J. White - USA


---
Members' Window # 23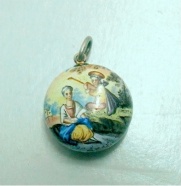 Maurizio Perota and Giorgio Busetto present:

A collection of vinaigrettes

a photographic gallery of Maurizio Perota's vinaigrettes collection

click here
---
Questions from ASCAS members
Giampiero Ierbulla writes:
......I'm trying to find the origin of this two silver items:
1) CENTERPIECE of shallow boat shape, with floral engraving on the body and two handles in the shape of fantastic animals (winged dolphins)
long: 14 in (cm 35,4) wide: 8 1/8 in. (cm. 20,6) high: 4 1/4 in. (cm. 11) weight: 27,5 oz. (gr. 780)

2) HAND HAMMERED DISH, standing on three ball feet and embossed with fruit branches.
diameter: 10 1/8 in (cm 25,8) high: 1 1/2 in. (cm 3,7) weight: 15,2 oz. (431 gr.)
Can you tell me anything about them based on the pictures attached?
Thank you in advance.
Giampiero Ierbulla

Both items were made in Italy, about 1930.
The centerpiece has the hallmark of silversmith Umberto Malinverni, Milano (Milan)
Also the dish was made by an Italian silversmith, but I'm unable to identify the maker. The same hallmark is present on the 'silver and ivory vase' presented on February Members' window.
Giorgio Busetto
John Chittenden writes:
...at a garage sale I have bought this silver plate piece.
I took a picture of the piece and scanned the bottom so you can see it.
So if you would please help me - I'd be greatful.
Thank you.
John Chittenden

Ludo D'Haese writes:
...Is there anyone who can tell me where and who made this sculpture.
It is 37cm high by 16 cm x 12 cm.
Best regards
Ludo D' Haese

The sculpture was made in Italy, after 1970, by an unidentified Florence's silversmith (383 FI), who now has ceased his activity. The object is made of a thin sheet of silver covering a base on resin or another heavy material. "R" is the symbol of Riempito (filled). More information about Italian hallmarking system is available on ASCAS article # 46.
I'm unable to identify the author of the sculpture (an Italian sculptor famous for his 'Ballerine' is Francesco Messina), but an Italian web sites cites as author of 'ballerine' a Tuscany's sculptor Amilcare Santini, 1910-1975 (Tuscany is the Region of Florence and the signature on the base maybe is 'Santini').
Giorgio Busetto
Leslie Salvage writes:
...I have this old and unremarkable table spoon which has had plenty of wear although the marks are quite clear. I would be pleased if anyone could give me any information on its history or actual origin apart from Nevada. I have no idea what the marks signify. Many thanks in advance.
Regards
Les Salvage

The maker is Daniel & Arter, Birmingham. Nevada is one of marks used by this firm (Argentine, Bengal, Brazilian Silver...)
Giorgio Busetto
---
Replies to members' questions
Ellen Fuerst writes:
...I also have seen 'R_C' (it's not clear to me that the middle character is an 'E') on some older Italian silver pieces. In each case, I have found that the item seems to be related to either Cesa (Italian hallmark '1 AL') or Ricci, both of which are part of Gruppo Greggio in Italy. I would suggest trying to contact Gruppo Greggio with a photo of the piece and your question.

Mark Mandel writes:
... in reply to George Zochowsky's query about Egyption silver references, I recommend 'International hallmarks on silver collected by Tardy'. The first mark shows the silver fineness, which I believe to be 600/1000, the city of assay or manufacture is above this mark, then the palm tree, which is the mark used after 1946 (prior to 1946, a cat was used). Lastly, the arabic letter indicates the year (prior to 1946, the roman alphabet was used).


Geoffrey Axt writes:
... This is in response to Wayne Robbins' question in regard to his Samuel Pemberton needle case.
The shape you question, namely, a cut corner rectangle or irregular octagon, was a shape often favored by Pemberton in constructing small boxes and vinaigrettes (his specialty).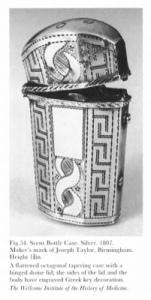 This delightful lidded box is known as an etui (small, decorative case). Etuis were made to contain all sorts of personal accessories. The most common item contained in an etui was a small scent bottle. Larger etuis typically contained ear picks, snuff spoons, pencils, and knives of various types for various purposes. Physicians often carried an etui that contained a set of bleeding knives.
You identified this object as a needle case. Unless there is some specific part of its interior construction to suggest that it was intended as a repository for needles (such as a series of small compartments), then I suspect it was more likely a scent bottle case that is missing its scent bottle. Such shaped etuis are known to have been made in Birmingham during this period for containing scent bottles.
An example of a similar object made in Birmingham in 1807 by Joseph Taylor is shown on page 64 of Kenneth Crisp Jones' book The Silversmiths of Birmingham and Their Marks: 1750-1980.
Whatever its original function, your lidded box appears to be a very nice example of Pemberton's work.
Kindest regards,
Geoffrey Axt
Keeley Collins writes:
... Cindy wrote about a 'Sheffield Plate' bowl and wanted some info on the maker/age.
The mark pictured is not particularly helpful, but I may have found a reference to the shield with a figure in it with vertical lines running through it.
Cindy, can you get a copy of 'Encyclopedia of American Silver Manufaturers' by Dorothy Rainwater & Martin/Collette Fuller? You can find it in your local library, or have them order it for you. There is a photo of a mark like the one you describe on page 286. There is a shield with vertical lines and a Knight on a horse, with a 'K' in the upper left corner. If this is the mark you see, it is ascribed to Mary C. Knight listed as a metalworker with The Society of Arts and Crafts in Boston circa 1902-1927.
Sheffield Plate is named for the process in Sheffield, England, but if it is heavy, it may be silver-on-copper (do you see some copper coloring coming through?). Silverplating was in varying thicknesses and generally will wear off with cleaning over time.
Most modern articles recommend polishing once a year with a gently wash. If you love it, it can be replated, but this is an expensive undertaking. Estes Silver in Atlanta Georgia has the ability to do this, and to appraise your item.
Regards,
Keeley Collins
Charls C. Cage writes:
... I recently applied for membership, so hope you will permit to share with you some information on Rick Bakke's grandmother's spoons which appear in the new February newsletter.
The city mark on these spoons is that of Karlsruhe, Germany, and the maker EK is Ernst Kölitz, court goldsmith & perhaps the most prolific maker in mid-19th century Karlsruhe.
Sincerely,
Charles C. Cage.


---
in this new column we present a page (one page only) obtained by makers' brochures, books, auction catalogs or whatever other printed paper, that may be of particular interest for ASCAS members.
The images will be published at a "low resolution" level and for private and personal use only
This is the image of page 169 of the Catalog N. 14 December 1932 published by SOCIETA' ANONIMA A. CALDERONI - Via Durini 31 Milano (Milan - Italy).

The page illustrates three 800/1000 silver "Centri tavola" (Centerpieces) and a crystal and silver vase.

Surprisingly the centerpiece on the top is the same of Giampiero Ierbulla (see question in this Newsletter) bearing Umberto Malinverni - Milano hallmark.

I assume that, in this case, Calderoni firm acted as retailer for some Malinverni production.

| | |
| --- | --- |
| Calderoni centerpiece | Malinverni centerpiece |
8150

Beautiful solid silver, hand made fruit or sweetmeet cup, with chiselled dragons on the sides. Measures 35x20 cm. Lire 360 (it's interesting to note the 1932 sale price of Lire 360 = 0,18 EUR = 0,21 US$)
---
A S C O T T
ASCAS member David Shlosberg, the author of the book Eighteenth Century Silver Tea Tongs, has the intention to set up a group for collectors of Tea Tongs to enable an exchange of knowledge and expertise between those fortunate enough to own examples of these delightful artefacts.
The name of the new entity is ASCOTT (A Society for Collectors Of Tea Tongs).
More information about this new group are available on Dr. Shlosberg web site at http://www.silverteatongs.com/index.php?f=data_home&a=2
---
A new web site
ASCAS member Raoul Verbist has created his new web site titled CHAMBRES DE MES AMIS (in French)
The address is www.chambresamis.org
---


Closing our March 2006 edition of ASCAS Newsletter I hope you have appreciated its content.
Your comments, suggestions and advice will be of great help.

My thanks to Geoffrey Axt (USA), Charles C. Cage (USA), John Chittenden (USA), Keeley Collins (USA), Ludo D'Haese (Belgium), Jayne Dye (USA), Ellen Fuerst (USA), Candice Hern (USA), Giampiero Ierbulla (Italy), Mark Mandel (Canada), Leslie Salvage (USA), David Shlosberg (UK), Raoul Verbist (Belgium), for their invaluable contributions.

Giorgio Busetto
Secretary
DISCLAIMER AND PRIVACY POLICY
ASCAS is a community of people having a common interest in antique silver.
It is a no-profit association without commercial links. Membership is open to whomever have a true interest in this subject matter.
ASCAS has no real property and no fees are requested nor accepted from members.
ASCAS keeps in touch with its members only through periodical newsletters, e-mails and web-site updatings and ignores and is not responsible for any other activity pursued by its members.
Likewise, ASCAS is not responsible for opinions, evaluation and images displayed, and in any form published or supplied for publication, by its members who, in any case, maintain the property of their works and assure the respect of national and international legislation about Intellectual Property.
ASCAS does not have the full addresses of its members (only town, country and e-mail address are requested for membership).
ASCAS handles and protects with care the e-mail addresses, will not disclose the addresses to third parties and uses this information only to reply to requests received by members and for communications strictly related to its activity.
These rules are expressly accepted by submitting the membership request.