---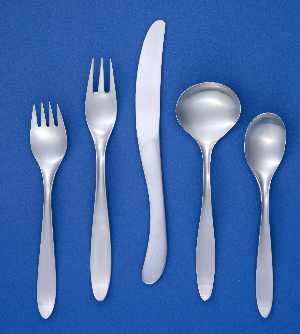 Dorothea Burstyn presents:

Don Wallance, a leading flatware designer and Amboss, an innovative Austrian flatware manufacturer. Two interesting lectures at the Solingen flatware collectors' meeting 2010



.....This year's flatware collectors meeting at the Solingen Klingenmuseum, planned and executed by director Dr. Barbara Grotkamp-Schepers with her usual energy and charm, was again a complete success. This year's motto could have been "The productive 1950s-70s", as Dr. William P. Hood Jr. spoke about Don Wallance and Jörg Müller-Daehn presented his and Heinrich Averwerser's research on the output of Ambosswerke, Austria, in the same time period......
click here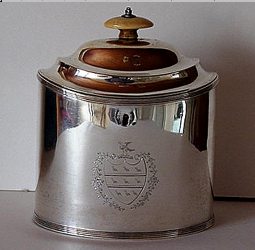 David McKinley presents:

The Early History of The English Tea Caddy



.....Although it is believed that Thomas Garway (or Garraway) first served tea in his coffee house in London in about 1658 it did not become widely accepted until after the 'Restoration' when it was popularised by Catherine of Braganza, who brought the tea drinking habit with her from the continent.....
click here

---
Welcome to new ASCAS members:
---
Members' Window # 72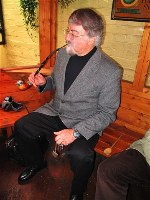 RevDr. John Wade Long, Jr and Giorgio Busetto present:

Smoking a 160-years-old pipe



I'm attaching several photos of one of my very special pipes, a 160-year-old meerschaum "Kalmasch" (German style) carved in Vienna with the silverwork done in London. It also has a sterling silver safety ring on the shank for the smoker to slip his "pinkie" finger through - in the event the bowl accidentally detaches from the stem.....
click here

---
Sandra Schreiber writes:
...I am going crazy trying to figure out what these are, where they are from, and how old they may be. Obviously, they are not matching, and may have been part of a collection. They are all marked, but the marks are poor, and virtually unreadable: I would guess that they are made to drink out of, possibly....otherwise why the handles?
There is no way to heat anything as there is no element below the bowls. My guess is that they are South American. The silver is probably not 925, but more like 900 or 850.... One of the marks on one of the items has a "77" with"??IVA" maybe, and another one has an "18"...with maybe "uRA"and one "PINTO" perhaps.
Any help would really be appreciated! The color is silver although tarnished, not this coppery look in t he photo, which I can't explain!
Many thanks,
Sandy Schreiber,
Your items are, simply, three braziers (or ember bowls or pipe lighters). They were made in Spain or South America.
More information is available in my private website at http://www.silvercollection.it/dictionarypipelighter.html or in ASCAS web site at http://www.ascasonline.org/window1.html
Giorgio Busetto

These braziers were definitely identified as Spanish by José Luis Muñoz. These are the details:
BEGA/18: year 1818.- assayer of the town of Córdoba, Diego de la Vega y Torres (active from 1805 and from 1814 to 1821)
PINTO: this is a maker's mark of an unidentified silversmith
77/LEIVA: year 1777 - assayer of the town of Córdoba, Juan de Luque y Leyva (active from 6 November 1772 until 1780). José Luis Muñoz
---
---
Simon Buxton writes:
...I don't know whether you consider discussion of silver plated items to be outside the group's interest, but if not I wonder whether you or your members can help me via a future newsletter.
I am trying to classify the British letters used to identify the different silver plating processes used during the middle of the 19th century when electroplating and the use of German/Nickel silver became available and was replacing earlier methods such as Old Sheffield plate (OSP) and Close plate. In general makers using earlier processes never identified the process employed and those pieces that were marked were limited to names or symbols identifying the maker. However from around the mid 1830s to around 1860 letters were quite often used to indicate the process used. Some such as EP or EPBM are well known and documented while others are less often found and it is these that I would like to find out more about, especially the process employed and/or the period in use. I list below those marks with the little information I have and hope others can add more details.
MP (Magnetic plating) - Prime introduced an electroplating process in the mid 1840s which avoided Elkington's patents by using a different electrolyte and power source. Goods were marked MP for about 5-10 years. Does anyone know more precise dates?
PGS (Plated German silver) - I have seen this used on one Old Sheffield plate piece to signify plated on GS rather than copper Can anyone advise which processes used these letters and for how long?
PS (Plated steel) - stamped on some Close plated items, probably after electroplating had begun. This raises the question as to when Close plating virtually ceased, perhaps around the same time as OSP around the 1850s.
WP (White metal plated) - seen on a fish slice with pseudo hallmarks that was probably close plated on German silver. Again which processes used WP and over what period?
Regards
Simon Buxton
A fascinating and little known matter. Some of these initials (EPNS, EPBM, EPCA, EPGS, are illustrated in my website at http://www.silvercollection.it/electroplatesilverEHdue.html
By the way, the WP into a lozenge with pseudo hallmarks was used also by William Page & Co (see at http://www.silvercollection.it/electroplatesilverNOPtre.html )
Any further contribution will be highly appreciated.
Giorgio Busetto
---
Mario Galasso writes:
...I'm researching any possible information about the origin of this chatelaine and its mysterious mark (a 1?).
Any suggestion will be highly appreciated
Mario Galasso
---
Lisanne writes:
...My question is about an item that I found and although I have searched online and asked many people on different forums, no one can identify it. I so hope that your vast knowledge will be able to help me know what this item is.
It is about 2 7/8"Long, the diameter at the top is 1 5/8 and the diameter at the base is 1 1/4". As you can see from the pictures, there is a small linked chain that goes from the top to the bottom. There are no makers marks present and the only thing it reads on the bottom is "800".
I hope that I have not offended you by asking my questions, and if so, I apologize in advance.
If you do know what this item is, I would truly be so appreciative, since no one knows what this is!
Many thanks,
Lisanne
Any idea by ASCAS members?
Giorgio Busetto
---
Jayne Dye writes:
...I have a Mappin & Webb fruit set for 12. The marks are M&W S&L.
It has bone handles and silver plated blades and bolsters (the ringed piece attaching the blade to the handle).
My requests of other members are
(1) perhaps a closer estimate of the year of manufacture
(2) the interpretation of the S&L mark
In Giorgio's silvercollection.it, I found this chronology
Mappin & Co 1859-1863
Mappin & Webb 1863-1898 (purchased Stephen Smith & Son, 1886)
Mappin & Webb Ltd 1898-1906 (absorbed Mappin Brothers 1902/1903)
Mappin & Webb (1908) Ltd - 1908-1913
Mappin & Webb Ltd 1913-present
This documents that the stamp Mappin & Webb (without Ltd.) was only used in the period of 1863 to 1898. This dates my set to the final quarter of the 19th century.
I would like to narrow it down to a shorter span if possible.
There is an [S&L] mark that I do not understand. I have not been able to identify it.
There were M&W outlets in Sheffield and London. Could the mark refer to those two locations? It seems unlikely a company would have a punch made for what seems to be trivial information.
Opinions are sought. Does a reader have a more useful interpretation of the S&L mark?
Thank you, (Click on pictures to enlarge)
Jayne
It is difficult to narrow the date of your fruit set.
There is little information about the date of use of silver plate marks and, in many cases, the same mark was maintained for a long period.
I'm working on a wide directory of English electropate marks (see http://www.silvercollection.it/electroplatesilver.html ) and I well know how difficult is to obtain this information (by the way Mappin & Webb used a sort of date letter in some of its items but I was unable to find the information necessary to decode these dates).
I agree that your fruit set was made in the last quarter of the 19th century, before the death of Queen Victoria (1901: in your image is quoted the queen) but I'm unable to restrict the date.
About L&S mark: I believe that it refers indeed to London & Sheffield. It was a common practice for silver plate makers to use a letter to indicate the town. If you visit my directory you can see many marks with S (for Sheffield - but in some cases it signified Son or Sons), G for Glasgow (William Alexander at http://www.silvercollection.it/electroplatesilver.html ), M for Manchester (Arnold & Lewis http://www.silvercollection.it/electroplatesilver.html ) and some others. This practice was scarcely followed by Birmingham makers (I don't remember any mark with B).
I trust in some other contributions by ASCAS members.
Giorgio Busetto
---
---
Replies to questions
José Luis Muñoz writes:
The mark on Michael Carter's spoon is Spanish, and precisely a mark of Madrid. The coat of arms of Madrid is represented by a bear and a tree. The image's quality does not allow further identification as to whether the mark refers to the 18th or the 19th century.
The two marks differ in the shape of the crown above the shield

José Luis Muñoz
---
Les Salvage writes:
I add a comment about the tray showing Gorham's full marks for their sterling silver (except from the fact that the word 'Sterling' was missing). I contacted John Hay Library, Providence, Rhode Island, USA, for assistance as to the name indicated by T&Co, and I attach a relevant extract from their reply.
From this, I deduce that T&Co in 1871, represented a Company of silversmiths who had been taken over by Gorham, and that the tray was not silver plated, hence Gorham's full marks were struck except for 'Sterling'. It seems reasonable to suppose that by this method, Gorham was adding value to T&Co's tray by virtue of the fact that the general American public at that time, were expected to believe that the anchor represented a Birmingham (England) mark and thus generated sales which otherwise would not have happened.
Gorham, on this assumption, wanted their subsidiary to prosper, albeit in a lower class of silver excellence than their own. The omission of 'Sterling' differentiated from Gorham's practice of always striking 'Sterling' on their own silver.
It will be noted that the lion passant on the tray is facing to the right, whereas the Birmingham (England) lion is always facing left. This would probably not have been noticed by the general American Public, plus the fact that a genuine Birmingham mark would not have included 'Sterling' and Gorham has left this off.
Gorham used a left facing lion passant prior to 1865. Also, a right facing lion rampant, circa 1850 - 1865.
You may also be interested to know that in the PATENT number 2854 of 31 December 1867 John Gorham declared that the trade mark "anchor on a shield" (not associated to lion and "G") designated and distinguished the genuine manufacture or article of "electro plated ware"...
Les Salvage

P.S. We can safely state that the T&Co on the tray does not represent Tiffany & Co. This company always showed their full name on their silverware when there was room for it. This also was the case when Gorham made items for Tiffany. When jewellery was made by Tiffany, they used just 'T & Co' (not stylised as per that on the tray)
---
---
In this column we present a page obtained from makers' brochures, books, auction catalogs, advertising or whatever other printed paper, related to silver, that may be of interest for ASCAS members.
The images will be published at a "low resolution" level and for private and personal use only
This month we present an ancient advertisement of

JOHN ROUND & SON
Manufacturers of all kinds of
ELECTRO-PLATED ON BEST NICKEL AND STERLING
SILVER GOODS


The firm was established by John Round in Sheffield in 1847 as a small family workshop attached to his house in Tudor Street. The business proved successful and the firm in partnership with his son Edwin went under the title of John Round & Son. In 1874 the firm became John Round & Son Ltd and in 1886 the business of Ridge, Allcard & Co (Lions Works, Eyre Lane) was amalgamated and John Ridge became the manager. The main factory was the renewed Tudor Works, Tudor Street, Sheffield while various showrooms operated in London.
---
"A WORD per MONTH"
NUTMEG GRATER

The nutmeg grater is an implement for grating nutmeg used principally during the period 1780-1840. There were two types: portable or table type. The systematic production of silver graters for nutmeg began in the late 18th century. A revolution in manners then gripped colonial America, as sophisticated Britons on both sides of the Atlantic began serving punch - a brew of rum or brandy, fruit juice, sugar, and water laced with grated nutmeg and sugar - and a nutmeg grater became an essential addition to the ' punch equipage '....
more
---
"A SILVERSMITH per MONTH"
EDWARD BARNARD & SONS LTD

and its predecessors:
ANTHONY NELME - FRANCIS NELME - THOMAS WHIPHAM - WHIPHAM & WRIGHT - CHARLES WRIGHT - HENRY CHAWNER - THOMAS & WILLIAM CHAWNER - CHAWNER & EMES - JOHN EMES - EMES & BARNARD - EDWARD BARNARD & SONS

Possibly the oldest manufacturing silversmith in the world, the origin of this business having been established by Anthony Nelme c. 1680. Francis Nelme succeeded the business on the death of his father in 1722 and continued until 1739 when Thomas Whipham took over the business....
more



---
"A BOOK ON MY SHELF"
In this column we present books, new or ancient, dealing with silver in all its aspects (history, marks, oddities...). This isn't a "book review" but only a fair presentation of some useful "tools" that anyone may have in the shelf of his bookcase.
ASCAS members are invited to contribute to this column
(click to enlarge images)
The "book on my shelf" of this month presents (courtesy Postnikov):
---
"A CREST per MONTH"
In this column we present images and descriptions of Crests and Mottoes of British, Irish and Scottish families as engraved on silver items.










FREND or FRIEND

Frend: a family in the County of Limerick. A buck's head. Motto Aude et prevalebis (Dare and you will prevail).

The crest is engraved on a tankard, hallmarked London 1811, silversmiths Rebecca Emes and Edward Barnard I
---
---
Closing our May 2010 edition of ASCAS Newsletter I hope you have appreciated its content.
Your comments, suggestions and advice will be of great help.

My thanks to Dorothea Burstyn, Simon Buxton, Jayne Dye, Mario Galasso, Lisanne, RevDr. John Wade Long Jr, David McKinley, José Luis Muñoz, Postnikov, Les Salvage, Sandra Schreiber, for their invaluable contributions.

Giorgio Busetto
Secretary

DISCLAIMER AND PRIVACY POLICY
ASCAS is a community of people having a common interest in antique silver.
It is a non-profit association without commercial links. Membership is open to whomever has a true interest in this subject matter.
ASCAS has no real property and no fees are requested nor accepted from members.
ASCAS keeps in touch with its members only through periodical newsletters, e-mails and web-site updating and ignores and is not responsible for any other activity pursued by its members.
Likewise, ASCAS is not responsible for opinions, evaluation and images displayed, and in any form published or supplied for publication, by its members who, in any case, maintain the property of their works and assure the respect of national and international legislation about Intellectual Property.
ASCAS does not have the full addresses of its members (only town, country and e-mail address are requested for membership).
ASCAS handles and protects with care its members' e-mail addresses, will not disclose the addresses to third parties, will use this information only to reply to requests received from members and for communications strictly related to its activity.
These rules are expressly accepted by submitting the membership request.