---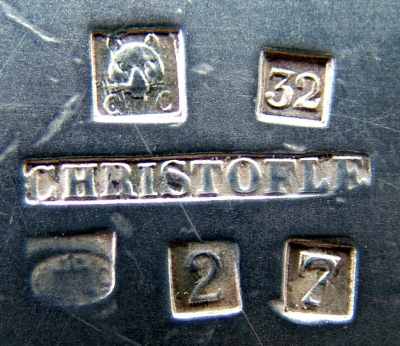 Prof. David N. Nikogosyan presents:

'CAT' marks of Christofle foreign branches operated between 1910 and 1940




.....In 1854 (or 1856), the famous French silversmith company Christofle opened its first branch at Karlsruhe, Germany (at that time Grossherzogtum Baden or Grand Duchy of Baden). The reason for moving the manufacturing abroad was purely economic, namely, to reduce the huge custom taxes. The scheme was very simple: the semi-finished product, fully prepared for silver-plating, was made in Paris, while its silvering took place in Karlsruhe. Further the Karlsruhe foundry opened its own subsidiary company in Vienna, Austro-Hungary..... click here

---
Welcome to new ASCAS members:
---
Members' Window # 82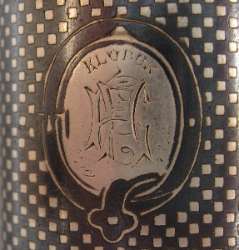 C. Bruno Bruni presents:

Niello Silver from Vienna



Georg Adam Scheid was born in Schönau Baden, Württemberg on July 28 1837. He started his apprenticeship in 1853 and operated afterwards in Pforzheim and Stuttgart. In 1858 he came to Vienna and entered the workshop of the gold, silver goods producer and jeweler Michael Markowitsch. He married one of Markowitsch's daughters and in 1862 the company was renamed Markowitsch & Scheid and adopted the mark M & S. It was located in Sandwirtgasse 8, and then in Gumpendorfer Straße 83....
click here

---
Luis Castelo Lopes writes:
... Please find here some photos of a silver salver (diameter 56 cm. - 1926 grams) which bears the hallmarks of Palermo, could you please confirm that and tell me if the mark is from the 17th or from the 18th century?
In my opinion there is a Dutch or German influence what do you think?
Many thanks
Best regards
Luis Castelo Lopes
The mark belongs to Pietro Guarnuto, Console degli Argentieri (Alderman) from 1/7/1667 to 26/6/1668.
I do not know if there was a German influence, but a 17th century Nurnberg plate with floral decorations is present in a Sicilian museum.
Giorgio Busetto
---
Any suggestion by ASCAS members will be welcome
Giorgio Busetto
---
Ronald Dewar writes:
... I would very much appreciate your help in identifying this silver casket. The photograph comes from an album belonging to my grand / great grand parents and I am trying to find out what the connection there is to this casket.
I hope you can tell me who it was made for and what occasion it marks .
Ronald Dewar
The casket is described as "DESIGNED & MANUFACTURED BY GEORGE EDWARD & SONS - GLASGOW & LONDON"
George Edward & Sons was a retail business established in Glasgow in 1838.
The firm opened (probably in 1874) a London branch at Mansion House Buildings, 19 Poultry, Cheapside.
In 1925 the firm was converted into Edward & Sons Ltd and was still active in 1963 at St. Vincent Street, Glasgow. Some years later it was sold to Mappin & Webb Ltd.
Presumably your photo refers to the period 1874/1925.
Giorgio Busetto
---
I'm sorry, but, in this case, I'm unable to identify the maker's mark.
The literature about Birmingham silver hallmarks of the early 20th century is scarce, but I trust in the help of ASCAS members for the identification of the mark (a possible addition to my list of Tobacconists, Pipe Makers and Pipe Mounters hallmarks in silvercollection.it.
Giorgio Busetto
---
Suggestions are needed
Giorgio Busetto
---
---
---
A PREVIEW OF THE NEW BRITISH COMMEMORATIVE HALLMARK
A special commemorative hallmark has been designed to celebrate the Queen's Diamond Jubilee.
The mark, depicting a young Queen Elizabeth wearing an oversized crown, will be available as an optional mark in combination with the statutory hallmark from 1 July 2011 until 1 October 2012.
---
... In the last newsletter there has been a question of Pierre Bertrand who has several forks and spoons.
They are all 19th Century made in Belgium, silver standard 2 = 800/1000%.
The first item on the left, silversmith letter H for HUBEN HENDRIK is a silversmith who was active in Mechelen from 1847 until 1868.
The second silversmith letter B for Bousin-Bonnevie from Brussels active from 1878 until 1911.
The third silversmith letter D for Delheid freres Brussels active from 1862 until 1980.
The fourth silversmith letter B for Bonnevie Emile Adolphe active in Brussels from 1864 until 1878.
They are regular items on the Belgian market.
Emil Fonfoneata
---
... Also after an intensive internet-research it was until yet impossible for me to find any copy of basics of Austrian Assay rules for the time span of 1872 (actually I haven't any possibility for a local Archive research in Vienna).
So I could repeat only the information on that theme, taken out of Waltraud Neuwirth information:
" 1872, April 1 Act of March 10, 1872, comes into force:
all marks have to include the letter of the Assay Office (pl. 7). The letter alone is used for smaller components of an object; if it is not possible to strike it because of the smallness of these components, it has to be placed beside the mark on the main part of the object."
Source: Waltraud Neuwirth,'Wiener Gold- und Silberschmiede und ihre Punzen 1867-1922', volume I, page 48; in 2 volumen: ISBN 3-900282-00-5
Oskar M. Zurell
---
---
In this column we present a page obtained from makers' brochures, books, auction catalogs, advertising or whatever other printed paper, related to silver, that may be of interest for ASCAS members.
The images will be published at a "low resolution" level and for private and personal use only
This month ASCAS presents an ancient advertisement of Rogers & Bro

A PRACTICAL NOVELTY

The ORANGE PEELER hereon illustrated is conceded by all who have used it to be perfect in its operation, neatly removing the peel without soiling the fingers.
Made in table and pocket sizes, assorted patterns and finishes. Table size put up six in plush lined paper box; pocket size each in leather sheath in paper box.


PRICE FOR EACH $ 6.00 PER DOZEN
---
"A WORD per MONTH"
BUCKLE

A silver buckle is a type of fastener for a belt, girdle, etc.; first developed in England in the late 17th century, buckles were used there to replace shoe-laces. Later buckles, of various shapes and sizes, were used for other purposes, and were sometimes attached as an ornament to a ribbon worn around a woman's neck; a buckle is also used, as a fastener or as an ornament, on some shoes or on a wristband... more





---
"A SILVERSMITH per MONTH"
MARTIN, HALL & CO LTD

The origin of the firm is in the partnership established in 1820 in Sheffield by Henry Wilkinson and John Roberts who traded as Wilkinson & Roberts. Wilkinson left the business in 1836 and in 1846 John Roberts entered in partnership with Ebenezer Hall (his apprentice in 1836) under the style Roberts & Hall.
In 1854 entered into the partnership Richard Martin (of Martin Brothers & Naylor) and Joshua Hall (brother of Ebenezer Hall) under the style Martin, Hall & Co. In 1866 the firm was converted into a Ltd....
more
---
"A BOOK ON MY SHELF"
In this column we present books, new or ancient, dealing with silver in all its aspects (history, marks, oddities...). This isn't a "book review" but only a fair presentation of some useful "tools" that anyone may have in the shelf of his bookcase.
ASCAS members are invited to contribute to this column
(click to enlarge images)
The "book on my shelf" of this month presents:
SILVER FLATWARE
English, Irish and Scottish 1660-1980
by Ian Pickford
published for the Antique Collectors' Club
by The Antique Collectors' Club Ltd
Baron Publishing, Woodbridge, Suffolk
1983

Since the study and collecting of silver flatware is so satisfying it is surprising that this is the first detailed work published in the subject.
This book provides a superb opportunity for the would-be collector actually to start acquiring pieces with which to set a table of silver that is a pleasure to look at as well as handle. By diligent searching one can build up, for relatively modest sums, a service of one of the many patterns discussed and, according to one's finances, it can be of early or late date, rare or common.
As well as the wide-ranging look at flatware patterns the author also discusses in detail flatware makers, stylistic developments, quality, repairs, fakes, forgeries and alterations, as well as the marking of flatware.
Written by an expert this is the ideal book with which to study a fascinating collection subject.
---
"A CREST per MONTH"
In this column we present images and descriptions of Crests and Mottoes of British, Irish and Scottish families as engraved on silver items.
MACKAY - M'CAA - M'CASKILL - M'QUIE






Scottish and Lancashire (M'Quie) families
A dexter cubit arm, erect, in hand a dagger and the motto Manu Forti (With a strong hand)

The crest was found on a silver plate food cover made by Elkington & Co


---
Custom Search
---
Closing our March 2011 edition of ASCAS Newsletter I hope you have appreciated its content.
Your comments, suggestions and advice will be of great help.

My thanks to John Alejandro, Joy Aumiller, C. Bruno Bruni, Ronald Dewar, Jayne Dye, Piero Eduardo, Emil Fonfoneata, Luis Castelo Lopes, Prof. David N. Nikogosyan and Oskar M. Zurell for their invaluable contributions.

Giorgio Busetto
Secretary

DISCLAIMER AND PRIVACY POLICY
ASCAS is a community of people having a common interest in antique silver.
It is a non-profit association without commercial links. Membership is open to whomever has a true interest in this subject matter.
ASCAS has no real property and no fees are requested nor accepted from members.
ASCAS keeps in touch with its members only through periodical newsletters, e-mails and web-site updating and ignores and is not responsible for any other activity pursued by its members.
Likewise, ASCAS is not responsible for opinions, evaluation and images displayed, and in any form published or supplied for publication, by its members who, in any case, maintain the property of their works and assure the respect of national and international legislation about Intellectual Property.
ASCAS does not have the full addresses of its members (only town, country and e-mail address are requested for membership).
ASCAS handles and protects with care its members' e-mail addresses, will not disclose the addresses to third parties, will use this information only to reply to requests received from members and for communications strictly related to its activity.
These rules are expressly accepted by submitting the membership request.