click on images to enlarge
WHEN SILVER TELLS A STORY
Antique silvers and mainly silverware of common use are part of the life of their owners.
These items may tell us a story of people living in the past and can retain a memory of some important event in their life. It is common to find some antique silvers bearing an inscription or simply a coat of arm or a family crest.
At least in the United Kingdom coat of arms were mainly used before 1800 to denote that a particular silverware was created for or belongs to some nobility, and it was often impressed together with a motto on little beakers, mugs, salvers, tankards, coffee and tea pots.
During the XIX century coat of arms were often replaced by a smaller and less impressive family crest.
Inscriptions can be found on very early silver but their use became more extensive during the XIX century. This practice was in use till the last decade of the XIX century when went rapidly out of fashion, leading to a removal of many original inscriptions and coat of arms from the silverware.
A new period of fashion was just after the first world war, during the reign of George V.
A typical English silverware bearing inscriptions are christening mugs and trophy. Coat of arms and inscriptions can be often found in modern items on commemorative silvers.
Some examples taken from my collection:
Coat of arms and family crests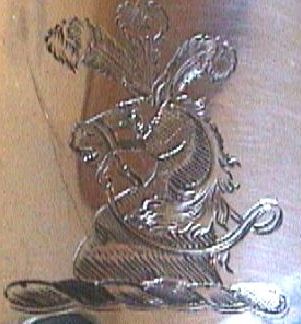 Coat of arms or family crest on a helmet shaped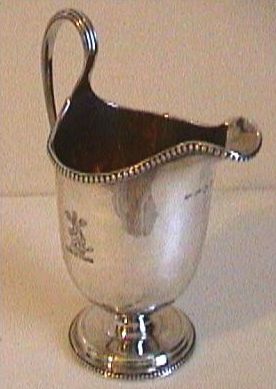 Georgian cream jug. Hallmarks for London 1788, maker mark James Mince & William Hodgkins.
The crest represents a horse head with three panaches on it.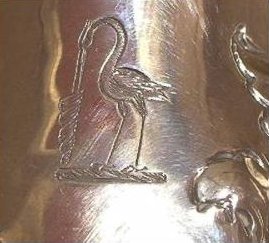 Family crest on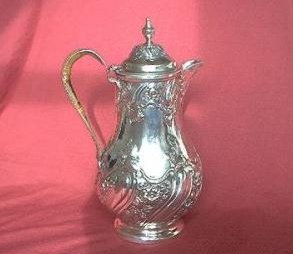 a neo-rococo Georgian coffee pot or hot water jug.
Hallmarks for Sheffield 1823, maker mark Smith, Tate, Hoult & Tate.
The crest represents a stilt-bird holding a sac with the billy-goat.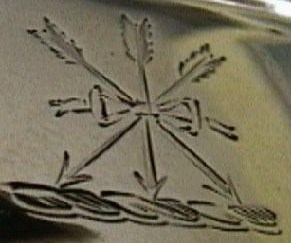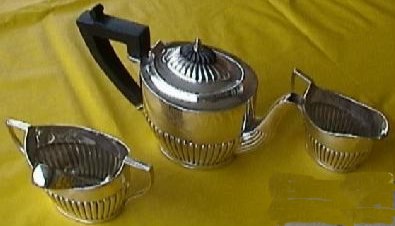 Family crest on a Victorian 'Queen Anne' bachelor tea set.
Hallmarks for London 1886, maker mark Edward Hutton; retailer Goldsmith & Silversmith Company, 112 Regent Street, London.
The crest represents a ribbon holding three darts.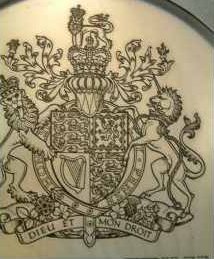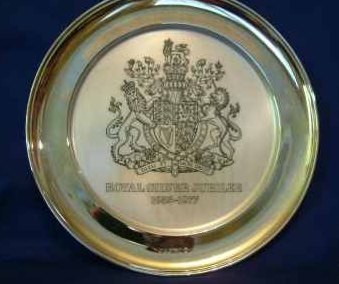 Commemorative dish with the Coat of Arms and motto of Windsor.
Hallmarks for Birmingham 1977, maker mark not traceable.
The plate is bearing the optional silver jubilee mark for the 25th anniversary of the coronation of Queen Elisabeth II.
The inscription reports the motto 'Dieu et mon Droit' as well as Royal Silver Jubilee, 1952-1977.
Inscriptions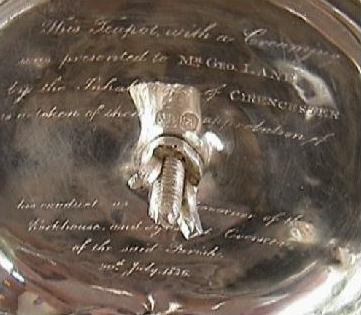 Mellon shaped William IV large tea set.
Hallmarks for London 1834 (sugar bowl) and 1836 (tea pot and cream jug), maker marks John & Joseph Angel (sugar bowl) and R. Pearce & G. Burrous (tea pot and cream jug).
The inscription (engraved inside the lip) says:
This Teapot with a creamjug
was presented to Mr.Geo.LANE
by the inhabitants of Cirencester
as a token of their approbation of
his conduct as Governor of the
Workhouse, and Afsisistant Overseer
of said Parish,
20th of July 1836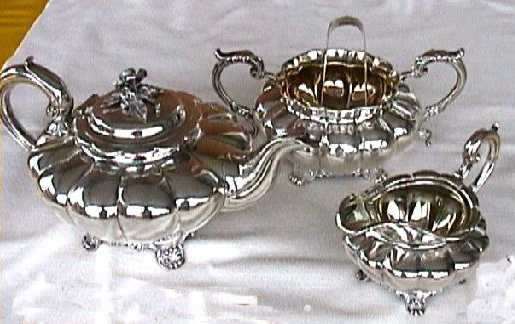 Apart from the inscription we can learn something more from this tea set being the teapot and the cream jug made by R. Pearce & G. Burrous to mach a sugar bowl made by John & Joseph Angel two years before (maybe already of property of Mr. Geo. Lane).
It is now very interesting to compare the quality of the teapot and cream jug with respect the sugar bowl. It seems evident that the piece made by Angel (a very fine family of silversmiths) is of superior quality in proportion and finishing.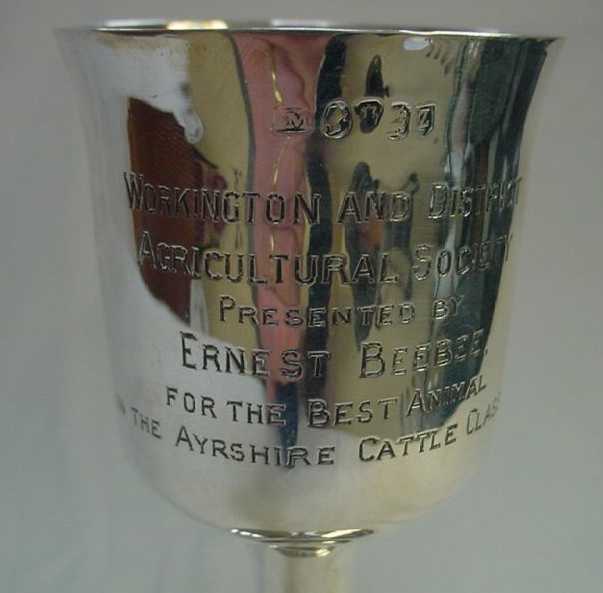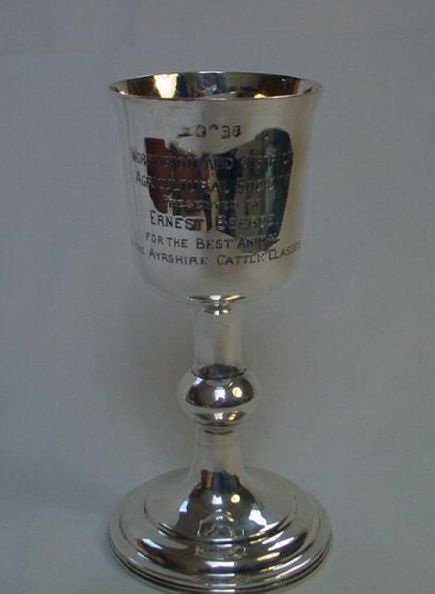 Victorian goblet. Hallmarks for Dublin 1870, maker mark John Morton It was use as trophy for a cattle competition.
The inscription says:
'Workington and District Agricultural Society - presented by Ernest Beebee for the best animal in the Ayrshire cattle classes'.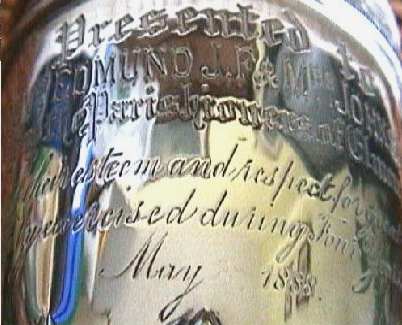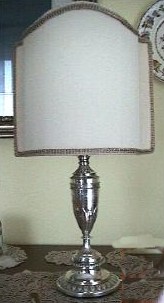 Victorian oil or kerosene lamp (electrify in the XX century). Hallmarks for London 1886, maker mark Edward Barnard & sons Ltd.
The inscription on this very rare and high quality item says:
'Presented to Reverend Edmund J. F. & Mrs. Johnson by the Parishioners of Elmore, as a token of esteem and respect for great kindness and liberality exercised during four years stay in the Parish. May 1888'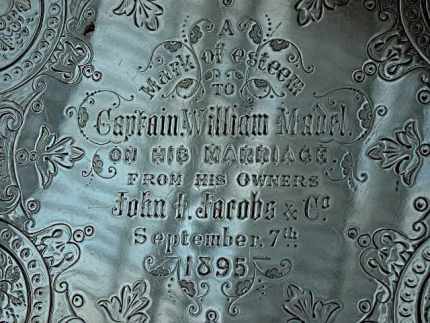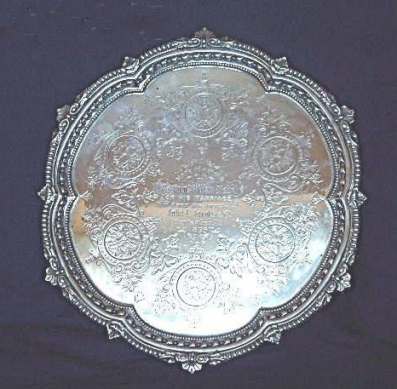 Hand engraved Victorian salver with gadroon and shell border.
Hallmarks for London 1894, maker mark not traceable.
The inscription says:
'Mark to esteem to Captain William Mabel on his marriage from his owners John I. Jacobs & Co. September 7th 1895'
copyright © Giovanni Ciceri