THE 'VICTORIAN LOZENGE'
DATING 'REGISTERED MODEL' OF 'THE UK PATENT OFFICE'
Unlike silver items, there is no date letter on silverplate allowing to recognize the date of its manufacture.
For silverplate items the patent's date of registered models may be useful for an approximate dating.
The 'lozenge' mark used between 1842 and 1883 to certify the patent of the models registered by the UK Patent Office allows the identification of day, month and year of their registration.

1842 - 1867

1868 - 1883

registry mark used between
1842 - 1867

registry mark used between
1868 - 1883
| | | | | | | | |
| --- | --- | --- | --- | --- | --- | --- | --- |
| YEAR | LETTER | MONTH | LETTER | YEAR | LETTER | MONTH | LETTER |
| | | | | | | | |
| --- | --- | --- | --- | --- | --- | --- | --- |
| 1842 | X | January | C | 1868 | X | January | C |
| | | | | | | | |
| --- | --- | --- | --- | --- | --- | --- | --- |
| 1843 | H | February | G | 1869 | H | February | G |
| | | | | | | | |
| --- | --- | --- | --- | --- | --- | --- | --- |
| 1844 | C | March | W | 1870 | C | March | W |
| | | | | | | | |
| --- | --- | --- | --- | --- | --- | --- | --- |
| 1845 | A | April | H | 1871 | A | April | H |
| | | | | | | | |
| --- | --- | --- | --- | --- | --- | --- | --- |
| 1846 | I | May | E | 1872 | I | May | E |
| | | | | | | | |
| --- | --- | --- | --- | --- | --- | --- | --- |
| 1847 | F | June | M | 1873 | F | June | M |
| | | | | | | | |
| --- | --- | --- | --- | --- | --- | --- | --- |
| 1848 | U | July | I | 1874 | U | July | I |
| | | | | | | | |
| --- | --- | --- | --- | --- | --- | --- | --- |
| 1849 | S | August | R | 1875 | S | August | R |
| | | | | | | | |
| --- | --- | --- | --- | --- | --- | --- | --- |
| 1850 | V | September | D | 1876 | V | September | D |
| | | | | | | | |
| --- | --- | --- | --- | --- | --- | --- | --- |
| 1851 | P | October | B | 1877 | P | October | B |
| | | | | | | | |
| --- | --- | --- | --- | --- | --- | --- | --- |
| 1852 | D | November | K | 1878 | D | November | K |
| | | | | | | | |
| --- | --- | --- | --- | --- | --- | --- | --- |
| 1853 | Y | December | A | 1879 | Y | December | A |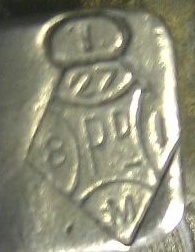 This 'Bee case' patent is dated 27 June 1872:
day 27 (upper corner)
month June (lower corner M)
year 1872 (right corner I)

From 1884 a numerical identification was attributed to new patent models. The table below reports the first serial numer attributed from 1884 to 1899

YEAR

FIRST

NUMBER

YEAR

FIRST

NUMBER

YEAR

FIRST

NUMBER

YEAR

FIRST

NUMBER
| | | | | | | | |
| --- | --- | --- | --- | --- | --- | --- | --- |
| 1884 | 1 | 1885 | 19754 | 1886 | 40480 | 1887 | 64520 |
| | | | | | | | |
| --- | --- | --- | --- | --- | --- | --- | --- |
| 1888 | 90483 | 1889 | 116480 | 1890 | 141273 | 1891 | 163767 |
| | | | | | | | |
| --- | --- | --- | --- | --- | --- | --- | --- |
| 1892 | 185713 | 1893 | 205240 | 1894 | 224720 | 1895 | 246975 |
| | | | | | | | |
| --- | --- | --- | --- | --- | --- | --- | --- |
| 1896 | 268392 | 1897 | 291241 | 1898 | 311658 | 1899 | 331707 |
Giorgio Busetto - © 2005 -