by Jayne W. Dye and Karin Sixl-Daniell
(click on photos to enlarge image)
Historismus Silver-Gilt Dessert Set by Hermann Ratzersdorfer
Setting the stage:
| | |
| --- | --- |
| Beginning about the mid 1700's a rediscovery of the art forms of the 1500-1600's strongly influenced what people envisioned as good taste, high style, or desirable of emulation A variety of descriptive terms were applied varying by locale, which art form was being described (buildings, paintings, objects d'art, clothing fashions, etc), and which previous period was being used for inspiration/admiration/imitation. Rococo, Baroque, Empire, Romanticism, Classicism, Romantic Classicism, and Historicism all had differing qualities and emphasis in their reflections of the past. One hundred years later, circa 1870 - 1910, fine arts produced in Austria, are now designated by the term Historismus. One Swedish historian of silver works of art referenced 1830 - 1895 as the "Period of Eclecticism" (note 1). | |
For the purposes of this article and the illustration of one set of Dessert Flatware, circa 1872 - 1878, I find most appropriate and pleasing the terms Historismus and Historicism.
"Late Historicism, with its fascination with the picturesque and with motion, partly inspired by (French) neo-Baroque tendencies, placed emphasis upon the Gesamtkunstwerk ("total work of art"): theatre buildings, festive processions, sumptuous interiors, decorative arts, furnishings, drapery and fashion all received careful felicitous attention " (note 2). Harmony was sought in exterior building style, interiors, decorative arts, furnishings and even costume (See note 3 on the Imperial Hotel).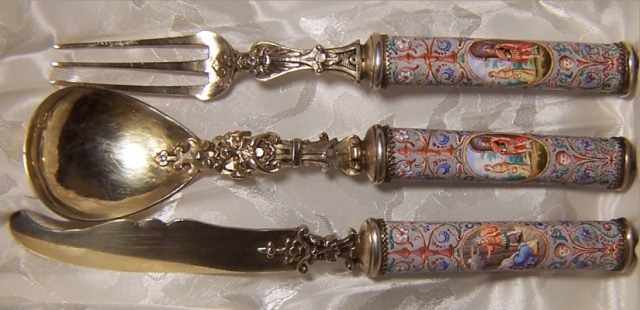 In the era of Emperor Franz Joseph's reign (1848 - 1916) this flowering of Austrian art brought Vienna international recognition. Vienna's city walls came down in 1857 to be replaced by the Ringstrasse (perimeter road) in 1861 along which many public buildings were erected - ministries, museums, the Opera and the Court Theatre. The legendary Grand Hotel on the Ringstrasse, one of the first Grand Hotels of Europe, was inaugurated on May 10th, 1870 near the Hall of the Vienna Musical Society (Musikverein).
European royalty enjoyed the elegance of the surroundings and the lavish service of the restaurants. In 1872 Johann Strauß the Younger was playing valses of Vienna; Johannes Brahms was conducting the Wiener Singverein (Vienna choir). Vienna, in the 1870's, was noted for the charm and elegance of the Imperial & Royal Monarchy; (it was) a city dancing to the music of the Strauss family (note 4).
This is the courtly period and background for which this Dessert Set was created.
Setting the table:
Viennese silver led European style during the fourth quarter of the 19th century. This was the epoch of Historismus.
The two areas making up the Austrio-Hungarian Empire already had an unequalled history of enameled jewelry production which led directly to the expansion into other decorative art pieces.
The Imperial Treasury housed many inspiring mediaeval and renaissance objects for study, providing inspiration and leading to reproduction.
" The secret of the Viennese enamellers was their success in following the trend set by the interior decorators of mansions and great public buildings with regard to color schemes and pictorial themes from classical mythology. That repertory remained within the principles of good taste of the nineteenth century while allowing depictions of men with heroic physiques, voluptuous women draped in diaphanous robes, and putti, the symbols of earthly love, fluttering in the sky.
The pictures were often bordered with arabesques and grotesques and were supplemented by tinted, patterned sections. The background colors for the patterns also echoed the fashions for luxurious wall ornamentation or sumptuous draperies, which favored muted pink, mauve, olive green, light blue, and pale straw yellow. These were, in fact, enamel tints that were technically among the most difficult to fuse flawlessly and evenly over large curved surfaces. Nonetheless the Viennese expert enamalist/silversmith/goldsmith made a specialty of successfully using this range of hues." (note 5).
Featured here is an elaborate vermeil and enamel set of dessert cutlery by Hermann Ratzersdorfer circa 1872-1878; in the last decade of a 38 year artistic career. For comparison three other pieces of his work sold recently by Sotheby's are pictured. In addition, a ewer (maker unknown) of the same period and style as the dessert set is pictured. The creativity and beauty of the Ewer, its artisanship and enameled scenes, all are closely related to the decoration of the cutlery featured here.
The dessert set
There is a leather cover on the box containing 18 pieces in all; a knife, fork, and spoon for 6 place settings in two fitted trays, with a red satin lining and the H. Ratzersdorfer label in gold.
Dating of the set:
The address on the lid lining was used as a storefront showroom by Hermann Ratzersdorfer until about 1878 and he retired in 1881. The Hallmark was mandated for Austria on March 10, 1872. It is a five lobed punch with the head of Diana in profile, a crescent moon touching her forehead, the city mark under her nose and the fineness mark at the nape of her neck. In this mark the city is 'A' for Vienna. The fineness is '3' for 800/1000. This was the expected silver quality for articles produced in Austria, at this time period, for the domestic market.
The small HR mark placed on a little flange of the spoon shank is not unusual but could easily be missed if examining a single piece of silver art.

All the silver has been gilded; spoon bowls, tines, blades and shanks. Desserts often had an acidic nature that would harm silver utensils. Gilding, at this time in Vienna, was unusually heavy, being 7 microns thick. It has not worn through in any area (gilded pieces could use as little as a 2.5 micron layer of gold).

The connecting shanks have a variety of cast human and animal faces, one on the back and a different one on the front of each utensil (six faces in all).
The spoon has a 7.5 cm shank, and a 5.5cm bowl (22cm with handle). The fork is 21 cm; the knife, 22.2 cm.; the enameled handles are 9 cm on all pieces. The handles are copper based, full round, hand decorated enamel with chased and finely gilt caps on both ends.


There are six oval scenes, 3 cm x 2 cm, different on the front and back of each piece. They are random in arrangement. Each depicts a man on the right, a few in military attire, conversing with a women in flowing gowns on the left. Mythology is suggested but none depict a specific Greek or Roman myth. Outside the oval scenes are putti and arabesques, flowing but stylized foliate tendrils and blossoms, foretelling the more organic forms to follow immediately after this era in the Art Nouveau period (Art Deco, Jugendstil). Carefully looking at several of the same scenes on different pieces emphasizes the differences. This is well illustrated in the Arabesques, also.




In the first two decades of the 20th Century mass produced items very similar in nature lacked the fine qualities of the best early pieces by such goldsmiths as Ratzersdorfer and Böhm (dating from around 1870)
The artist: Hermann Ratzersdorfer was born in 1817 and raised in Pressburg, Austria, a thriving community of 40,000 inhabitants (Bratislava now, the capital of Slovakia). His father Solomon, a dealer in true antiquities, received unflattering mention by a contemporary writer who remarked, "His (Solomon's) oldest son, Hermann Ratzersdorfer, who moved at the beginning of the forties to Vienna, soon found it more lucrative to imitate rare pieces, instead of searching out and carefully picking originals, and he established such a factory, the first of its kind in Austria. …..this production of imitated old furniture, old porcelain, decoration and other art articles of earlier centuries has spread far and wide" (note 6).

On December 14, 1843 he started his business and registered his own maker's mark certifying his recognition as a master silversmith. In Vienna, this signified he had served an apprenticeship, usually 4-6 years, worked as a journeyman, often another 6-10 years, taken instruction at the Imperial Academy of Fine Arts, and presented, for judgment by the appropriate guild, a master's piece. Since it was guild policy for many years to keep the number of masters as low as possible very few journeymen could become a master (note 7).

Two years later he showed his workmanship at the Viennese Trade Exhibition,1845. He exhibited at the London Exhibition of 1851 showing products of "Rococo Galanterie Waaren" and winning a medal for "a toilet glass … of elaborate and choice workmanship". At the Paris Exhibition of 1855 he won a 2nd class medal. In the London Exhibition of 1871 the price of a "Vase of Rock Crystal, silver mounts" shown by Ratzersdorfer was £140. He exhibited over £1,000 worth (no small sum at the time) of gold, silver and carved rock-crystal dressing table items in London (note 8, 9)

It is said he put his most effort into the pieces he created for the 1873 Exhibition in Vienna when this dessert set may already have been in existence]. His display for the Vienna Exhibition was praised by the French jurors for " … des coupes, des coffrets …, des cabinets de cristal de roche …, des hanaps … ornés de délicieuses peintures sur émail très-fines, imitant la belle époque de la Renaissance allemande" (note 10).
Hermann Ratzersdorfer was recognized as a master silversmith, and excelled as a goldsmith, enamelist, jeweler and sculptor of rock crystal. He became well know for many artistic creations, at times utilizing all of these media on a single piece. Often a creation showcased his firm's expertise with one element and the others were used as enhancements.

He was given a diploma of honor at the 1873 Vienna World Exhibition at which "critics and public praised the neo-Renaissance creations of the Viennese goldsmiths which were said to light up the gloomy Exhibition Rotunda with their colour and sparkle. He was represented by seven items in the Austrian Museum of Art & Industry's 1889 exhibit, as well as by nine items in their 1914 retrospective of 19th century works. He had by then retired, having turned his business over to his son Julius, in 1881. (notes 11, 12).
Discussion and examples.
Three other pieces by Hermann Ratzersdorfer show his skill working with primarily rock crystal in one piece, silver-gilt and enamel in another, and silver and gold in the third. The variety of pieces known to have come from his workshop grows daily and are fascinating to study

The enameled Ewer shown below is a Viennese piece of the same era, circa 1875, sold by Sotheby's as 'maker unknown' . It would have been a fine complimentary piece to grace a table set with the featured Dessert Flatware.
Provenance:
This boxed dessert set is known to have been on display daily, unmoved, in an antique store on Pennsylvania Ave. Washington, DC for 12 years (1960 to 1972) until one of the authors decided to give it a home. It has been used many times in the subsequent 35 years; not for dessert, but for cream soup and fish entre dinners.
Comments