CANDLE SNUFFERS
Since ancient age the silversmith's activity is characterized by a tireless research of new objects for civil use.
Between the 17th and the 18th century a flourishing request promoted a wide production of uncommon and curious articles: for the table, for personal use or for decorative purposes.
In this article I present one of these amazing objects: the candle snuffer. This is a traditional piece of Hispanic silversmithing, originally reserved to ecclesiastical use but soon spread to domestic use following an ever growing request.
The first candle snuffers were made in the 16th century, but their diffusion dates to the 18th century, when models of various forms were produced following the fashions and the taste of the moment, usually maintaining their scissors form, accompanied by trays or vertical stands.

The scissor portion was used to cut off the burning tip of the candlewick. The flaming tip was trapped and extinguished inside the small box. Modern candlewicks are made of pure cotton and do not need to be cut. In older times the wicks were made of a hollow rush stem and necessitated continuous maintenance to preserve the maximum output of light.

Candle snuffers may be found in museums and expositions and are pieces very appreciated by collectors, obtaining high prices in the antiques market.
a selection of candle snuffers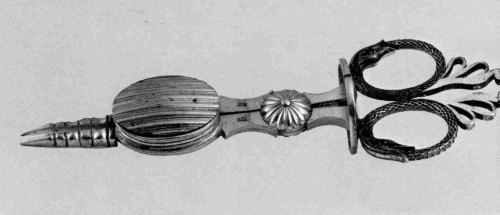 Museo Patrimonio Nacional - Madrid 1842
| | |
| --- | --- |
| | |
| Manufactured for the Real Fabrica de Platería Martinez, in 1838. Museo Municipal of Madrid | Snuffer and tray with coat of arms |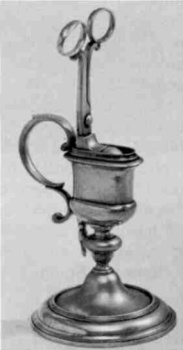 English snuffer,
with vertical stand - 1710
Brass snuffer and tray. Private collection
J. L. Muñoz

chamber candle stick with estinguisher and snuffer. England - London 1810