(click on photos to enlarge image)
ANTIQUE SILVER CHAIRS IN MINIATURE



Research has shown that silver miniature chairs, along with many other silver miniatures items, were made in abundance in Amsterdam (The Netherlands), from 1725-75.
The first dolls' house was introduced into Holland from Germany in the 17th century and this accelerated the demand of silver chairs to furnish these small masterpieces of craftsmanship.
The main customers were the wealthy ladies of Dutch families and there was great rivalry to furnish their dolls' house with the best silver furniture and equipment.
Large dolls' houses had 12 rooms and all of which required at least one silver chair.
The production of silver toys in Amsterdam increased to satisfy the request internal and from abroad. The export of silver miniatures from the Netherlands continues today, though the numbers of silversmiths have vastly decreased.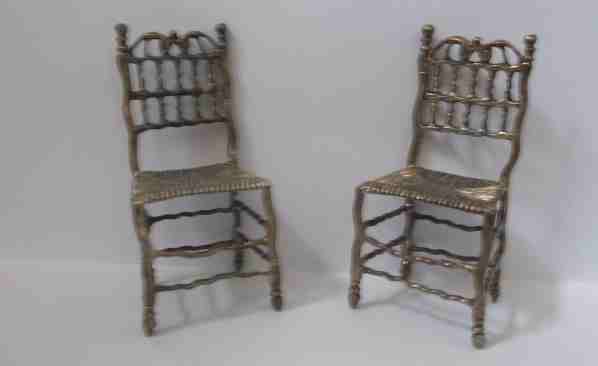 A pair of 18th century Dutch, hand made silver chairs. Height 65mm, weight 26g each (Author's collection).
There are no hallmarks or import marks. This pair of chairs has double stretchers fitted to the undersides. This is a rare feature present on early chairs from Holland. Pictures of this type of chairs can be found in the book "Netherland Silver Miniatures of 17th and 18th century" by John Endlick. Text is in Dutch but the book is illustrated with many pictures of chairs.

.

An 18th century, silver, handmade, Dutch four ladder back chair with double stretchers. Height 73mm, Weight 38g.
London import mark 1896 by David Bridge. Maker's marks have been erased (Author's collection)




.
A selection of silver chairs in various sizes. The tallest is a 'pin cushion' chair by W.Cummings, 1902. Height 150mm, Weight 100g. The smallest chair is 18 mm high (Author's collection).
All the chairs bear the original owner's name, registration number, hallmark and maker's mark.
Prices for rare chairs like these are rising fast.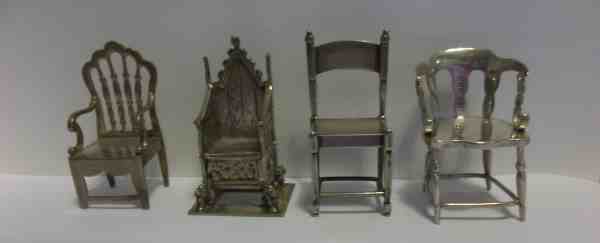 Four special chairs (from left to right)
- Lord Alfred Tennyson by Levi & Salaman (1910)
- Edward II Coronation Chair (maker CD, 1901)
- Nelson's chair (maker Levi & Salaman, 1910)
- Charles Dickens chair (maker Levi & Salaman, 1910)
(Author's collection)


The majority of silver chairs manufactured in the Netherlands were 60-70 mm in height. Yet a few examples were only 40 mm tall.
Owing to the narrow gauge of the metal most of the Dutch chairs do not bears hallmark or maker's mark or are left unmarked to avoid damages to the artifact.

Dutch chairs exported to the UK bear full sets of British silver import marks. This type of hallmarking has been mandatory since 1867 and continues to be requested in present days.

In 1904 the familiar "F" mark used (1867-1904) in imported wares was discontinued and replaced by the use of a new set of Assay Office town marks. Sometimes, misunderstanding the meaning of the import mark, less experienced dealers date the manufacture of a piece by the corresponding date-letter of the import mark. It may be happen that very old Dutch silver chairs, bearing only British hallmarking, are traded as artifacts made in the UK in the mid or late 20th century.

Ancient handmade Dutch silver chairs are easily recognised by their irregular workmanship. Usually, the ladder back supports do not match up as they have been hand cut and soldered in place.

In present days silver chairs are still manufactured in Holland by skilled workers, but, unfortunately, no new design is produced and most of the output is a mere replica the models of the past. This is a pity, as today production presents high levels of workmanship.

Silver chairs were made in Germany, mainly in Hanau, producing items of exquisite designs. Most of Hanau chairs carry an assortment of pseudo-hallmarks. These chairs are usually of fine quality, though many of them have been mass produced and stamped out by machine.

Miniature chairs have been produced also in other countries, most of them with no hallmarks or makers marks.
Some of the larger ones have been adapted as menu holders.

Most of the chairs in my collection, are, as far as I am aware, made of Sterling silver, except some of them which are of the lower 800/1000 silver fineness.



A set of blue enamel silver chairs and table. No hallmarks or makers mark. A set like this is rare to find.


Four chairs and a table made in Russia and sold on eBay.
The chairs and table are thin and of poor quality, with no hallmark

Height 65mm, Weight 28 g each

Height 48mm, Weight 20 g each


Silver chairs can be purchased on eBay, in antique fairs and, sometimes, in antique shops.
Good quality chairs are hard to find and expensive. Some of these early chairs can be found at Sotheby's.
The majority of Dutch and German silver chairs appear to have woven hemp seating, though simulated leather seating are frequent.


Height 75mm, Weight 30 g each

The set has British hallmarks, maker's initials SJR (possibly S.J. Rose & Son), Birmingham 1973. Total weight 100 g.

The chair on the left was made by W. Cummins, 1902 and that on the right was made by J & W Deakin, Chester 1902. Their weigh is 100 g. each.






In conclusion may I say that collecting silver chairs and miniatures is a fascinating and profitable hobby.
A ready market to buy and sell them is the Silver/Miniatures category on eBay.