"LET'S DRINK AND BE MERRY"
a study about punch ladles
Punch was a popular party drink introduced in the middle of the 17th century. The name is derived from the Sanskrit panca, meaning five and pointing to the five key ingredients: water, sugar, limes or lemons, spices and spirit (click for note 1).

Punch bowl, punch goblets, sugar dredgers, bottles with silver or even enameled labels, lemon/orange strainers and ladles were all punch paraphernalia and as such "must haves" in elegant households, some Georgian homes were even equipped with "puncheries" (click for note 2).

This study concerns itself with punch ladles only and more specifically 18th and 19th century's examples. They are found still relatively often in today's market place and are so within reach of interested collectors. Still useful in the modern household, they are also enough varied in style and therefore qualify easily as collector's items.

The 17th century punch ladle was a substantial piece of silver with heavy round bowl and a silver handle. Due to the scarcity of silver at the beginning of the 18th century new styles had to be developed. The introduction of a non-silver handle and lighter bowls were natural consequences.

Around 1735 the bowls were round or egg shaped (Fig. 1).


Fig.1: Early George II silver punch ladle
The double lipped often fluted bowl was introduced around 1740 (Fig.2).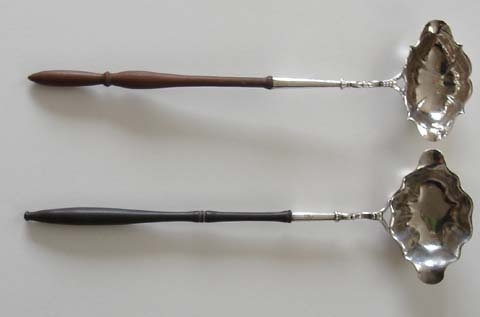 Fig.2: Two double lipped punch ladles, the one with the lighter handle London 1746, by David Henell, the other possibly American by William Homes (click for note 10).
Fancy bowl shapes like the shell of nautilus were also popular around the middle of the century. Here two examples, one plain with wooden handle and an even fancier type with engraved pattern on the shell shaped bowl and an ivory handle. (Fig.3)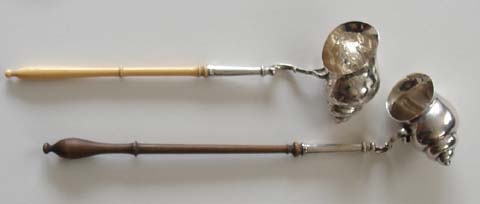 Fig.3: Nautilus shaped bowls, the ladle with the plain bowl London ca. 1740, possibly Benj.Godfrey, the other with fancy engraving London 1748, by Francis Spilsbury maker
Oval bowl shapes - fluted or plain - with shaped out spouts at one end were popular, probably because it facilitated the pouring of the punch. (Fig.4)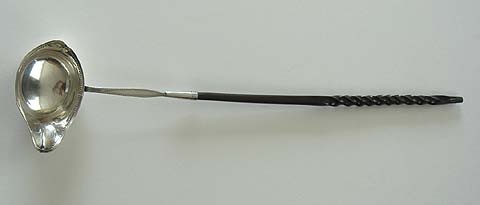 Fig.4: George III punch ladle, London 1789, Samuel Meriton maker
Coins like the crown-piece could be hammered out to handy discs from which the bowl would be raised. The coin was hammered in such a way that the marginal design or inscription encircled the bowl rim (Fig.5).


Fig.5: Milled rim of a punch ladle, made from a coin – "Anno Regni Vicesimo Quarto XX Decus Et Tut XX Amen" is still readable.
Many punch ladles have coins inset in the middle of the bowls. The coins are mostly earlier and should not be used as dating indicators for the ladles (Fig.6).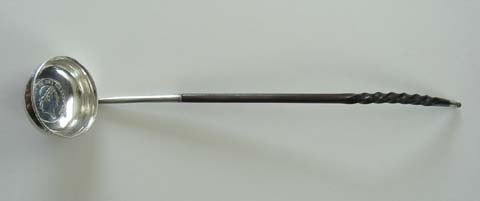 Fig.6: Plain coin set ladle
Shown is also a punch ladle inset with a Queen Ann shilling and decorated with Regence ornamental strap work and busts (Fig.7).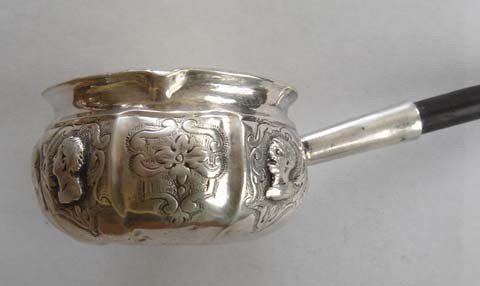 Fig.7: George II punch ladle, inset with Queen Ann coin
The lovely Eastern European ladle, made ca.1779 in Riga by Johann Diedrichs Revalds, features an inset coin, dating to 1709, and is also fitted with a pierced grille to one side – a clever integration of the fruit strainer (Fig.8).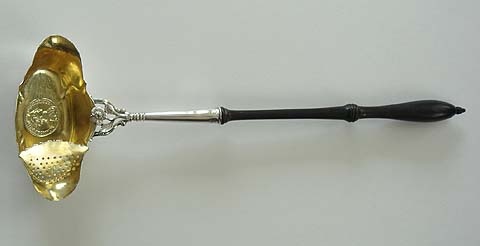 Fig.8: Punch ladle made in Riga with integral fruit strainer
(click on Fig. 8 for detail)
Handles were made of wood, ivory, ebony or whale bone. The later was heated under pressure with steam until malleable and then twisted into ornate spirals. The end of the handles are often capped with a silver finial, thistle finials on Scottish ladles are relatively rare. Ebony handles have sometimes ivory or bone finials for a nice color contrast.
An exception to the rule is the Austro-Hungarian ladle with silver handle, made ca. 1750 in Kronstadt, the grapes and vines motif on the handle as well as the fluted silver-gilt bowl point to a definite use as punch ladle (Fig.9).


Fig.9: Mid-18th century Austro Hungarian punch ladle, Kronstadt
(click on fig. 9 for detail)
Handle attachments varied, from simple handle sockets to cast bifurcated attachments. European examples often feature a cast flower motif applied to the handle attachment (click on Fig.8).
Some ladles show monograms, crests or coat of arms. In the 18th century decoration was used sparingly contrary to late Georgian and early Victorian ladles which were often heavily chased.
Inscriptions on punch ladles are not very common. The following inscription is found on a Queen Ann punch ladle of 1712 and reads: "Gentlemen Archers. Of brandy with you there's no lake, I gift you this for your punch to take. John Hamilton."
Such a witty and contemporary inscription is a definite asset and will increase the value of the piece (click for note 3).

On the Canadian market the English punch ladle is predominant. Most of them are London-made.
Scottish punch ladles are rare, because Scots preferred claret to punch. A nice Scottish example is shown in Fig.10, a beautifully carved wood handle and an applied leaf motif on the socket contribute greatly to its charm.


Fig.10: Scottish punch ladle, Glasgow 1830
A few punch ladles were made in Perth (click for note 4) (Fig.11/12).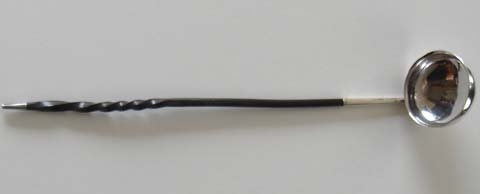 Fig.11: Scottish ladle, made in Perth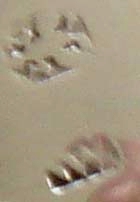 Fig.12: Town mark of Perth with un-identified IW master mark
18th century German ladles are elegant and balanced in form, 19th century German ladles appear plump with their somewhat larger bowls, helmet styles are also common (Fig.13).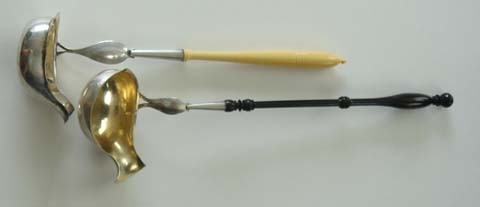 German punch ladle, Hamburg ca.1840, made by Alexander Ferdinand Lux, and (light shaft) German punch ladle, Hamburg 1869, made by Siegmund Martin Baack
American punch ladles are rare; the large number of extant lemon strainers is proof that the drink was equally popular in America. There is a charming example of an American punch ladle in the Phillip Hammerslough collection, made by Ebenezer Austin, Hartford middle of the 18th century.5 (click for note 5).
Another one, made by William Homes jr., is shown in "Silver in American life" (click for note 6).
The Heritage collection in Old Deerfield has a double-lipped fluted ladle with carved wooden handle, by Jacob Hurd, and a punch ladle, featuring a twisted whale bone handle, is made from a coin by Halsted and Myers, New York, 1763. (click for note 7).
A Myer Myer's example is called 'punch ladle' (click for note 8) even though it has a - for a punch ladle atypical - silver handle with bright-cut decoration.
Since there is no scarcity of American soup - or other ladles it can safely be assumed that these were used for filling punch into the goblets. To prove the point: the shop inventory of Joseph and Nathaniel Richardson, dated May 31, 1790, lists six punch ladles, but 36 soup ladles and 36 sauce ladles (click for note 9).
Most punch ladles are marked with the exception of those made out of coins. English ladles are hallmarked in the bowl or on the outer rim of the bowl.
There are virtually no known fakes. Later American-made reproductions in Georgian styles can be found.
Determining factor for including a ladle into your collection should definitely be condition. All ladles are prone to splits and repairs to the stem which joins bowl to handle. Fine examples - even if much more expensive - are always more desirable and will give you lasting pleasure.

Dorothea Burstyn
- 2006 -