by Giorgio Busetto
(click on photos to enlarge image)
ITALIAN SILVER HAIR-PIN: THE 'SPERADA'
Women put particular care into the style in which their hair is cut and arranged. The hairpin is a common adornment used to hold the hair together, especially at nape of the neck.

In the Brianza (an area on the Northern Italy region of Lombardy) the use of this device has ancient origins and finds its roots in the numerous pins (spilloni) of the Bronze Age found in peat deposits and in the 'HASTA CAELIBARIS' or 'aghi crinali' (a thin needle enlarged at the top) found in many Ancient Roman graves.
A characteristic hair arrangement of Brianza women was the 'sperada', used also by Lucia Mondella, the feminine protagonist of the romance 'I Promessi sposi' (The Betrothed), masterpiece of the Italian writer Alessandro Manzoni, published in 1827.
This is Lucia's description on Chapter II:
'Lucia had just come forth adorned from head to foot by the hands of her mother. Her friends were stealing glances at the bride, and forcing her to show herself; while she, with the somewhat warlike modesty of a rustic, was endeavouring to escape, using her arms as a shield for her face, and holding her head downwards, her black pencilled eyebrows seeming to frown, while her lips were smiling. Her dark and luxuriant hair, divided on her forehead with a white and narrow parting, was united behind in many - circled plaitings, pierced with long silver pins, disposed around, so as to look like an aureola, or saintly glory, a fashion still in use among the Milanese peasant - girls.'

The 'sperada' ceased to be used at the beginning of the 20th century and now it survives only to be worn in appropriate folkloric ceremonies.
The 'sperada' is a silver ornamentation made by several pins forming a sunburst, threaded on the hairs wrapped on a horizontal olive-topped pin.
The 'sperada' was made of:
- a pin with two olives at its end, named 'sp¨ntun' or 'g¨ggiun';
- many pointed pins, named 'spadinn', given by the fiancÚ to his betrothed (before betrothal the girls wore hair loose);
- some other pins, sometimes in the shape of a spoon, named 'fuseii' or 'spazza¨recc', were the gift of the bridegroom on the marriage day and on other special occasions as the birth of a child.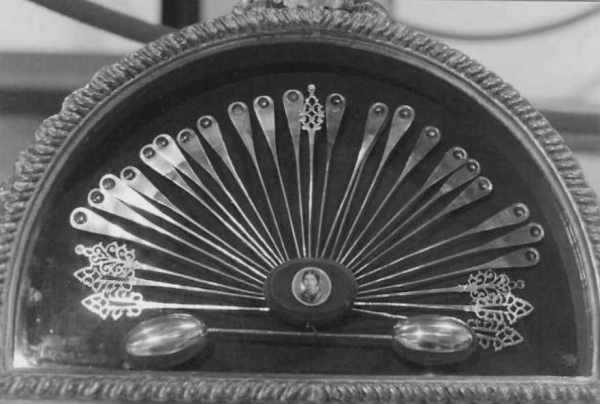 a rich 'sperada' composed by one 'sp¨ntun' or 'g¨ggiun', 23 'spadinn' and 6 'fuseii' or 'spazza¨recc'


There are few (or no) pieces of antique silver 'sperada' available for sale. The surviving pieces are a precious heritage preserved with close attention by families, folkloric groups and public institutions.
This is a 19th century silver 'spadinn' made in the Regno Lombardo Veneto (presumably Milan). It is hallmarked with the incudine (anvil) mark used for 800/1000 silver in the period 1810/1872 and a clear silversmith mark (not identified).
The 'spadinn' is 6 3/4 in. wide (cm. 17) and, surprisingly, was found and bought through a UK dealer.