(click on photos to enlarge image)
THREE UNUSUAL SILVER CUPS
Since ancient times silver cups were used as drinking vessels, for religious services or decorative purposes.
Obviously these masterpieces, of exceptional historical and artistic value, belong to Museums or to Great Collectors of decorative art.

skyphos 1st century A.D.,
Treasure of Boscoreale,
Louvre Museum, Paris

silver, gold and enamel cup, Constantinople,
10th century A.D.

Locock cup, 1450

two-handled cup, Robert Sanderson, Boston, c.1675
two-handled cup and cover,
Paul De Lamerie, 1720

cup and cover,
mark IC, 1735

two-handled cup,
Joseph Preedly, 1804

two-handled,
vase shaped cup,
William Brown, 1835
In this article I illustrate three 20th century cups that may be interesting for ASCAS readers, not for their (little) value, but for their unusual shape and their uncommon employ.

wager cup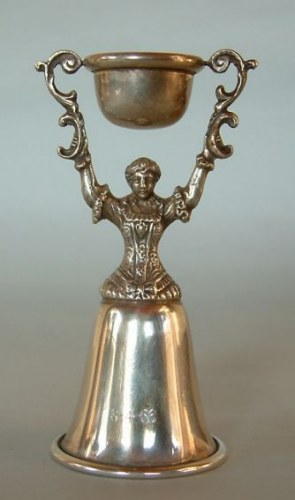 the origins of these cups are 'Jungfraubecher' made in Germany (Nuremberg) around 1565 and in use for all 17th century. The cup has the look of a young girl with a wide long skirt in the form of a cup supporting over her head a smaller swivelling cup.
The cup was created for use in wedding's banquets, where the spouse drank wine from the bigger cup and offered his bride to drink from the smaller, avoiding pouring out even a drop of its content.
The production of cups in this form was resumed at the end of 19th century (particularly in Germany and Holland) for export to UK and USA, not for wedding but for wager use.
This is a little silver wager cup of recent production (dedication's date is 6-4-66) in the form of a tightly bodied 17th century woman, wearing a full skirt, holding branches from which is suspended a swivelling cup.
The cup bears Reed & Barton hallmark (www.silvercollection.it)
stirrup cup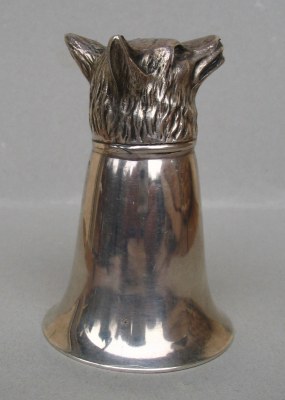 The stirrup cup was created for holding a drink to be taken while mounted on horseback, usually prior to a hunt moving off. As it is of small capacity it can be emptied quickly and there is no need to set it down during use, which would an impossibility anyway, while in the saddle. The most popular surviving late eighteenth/early nineteenth century specimens are those in the shape of a fox's head. Modelled in detail, the fur is represented realistically and they are of a size to be held easily in the hand. Contemporary counterparts in porcelain were made at the Derby factory and elsewhere.
This silver stirrup cup is of modern manufacture. It is unmarked and has the monogram 'GG' roughly engraved in the interior of the cup.
The fox's head up-side down is the base of the cup, standing on the ears and the nose of the wild animal.
The cup is 3 1/2 in. high (cm. 8,5) (www.silvercollection.it)
moustache cup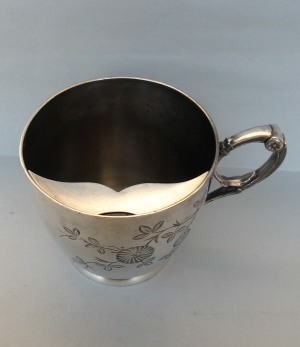 Mustaches flourished all throughout the Victorian years. Great gobs of wax were melted and then applied to the mustache to keep the curls intact. And therein lay a problem that cropped up when steaming hot cups of coffee or tea were carried up to the mouth for sipping.
The steam melted the wax and sent it right into the cup.
Another problem soon became apparent. Sipping hot tea or coffee, moustaches often became stained.
Finally, Harvey Adams, an innovative Englishman, in 1830 made an unusual invention, "the mustache cup".
The mustache cup had a ledge, called a mustache guard, across the cup. The guard had one semicircular opening against the side of the cup. The pampered mustache rested safe and dry on the mustache guard sipping hot beverage through the opening.
The new invention spread all over the Europe and soon every famous potter was making the new cups. A multiplicity of mustache cups was made by famous manufactories as Meissen, Royal Crown Derby, Imari, Royal Bayreuth, Limoges and others. Each potter created his own version of this masculine tableware and the news soon spread to America.
Although many mustache cups were made in America, the earliest ones were marked with names that led one to believe they were manufactured in England. This was due to the popularity of English-made ceramics.
Therefore, with the exception of the quadruple silver mustache cups made in the U.S., it is extremely difficult to find a true Victorian mustache cup bearing an American pottery mark.
Around 1920-1930 mustaches were no longer in vogue and mustache cup production trickled down along with the disappearing facial adornments. Today these examples of Victorian elegance are coveted and collected by a growing number of enthusiasts
This is an authentic silver-plate (quadruple plate) moustache cup made by Simpson, Hall, Miller & Co. (Willingford, Connecticut) at the end of 19th century.
The cup is decorated on the body with flowers of "Japonism" taste and monogrammed GTW.
The cup is 3 1/2 in. high (cm. 8,5) (www.silvercollection.it)