click on images to enlarge
A FLACON AND A LIGHTER
There is a well-documented story associated with the inscription on a perfume flacon by Charles Perry & Co. of Birmingham that simply reads:

' International Radiotelegraphic Conference, London.' (fig.1)
' Presented by Marconi's Wireless Telegraphic Company Ltd. 22nd June 1912.' (fig. 2)

This was an important Conference attended by representatives from forty countries and their colonies to ratify the Convention Radiotelegraphique Internationale.
The disaster of the Titanic, just two months previously, highlighted the need for ratification of the protocol that standardised radiotelegraphy worldwide.

The Times of London reported the Conference events. The edition of 12th June 1912 informed readers that Mr. and the Hon. Mrs. Marconi entertained a group of more than thirty prominent persons at Claridges for dinner.

The next detailed report in the 24th June edition covered the visit by delegates to the Marconi Works at Chelmsford and the dinner at the Savoy for about 400 guests. It would have been at this event that the ladies received the inscribed flacon as a memento.
The memento for the men was a suitably inscribed 9.5cm silver Disc Discharger lighter on a marble base made by Alfred Foster, assayed in London and housed in a leather case stamped 'Souvenir of the International Radiotelegraphic Conference'. (fig. 3)

Assuming an equal number of male and female guests, there must have been around 200 lighters presented to the men and a similar number of perfume flacons for the ladies, that were dispersed across the globe when the delegates returned to their respective countries.

Their host was the famous inventor, Guglielmo Marconi, who shared the Nobel Prize for Physics in 1909, just one of many awards and honours he received.

Endnote:
The Marconi Wireless Telegraph Company Morse Code operator, David Sarnoff, based atop the Wanamaker's Manhattan department store, was the first to pick up the distress signal from the Titanic. He remained at his post for 72 hours, receiving and passing on the news but best remembered for his association with Radio Corporation of America (RCA) and the National Broadcasting Company (NBC).

References:
- Marconi, Guglielmo. Britannica CD Version 97. Encyclopaedia Britannica, Inc. 1997.
- John Culme. 1987. The Directory of Gold & Silversmiths, Jewellers & AlliedTrades from the London Assay Office Registers. Antique Collectors' Club, Woodbridge, Suffolk, England.
- The Marconi Museum website. http://www.marconicalling.com/museum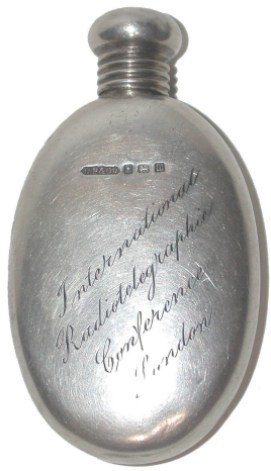 fig. 1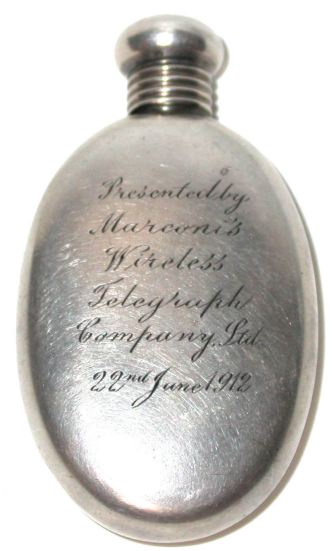 fig. 2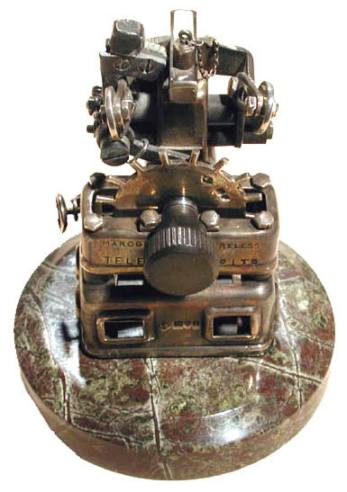 fig. 3
Fred Sinfield ©