click on images to enlarge
A female silversmith: Hester Bateman 1708 - 1794
Hester Batemans's long career began after the death of her husband John Bateman(1704-1760). John was a chainmaker in London, but little is known about him.

After his death, Hester began to build the business, entering her first silver mark in 1761 and continuing to expand the business and went on to be one of the best known of the female silversmiths working in London during the 18th century.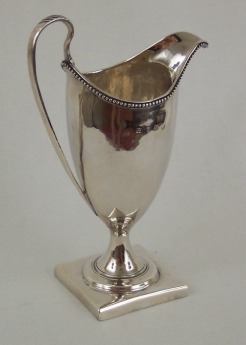 She produced many items in her workshop such as, creamers, salvers, teapots and serving pieces. While not as well respected as some of the other fine female silver smiths like Ann Tanqueray and Elizabeth Buteux, her work is certainly more affordable to the average collector and there are more authentic pieces available on the market.
By bringing her children and their spouses into the business, she created a family business which continued until long after her death.In addition to Hester herself, she was later joined by her sons, Jonathan (1747-1791) and Peter Bateman(1740-1825. After Jonathan's untimely death in 1791, Peter joined with Jonathan's wife Ann and eventually William Bateman I(1774-1850), who was the second son of Jonathan and Ann Bateman, and Hester's grandson.

Together they produced silver pieces well into 1815, at which point William registered his mark singularly. William was eventually followed by his son William Bateman II who continued the family tradition and it appears to have stopped at his death sometime between 1874 and 1877.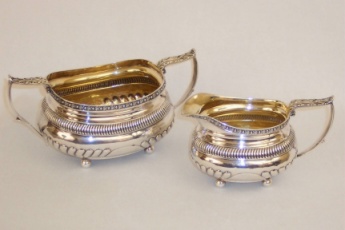 As collectables, Bateman antique silver pieces are sought after, with pieces by Hester and Jonathan and Peter Bateman bringing the most. Jonathan and Peter's mark was only used for 6 months, so it is considered to be very rare. One additional point is that Hester's pieces were often over struck, so use care and only purchase pieces which are clearly marked, if you desire a true HB piece.
Peter and Ann Bateman did many silver pieces, but were quite prolific with sugar and creamers and they were eventually joined and then succeeded by William Bateman. William is considered by many to be the most talented of the family and produced many quality pieces during his long career. The attention to detail and overall design of Williams's antique silver pieces are notable and reflect an element of design that is sometimes lacking in his relatives work.

To view Bateman pieces, I can recommend the Victoria and Albert Museum in London and certainly one additional fine collection of Bateman and many other fine makers is the Huntington Library in San Marino California. All pieces illustrated in this article are available at The Lion Passant.
| | |
| --- | --- |
| Fine example of a shaped oval teapot done by Hester Bateman, London 1789, just prior to her retirement. The beautiful bright cut engraving and the fine design reflect the experience of a lifetime of creating fine silver. The workmanship is excellent and literally every surface is covered by the engraving. | Rare teapot and matching stand by the Bateman brothers, Jonathan and Peter, London 1790. Sons of Hester Bateman, this mark was used for only 6 months in 1790, due to Jonathanís untimely death. |
copyright by Charles Cook ©
courtesy of The Lion Passant - Georgian and antique English silver