by Giorgio Busetto from an idea of Maurizio Perota
click on images to enlarge

LITTLE-KNOWN TABLEWARE ITEMS
ARGYLES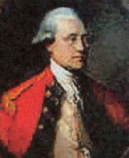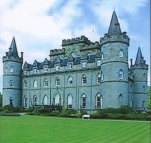 John Campbell, the fifth Duke of Argyll, and his wife Elizabeth Gunning, Baroness Hamilton of Hameldon, hated the way that gravy arrived cold to their table from the kitchens of their Inverary Castle during the cold Scottish winters.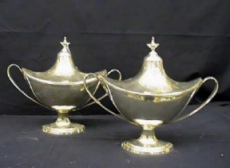 The Duke (1723-1806), succeeding his father, the fourth Duke of Argyll in 1770, was the promoter of a new piece of tableware designed to maintain the warmth of the gravy in its vessel. This, with a bit of imagination, was the origin of a warmer called 'argyle' in honour of the Noble Family that first made a wide use of this device. The first example was a gravy tureen with spouts fitted on either side to hold a piece of hot iron, wich maintained the gravy's warmth.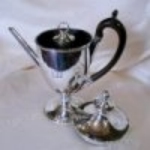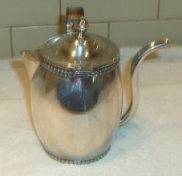 Later, the system was improved upon by the introduction of a jacket to contain hot water or an internal cylinder into wich a hot iron was placed.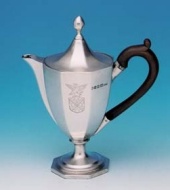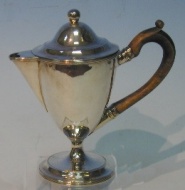 Argyles were made in a variety of shapes and sizes but most had a rounded body and a small foot, which maximized the capacity for the gravy or sauce.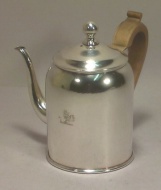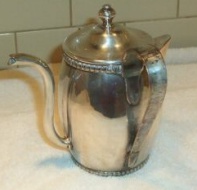 Usually the spout was placed at the bottom of the container, which allowed the gravy to be drawn off from underneath the layer of fat that settled out on the top.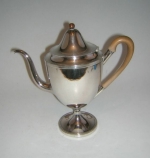 Argyles were produced up until the Victorian period in both silver and Sheffield plate. They are very rare and only a limited number now survive, as many of the early examples were later converted into coffee or tea pots. On the left a Georgian plate coffee pot abtained, presumably, by a modified argyle
An Argyle of William Grundy
This argyle has an exterior jacket for hot water which is poured in through this lip
Hallmarks indicating London manufacture in 1773 by
the English silversmith William Grundy
William Grundy's hallmark
English text revised by Gerry Gerhart
William Grundy argyle: photos Maurizio Perota