Articles for ASCAS website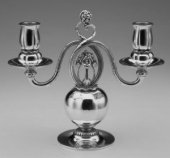 Tom Guarrera presents 'Georg Jensen: a silversmith from Denmark' an article about Georg Jensen, his life, hallmarks and designers working for his firm. The article is completed by an appendix with a photographic selection of Jensen's production and the list of flatware patterns click here
This article is published thanks to the courtesy of
www.925-1000.com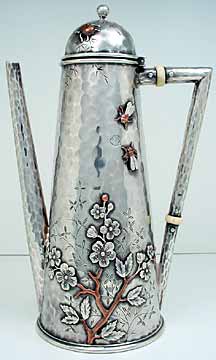 Gianmarco Baldini presents 'Japanese Influence in American Silver 1870-1890' an article about Japanese style in American silver at the end of 19th century.
click here
List of members
Welcome to new ASCAS members:
Sylvia Bell - Australia
Janet Carlile - Canada
Dusko Cicovacki - Croatia
Patrick Daneels - Belgium
Sally Gittoes - Australia
Tracy Gordon - USA
Jacqui Henderson - Scotland UK
Michael Issa - Usa
Elisabeth Jonsson - Sweden
Lars Jonsson - Sweden
Nanette Longchamp - USA
John Lucas - England UK
Peter Monaghan - England UK
Evelin Mueller - Argentina
William Naquin - USA
Valerie Newman - USA
Sergio Nicolucci - Italy
Garth Noonan - Australia
Mary Pasco - USA
Dan Phay - USA
Pinchas Rothenberg - USA
Dr. David Shlosberg - England UK
Michelle Staley - USA
Joe Sybrant - USA
Justin Tee - Canada
David Underwood - England UK
Dedo von Kerssenbrock-Krosigk - USA
Betty Wells - USA
Alan Wilson - Canada
ASCAS has now 213 members.
The updated list of ASCAS members is now available (only for members)


Members' Window # 10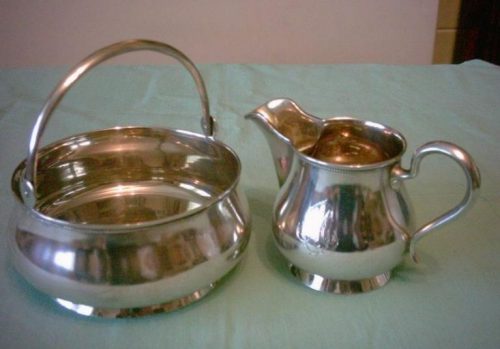 Giorgio Busetto and Edward Doherty present 'Milk creamer and sugar bowl from Russia', an 84 zolotnicki silver set made by silversmith Ivan Ivanovich Futikin. click here
Questions from ASCAS members
Karen Baker writes:
....I am attaching an image of a maker's mark and product number on the bottom of a sterling serving tray that I acquired. I believe it is an American maker but I have been through all reference books available to me with no success. I would greatly appreciate any input from you or other members. Thank you in advance for your help....
(click on images to enlarge)
Do any members recognize the mark of this tray?

What is this piece ???
This is a silver piece belonging to my collection.
Of this item I don't know use, origin and age. It's a container with silver lid connected by a chain to the handle. On the botton there's '800' hallmark (800/1000 silver purity degree) and another mark with a lion.
About its use a lot of hypothesis may be done: alcohol burner, brandy warmer, inkwell ......
The ...mystery piece is 7 in long (cm. 18)
Do any members recognize what was the use of this item and its marks?
Giorgio Busetto
(click on images to enlarge)
Closing our February newsletter I hope you have appreciated its content.
Your comments, suggestions and advices will be of great help.
My thanks to Karen Baker, Edward Doherty, Jayne Dye, Tom Guarrera, Gianmarco Baldini for their precious contributions.

Giorgio Busetto
Secretary