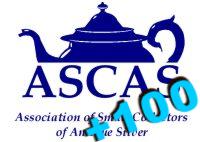 ASCAS members are 'over 100' !!!
ASCAS was founded on April 8 2004 and after 7 months has 128 members throughout the world.
These months along ASCAS has created its own website, its logo and seven Newsletters puntually published on the 15th of every month.
Members' support has allowed ASCAS to offer to its readers two new articles every month and www.ASCASonline.org is now a website well known among people interested to antique silver.
Members' number have attained and widely surpassed 100 and new enrolments continue to be submitted.
So, it's all right for ASCAS!
Yes, it's all right.... but ASCAS activity depends on members' support. NOT financial contributions but articles, informations, curiosities, questions, suggestions, photos and, not last, revision of English texts written by non-English members.
Only with your help ASCAS will be able to maintain its standard of new articles published every month and enrich the content of its 'Newsletter'.
I trust on cooperation of 'collectors' and 'lovers' of antique silver in building an even more interesting ASCAS website.
Your e-mails will be welcomed.
Giorgio Busetto
Secretary

Articles for ASCAS website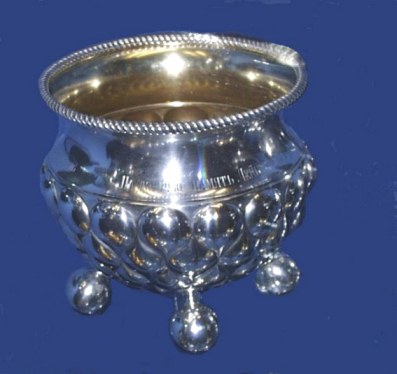 Claude-Charles Feÿs and Raoul Verbist present the second part of their article on 'The hall of Imperial Russian Silverware of the Musée Royal de l'Armée et d'Histoire Militaire of Bruxelles' (Royal Museum of the Army and of Military history). The article contains a wide selection of photos and their description of silver objects exhibited in the Hall.
This article is available in double version français

/ English

.
For part 1 of this article go to October Newsletter.

José Luis Muñoz Diaz presents an article on Hallmarks of Spanish silversmiths.
This article is a special abstract for ASCAS website from a wider study of José Luis Muñoz Diaz on Spanish silver hallmarking (silversmiths, assayers, town marks)
This article is available in double version. Español

/ English

.
List of members
Welcome to new ASCAS members:



Tal E. Ben Shlomo - Israel
Doris Byrd - USA
Holly Cartier - USA
Greg Cook - USA
Clint Daniels - England
Alun Davies - England
Fausto De Longis - Italy
Federica De Zottis - Italy
Gerard Gerhart - Canada
D. Griffin - USA
Terence Hodgen - Australia
Glenna James - USA
Stephen Keenan - USA
Michael Kiriloff - Belgium
Mauro Lancellotti - Italy
Erik Larsson - Sweden
Laurie Long - USA
John Manzi - USA
Jean C. Miller - USA
Doray Morgenroth - USA
Palmer Murry - USA
Maurizio Perota - Italy
Attilio Porsia - Italy
Daniel Robinson - USA
Pacifico Spagnoletto - Roma
Arianna Squilloni - Spain
Jonathan Taylor-East - Malta
Cheryl Winkley - USA
Norma L. Young - Canada
Daniela Zambelli - Italy
George Zochowski - England



ASCAS has now 128 members.
The updated list of ASCAS members is now available (only for members).



Members' Window # 7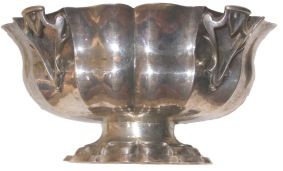 Fred Sinfield presents 'A sugar bowl with St. Mark's lion'. The sugar bowl has 18th century Venice (Italy) hallmarks. click here
Questions from ASCAS members
Richard L. McDanel writes:
II have discovered these two heavy silver objects in my travels but have never, nor been able to identify the very strange marks (hallmarks?) on them.
The first image is of both pieces; the second image are the hand drawn marks on the bases.
Any information as to where to start in the identification process would be much appreciated. I have searched the Internet with no success.
Regards
(click to enlarge images)
Do any members recognize the mark or offer any suggestions about this piece?



Closing our November newsletter I hope you have appreciated its content.
Your comments, suggestions and advices will be of great help.
My thanks to members Claude-Charles Feÿs, Richard L. McDanel, José Luis Muñoz Diaz, Fred Sinfield, Raoul Verbist for their precious contributions.

Giorgio Busetto

Secretary