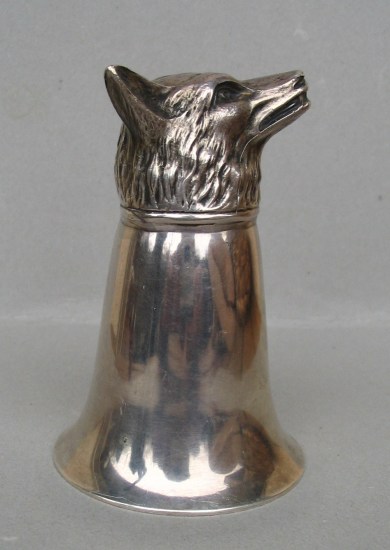 Giorgio Busetto presents:

Three unusual silver cups



Since ancient times silver cups were used as drinking vessels, for religious services or decorative purposes.
In this article are illustrated three 20th century cups that may be interesting for ASCAS readers, not for their (little) value, but for their unusual shape and their uncommon employ.
click here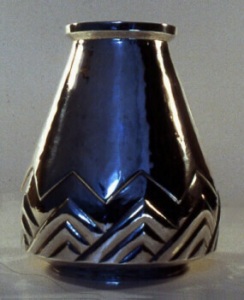 Martine D'Haeseleer presents:

Belgian Art Deco silver



A review of Belgian silversmiths of the 20th century

click here
---
A new 'tool' for ASCAS members.
The 'Internal Search Engine' supplied by "google" offers a quick find of the matter of your interest inside ASCAS website
---
Welcome to new ASCAS members:
Dominique Bochet - France
Pierluigi Bosio - Italy
Stephan Chinchilla - France
John Crosskey - England UK
Nona De Grote - Belgium
Stephen C. Dube - USA
Michelle Ford - England UK
Mustapha Harti - Morocco
Maurice Kirman - New Zealand
Bernie Lechman - USA
Judi Lechman - USA
Debra Lewis - USA
Francine Martello - USA
Kathryn B. Walter - USA
Joanne Wiertella - USA
Paulina Wojdak - Poland

---
Members' Window # 24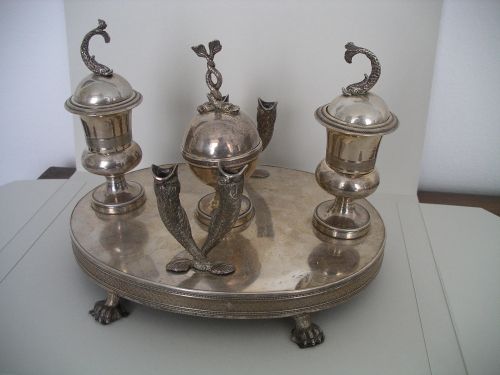 Attilio Porsia presents:

An inkstand from the "Regno delle Due Sicilie"

Un calamaio dal Regno delle Due Sicilie



an inkstand with dolphins' garniture made in Palermo (Sicily) at the beginning of the 19th century

This article is available in two versions
English

/ Italiano

---
Les Salvage writes:
...... I am showing here, a butter knife, the haft of which is dented and makes it difficult to photograph in detail. The knife has hallmarks - crown for Sheffield, lion passant and gothic letter "l" (lower case L), all in rectangles with cut-off corners signifying 1903. These hallmarks are on both sides of the haft indicating I presume, that the haft was made in two halves and then joined together. It will be noted that the blade is of electroplate. The makers initials are HH&S.
I would like to know more about this item if anyone has some knowledge that is not already apparent.
Obviously, it is not valuable, but nevertheless, I think it worth asking about.
Regards
Les Salvage

---
Nikica Vuletic writes
.....I am sending you a scan image of an oval silver (I hope so) tray. It weights approx. 800 grams and brings hallmark that I tried hard to identify. It is nice lobster (or crayfish) and number 1 can be read. I surfed lot of books and web pages but with no result.
Best Regards!
Nikica Vuletic
---
P-G Beghin writes:
... I send the photos of a wine taster:
high 24 mm, diameter 79 mm, tickness 2 mm, weight 125 gr.
The bowl's edge is inscribed 'D CHAUSSARD DORVILLE' followed by three marks
two other marks on the base
handle in the shape of a snake with two other marks
This wine taster belongs to the family of my wife from three generations.
Her grand-grand-grandmother's name was Jeanne Chaussard, borne at Orville (France) in 1810.
Jeanne's father name was Edmé, so we think that this wine taster belonged to a more ancient relative.
I hope you may help me to learn more about the origin of this object.
Best regards.
P-G Beghin
---
Emanuele Felicioni writes:
... I believe that this silver cup was made by German silversmith Christoph Jamnitzer (hallmark cjb: Christoph Jamnitzer Burg). I'd greatly appreciate ASCAS members' help in identifying these hallmarks and supplying more information about the maker.
Best regards.
Emanuele Felicioni
Christoph Jamnitzer of Nuremberg (1563-1618), grandson of the foremost German goldsmith Wenzel Jamnitzer (1597 ?-1585), is recorded as a silver worker, draughtsman and engraver. He became a master goldsmith in 1592 having probably been apprenticed to the Nuremberg workshop of Hans Pezolt.
Only twenty-five of his works of art in silver survive, most of them in public collections.