---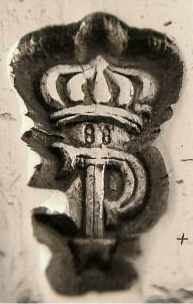 Christophe Ginter presents:

The forgotten silversmiths of French revolution

Les orfèvres oubliés de la Révolution Française



The objective of this article is the identification of Paris silversmiths whose activity has been 'forgotten' as their marks were never registered, due to the disorder caused by the French Revolution of July 14, 1789. To my knowledge, these silversmiths aren't listed in any bibliographic record and this article is a small contribute to rehabilitate their activity of skilled craftsmen. Their marks are well presents on silverware owned by French and foreigners collectors, often unsure about the authenticity of their silver punched with unidentified marks never subjected to registration......

click here

click here

---
Welcome to new ASCAS members:
---
Anthony B. writes:
...I love your web site and just saw your article on the Skyphos cup. I am trying (desperately!) to find out who may have made this fantastic jug. Its 60 0z. Super high quality. Possibly Italian c 1870 or maybe French I think.
I have also a page from a 1941 catalogue of a very famous estate sale of the collection of Henry Walters in the US. All these pieces are listed as Milello. See lot 1155. It's not quite my own which is less stylized and a less faithful copy of the original bronze, though all the better for it as a piece of silver.
Any suggestion will be greatly appreciated.
Thank you.
Anthony B.
---
Both marks are from The Netherlands, 833/1000 silver fineness.
The first mark was used from 1814 to 1853. The date of the second is 1919 (possibly). I'm unable to identify the makers.
Giorgio Busetto
---
Mark Dwen writes:
... a few years ago my Nan gave me this cigarette case that had belonged to her father and she said it was silver.
I was just wondering if you know what the hallmarks mean
Thanks for your help
Mark Dwen
---
Gilles Faivre writes:
...I have a coffee pot and a sugar bowl late 19th / early 20th punched CB surrounding a press copy, Claudius Louis Boyron goldsmith in Lyon.
There is a second punch in a circle that looks like a crab. My question is on the 2nd punch: is it the punched crab sterling silver or other metallic silver punch?
Thank you in advance for the help you can give me
Gilles Faivre
Obviously silverplate, nothing to do with a presumably punched crab for sterling silver used in France, anyway after 1962.
Christophe Ginter
---
In my opinion your items isn't a small trowel but a cake server
Giorgio Busetto
---
Johnny Kennedy writes:
my girlfriend's grandparents have two silver containers, and they don't know what they are.
I have been doing research and have not been able to find much information. They were made by JD&S.
Any information that you can provide about the maker and their use would be greatly appreciated.
Johnny Kennedy
The maker is James Deakin & Sons, see my website at http://www.silvercollection.it/ENGLADEAKIN.html
Your item is, probably, a biscuit holder
Giorgio Busetto
---
Robin Gibson writes:
I have a teapot for which I am unable to identify the maker, but wondered if it might be the Alexander Clark Manufacturing Company.
May someone enlighten me please
Kind regards
Robin Gibson
---
---
Alan Yates writes
My reply to Audra Poland's question about the milk jug and sugar bowl:
I can understand the puzzle presented by these two items. First, unmarked as you say, and secondly, due to the absence of similar items with marks.
Accordingly, we need to resort to experience and intuition, or 'feel', and in my opinion the items are not silver.
My reasons very briefly are as follows:
The gauge of the metal at the top of both bowls looks much heavier than other silver bowls and jugs.
The method used to fix the bowls to the bases is not typical of silver but is for similar plated objects.
And the heavy brackets between bowls and wooden handles just look like plated brackets and if I'm not mistaken, brass screws have been used.
I note that Audra did not make mention of whether or not the items were properly tested for silver. I suggest that they are tested and I look forward to hearing the outcome.
Just my opinion but I hope it will be useful and I look forward to reading the opinions of other members.
Alan Yates
---
---
This month ASCAS presents an ancient image of the shop/showroom:

FERGUSON & COMPANY


Ferguson & Company, Jewellers, Silversmiths, Etc.
'The Corner', Durban, South Africa, 1897
"Conducting their business on a Strictly Cash Basis in Buying and Selling, and being Direct Importer -buying only from the ACTUAL MAKERS- Ferguson & Company are in a position to offer better value than any other House in South Africa"


This image is part of the FACTORIES, PLANTS, SALESROOMS, SHOPS AND WORKSHOPS: OLD IMAGES section of www.silvercollection.it website
---
"A WORD per MONTH"
CREAM SCOOP
CREAM SKIMMER

Examples of silver cream scoop (cream skimmer) were made in Scotland in 18th and 19th century.

They were used to skim the cream from the milk, having the form of a flat semicircular band attached to a long wood handle. more




---
"A SILVERSMITH per MONTH"
HENRY HODSON PLANTE

Henry Hodson Plante was active for about 60 years as silversmith and electroplater in Birmingham and London. He opened and closed various firms and partnerships between the early 1860s and the late 1910s.

The partnership between Henry Hodson Plante, Joseph Hirons and Rowland Bourne was created c. 1860. The firm Hirons, Plante & Bourne was active at 54-56 Frederick Street, Birmingham and 41 Hatton Garden, London. In 1878 Rowland Bourne left the partnership and firm changed its name to Hirons, Plante & Co. In 1882, after the retirement of Joseph Hirons, Henry Hodson Plante continued the activity as H.H. Plante & Co. He ceased this activity before 1894 (in 1894 the sole partner was Emily Catherine Plante). In 1897 the firm was converted into a limited liability company as H.H. Plante & Co Ltd under the direction of Albert H. Plante, Albert Grinder and Henry P. Macklin. The activity was closed in 1899...
more





---
"A CREST per MONTH"
ALBALANDA , ARDERNE, BACON, BARRION, BELLE, BLEDDYN, BLEEDDYN, BODKIN, BOSCAWEN, CALTON, CANTLOW, CLOTWORTHY, CRAIGE, CRAIGG, CRAIGGE, CRAIGIE, CRAIGY, CREWE, CRUDINGTON, EASTWOOD, EUSTON, FINDLAY, FINDLEY, FITZGERALD, GAIRDEN, GAISFORD, GAMMON, GARDEN, GEORGES, GUINNESS, HAMMOND, HARPER, HUDDERSFIELD, JEFFCOTT, JEPHCOTT, KEOGH, LANGLEY, LEGRYLE, LISBONE, LISBORNE, MAGENIS, MAGINNISE, NISBET, ORPWOOD, PHILLIPSON, QUAPLOD, ROLLO, SANDOM, SIDNEY, SWINNY, TROTTER, VERE, WARE, WILDBORE

A crest used by various British families.
The crest is described as "A boar, passant". The motto is " I byde it" The crest was found in an Old Sheffield Plate dish cover, marked GK
---
Custom Search
---
Closing our AUGUST 2014 edition of ASCAS Newsletter I hope you have appreciated its content.
Your comments, suggestions and advice will be of great help.

My thanks to Anthony B., Christophe Ginter, Debi C., Mark Dwen, Gilles Faivre, Robin Gibson, Johnny Kennedy, Alan Yates for their precious contributions.

Giorgio Busetto
Secretary
DISCLAIMER AND PRIVACY POLICY
ASCAS is a community of people having a common interest in antique silver.
It is a non-profit association without commercial links. Membership is open to whomever has a true interest in this subject matter.
ASCAS has no real property and no fees are requested nor accepted from members.
ASCAS keeps in touch with its members only through periodical newsletters, e-mails and web-site updating and ignores and is not responsible for any other activity pursued by its members.
Likewise, ASCAS is not responsible for opinions, evaluation and images displayed, and in any form published or supplied for publication, by its members who, in any case, maintain the property of their works and assure the respect of national and international legislation about Intellectual Property.
ASCAS does not have the full addresses of its members (only town, country and e-mail address are requested for membership).
ASCAS handles and protects with care its members' e-mail addresses, will not disclose the addresses to third parties, will use this information only to reply to requests received from members and for communications strictly related to its activity.
These rules are expressly accepted by submitting the membership request.