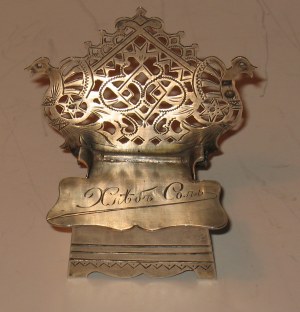 Willand Ringborg presents the final article of his trilogy on Russian salt thrones:

Ornamental shaping of silver Salt thrones from Russia



The salt throne or salt chair is often associated with its origin in Russian rural life, its historicism and the importance of its ornamental and decorative tradition. The 'izba', the small wooden house, represented an important link to peasant life and romanticism and had a double influence on the shaping of salt chairs...
click here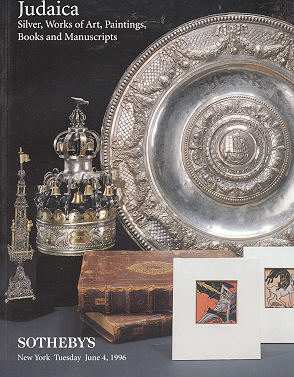 Giorgio Busetto presents:

Judaica silver: a selection of Jewish ritual objects



Since ancient times silver was the preferred material for making the Kiddush cups, Hanukkah lamps, Torah decorations and the dozens of other objects used in observing the 'Mitzvot' (commandments).
Although silver has been important in the fashioning of secular and religious objects for millennia, very little has survived which was made specifically for Jewish ritual use before the 17th century.
Most of the objects in museum and private collections of Judaica date from the 17th, 18th, and 19th centuries...

click here
---
Welcome to new ASCAS members:
Christine Bennett-Emery - USA
Arnaldo Biraghi - Italy
Dick Jaco - USA
Garry Lillyman - Australia
Lawrence S. London - USA
Robert Looker - USA
Patrick Lowry - Northern Ireland UK
Tony Marchant - Australia
Francesca Rapposelli - Italy
Laura Semenza - Italy
Peter Trunzo - USA
Alan Yates - South Africa

---
Members' Window # 28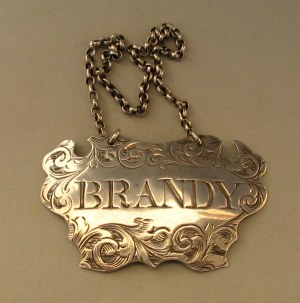 Giorgio Busetto presents:

A Victorian silver wine label



In about 1755 was introduced a glass decanter upon which was engraved the name of the wine it should contain. In due course decanters in blue, green and amethyst glass with the names of their proper content written in gold lettering began to be made.
They were all suggested by a new device that had recently been put on the market by silversmiths: known then as a bottle ticket, but nowadays called a wine label...
click here

---
Richard Rattenbury writes:
Dear Silver Association Members:
This museum has recently obtained the Selfridge Trophy, won by distaff bronc rider Bonnie McCarroll at Tex Austin's first international rodeo held at Wembley Stadium, London, England, summer of 1924. An important and most imposing piece among rodeo trophies.
Anything you might tell me about the origin of this piece would be most appreciated.
The marks are:
From the left: First mark: impression rather like the shape of Mickey Mouse head with raised 'M' at upper left; then & then 'H' at upper right; and 'Co' and 'Ld' at lower center. We think this mark may be the maker??? Can anyone ID it?
Second mark: square impression with rounded corners with a raised 'crown' motif; take it this is city of Sheffield, England?
Third mark: rather rectangular impression with rounded corners with raised 'lion' motif; take it this indicates .925 Sterling?
Fourth mark: square impression with rounded corners with letter 'e' raised within; take it this is the year created?
The inside of the removable lid of the cup also has marks one, three, and four, as above.
Many thanks for any specific information...particularly the maker.

I enclose also another image showing what I believe is the maker's mark inside the base of a different trophy cup, which perhaps some in the ASCAS can identify as well (it is also marked STERLING). This is the Argonne Trophy won by Bonnie McCarroll as World Champion Cowgirl at the first Madison Square Garden (New York City) rodeo in 1922. I think this is likely an American product. The trophy was sponsored by the Argonne Association, an affiliation of Manhattan socialites that raised money for the support of French children orphaned in the First World War.
I hope these pieces and puzzles are of interest to your membership and that they can shed some light on who made them.
Once again, my sincere thanks for your interest.
Cordially yours,
Richard Rattenbury
Curator of History
National Cowboy and Western Heritage Museum
1700 N.E. 63rd Street
Oklahoma City, OK 73111

Dear Mr Rattenbury,
ASCAS is honoured to collaborate with National Cowboy & and Western Heritage Museum.
This is the information I may directly supply:
the mark of the Selfridge Trophy was made by Martin, Hall & Co and assayed in Sheffield in 1922.
Martin, Hall & Co was active in Sheffield, Shrewsbury Works, 47-55 Broad St Park, from 1854 to 1934. The partners were Robert Martin & Ebenezer Hall and became 'Ltd' in 1867;
the Argonne Trophy bears a mark that I believe belongs to Wm. B. Durgin Co, from 1905 Durgin Division of Gorham Corporation, Providence, Rhode Island.
I hope that ASCAS members will be able to supply further and more detailed information.
Giorgio Busetto
ASCAS Secretary
---
Dominique Bochet writes:
Bonjour,
Je suis membre de l'association depuis le mois d'avril 2006 et je me demandais si je pouvais demander aux membres de repondre à mes questions et d'identifier des poinçons d'origine belges.
Voici les photos
je vous remercie pour l'aide éventuelle que vous m'apporterez
Cordialement
Dominique BOCHET
I hope that ASCAS members (and the many Belgian ASCAS members) will be able to help Dominique Bochet in identifying the marks of his spoons.
---
Debbi Cracovia writes:
...... Hi, I was hoping that someone could help me with this spoon.
I know that it is from Germany and it is 800 silver, but I am not sure what the first hallmark is. I would love to know more about this piece.
Thank you
Debbi
---
---
"A page per month"
In this column we present a page (one page only) obtained from makers' brochures, books, auction catalogs or whatever other printed paper, which may be of particular interest for ASCAS members.
The images will be published at a "low resolution" level and for private and personal use only
| | |
| --- | --- |
| | This month ASCAS presents the images of two toilet sets from the 1929 'CESARE MARINAI FABBRICA ARGENTERIA DA REGALO - MILAN (ITALY)' catalog |
---
What is this piece ???
Fredric Sinfield writes:
...Here is a mystery piece you may like to include in a newsletter. It is acorn shaped, 60mm x 35mm and weighs 85grams without the chain.
The acorn lid is hinged and opens by the fleur de lis. It is only about 30mm deep inside.
There are two small purple and two green stone cabochons set onto the hinged lid.
The chain is 900mm long and weighs 50grams.
There are no marks so there are no clues to its origin, when or where made or its purpose.
Might a reader recognise it?
Thanks,
Fred.
I know two examples of use of a similar 'acorn' container:
I hope that ASCAS members will supply further ideas and information about the use of 'silver acorns'.
Giorgio Busetto
---
A new book:
LES ORFEVRES DE LILLE
Nicole Cartier announces the publication of her new book about ancient French silver. The book is in French and the information may be useful for ASCAS readers who understand the French language.
Monsieur, pouvez vous diffuser auprès de vos membres la publication du livre sur les orfèvres et l'orfèvrerie de Lille (Nord de la France), 3e ville du royaume au XVIIIe siècle par le nombre de ses orfèvres et une production très importante.
Avec mes remerciements
Nicole Cartier
(cliquez ici pour le
bon de souscription)
---
---
---
DISCLAIMER AND PRIVACY POLICY
ASCAS is a community of people having a common interest in antique silver.
It is a no-profit association without commercial links. Membership is open to whomever have a true interest in this subject matter.
ASCAS has no real property and no fees are requested nor accepted from members.
ASCAS keeps in touch with its members only through periodical newsletters, e-mails and web-site updating and ignores and is not responsible for any other activity pursued by its members.
Likewise, ASCAS is not responsible for opinions, evaluation and images displayed, and in any form published or supplied for publication, by its members who, in any case, maintain the property of their works and assure the respect of national and international legislation about Intellectual Property.
ASCAS does not have the full addresses of its members (only town, country and e-mail address are requested for membership).
ASCAS handles and protects with care its members e-mail addresses, will not disclose the addresses to third parties, will use this information only to reply to requests received from members and for communications strictly related to its activity.
These rules are expressly accepted by submitting the membership request.