---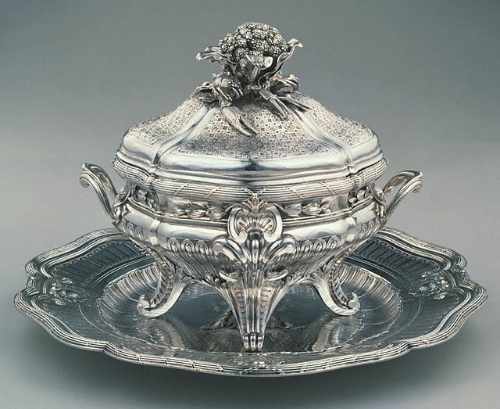 Christophe Ginter presents:

Another imitation of Louis XV silver hallmarks (III)

Une imitation de poinçons d'époque Louis XV (III)



This new article presents a series of apocryphal marks punched on a flat silver dish produced in Paris in the late nineteenth or early twentieth century.

The dish with its lobed edges and double rim contour offers an excellent representation of the taste of the eighteenth century French silver workmanship......
click here

click here

---
Welcome to new ASCAS members:
---
Members' Window # 87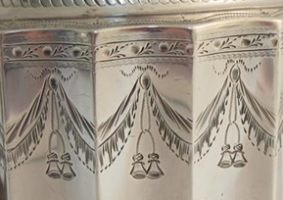 Joanne and Emmett Eldred present the third of their series of articles:

Our Collecting Guidelines - Engraving



Since we prefer pieces with armorial arms or crests, many of the pieces we are considering have engraving.
The condition of the engraving is very important since it is key component of the overall design statement. In evaluating condition, we use a scale of 1-10, with 1 meaning the engraving is barely discernable and 10 indicating it is almost perfect. We would not typically purchase something with a rating of less than 7. That means that all components of the engraving are clearly visible and the only wear is where the engraving runs over edges (and is prone to wear from polishing) or comes in contact with another surface during normal usage. It also means that any fine background lines are still present but maybe slightly worn in spots (they tended to be cut very shallow)....



click here

---
Gye-Alexandre Jacquot writes:
...I need the help of ASCAS member in my research of information about these items:
German Cup hallmarked city of Kassel, end of the 18th century, and an unknown silversmith. There are also unidentified marks on each handle and two other very small on the bottom.
The measures are: height with handle 14 cms, diameter 11 cms (base 7 cms). The inside is vermeil.

a lozenge on each handle; a "F12" on the cup (750/1000 silver fineness, used 1806/1807); an "F5" on the top edge and three other marks on the foot (IC?, F5, 12). I'd wish to be confirmed in the dating of the piece and its use.

Gye-Alexandre Jacquot
---
Sandra Sheek writes:
... I reached your beautiful web site through Google and hope you can help me, I just received a 3 part silver plate bun warmer I purchased on eBay, description was the following:
"SUPERB VICTORIAN SILVER PLATE BUN / MUFFIN WARMER
Up for auction is very fine a Victorian silver plated bun / muffin warmer by BRIDDON BROTHERS (Sheffield Briddon Alfred & Frederick, from 1863-1910 at Victoria Plate Works). This lovely piece has mechanical tri-section folding shell design and gold washed interior with pierced guards, on tripod base. It also has lovely cherub finial and three angels in every corner. This warmer is approx. 8 1/2" wide and 10 1/2" high. This warmer is in good original condition (no damages and repairs) but has minor silver loss in the shell surface. Don't miss this lovely item !!"
My problem upon receiving it is, it very much looks like a REPRODUCTION, I am unaware if three part bun warmers are being reproduced, and I'm certainly not an authority, but I am a collector of beautiful ANTIQUE silver and this does not represent the look of an antique. The adv says 1863 to 1910, and I paid for an antique. The Hallmark is different than any you have pictured, the detail on the trim and figures is very rough and sloppy and the inside seems very cheaply made. I have no interest in owning or collecting reproductions, my figural antique pieces are all well detailed, unlike this one. I've had to save along time to purchase a nice bun warmer and I don't know who else to ask about this, and very much hope you might know if these bun warmers are being reproduced. I thank you so much for any help or direction you might offer.
Sincerely Worried, Sandra
The seller of your item didn't well identify the maker's mark. The mark is not B BROS but C BROS corresponding to Cooper Brothers (see my web site at http://www.silvercollection.it/electroplatesilverCdue.html ).
This mark was used in the period 1867-1964, and is not possible to attribute an exact date to silver plate marks. The period of manufacture of your piece lasts from mid 19th to mid 20th century.
Giorgio Busetto
---
Norma L. Young writes:
...Can anyone offer ideas on where this was made?
Oval bowl, on 4 hoof feet, gilded interior, 15cm wide and 7cm tall. Date-wise circa 1780-1820.
A faint scratch-mark of S 5418, which could indicate weight or a model number.
I believe it was a sauce boat, given gilded interior and the finishing of the rim where a cover could have been fitted.
Left punch mark is (prob.) a horse - one of front legs is poorly struck. Or could it be a standing dog?
Right punch mark is maker of BM. Initials below of PF likely for its original owner.
Weight 5 troy oz.
Could it be Italian? German? Northern European such as Baltic/Scandinavian?
Thanks so much.
Norma L. Young
---
Karen S. Rabe writes:
...I recently acquired what I think is a 17th century goblet/cup without cover. I am unable to identify the hallmarks. I believe it to be Continental. I have ruled out England and Germany.
I was wondering if anyone one in this group could give an opinion on age, country of origin on this item. Is it a goblet?
I have seen similar items from around 1630-40 when wooden bodies were more prevalent.
The body is wooden and has a stabilized crack. It is marked with what appears to be crossed spoons and each individual piece is double struck.. The foot rim separates from the goblet.
I believed the inscribed "16 TSA 30" mark is perhaps that of the owner.
It stands 9" tall and is 6" in diameter.
Thank you so much.
Karen
---
Christophe Ginter writes:
...Hello Giorgio, would any ASCAS fellow suggest a possible usage for this "bowl"?
High 12 cm+, weight ca. 400 grs.
Identified hallmarks are: sterling silver, date-letter for LONDON 1768, Master Thomas WALLIS I.
Many thanks in advance.
Christophe
I found this information:
according to Harold Newman (The illustrated dictionary of silverware) the "Two handled cup" was used as loving cups on ceremonial occasions, as a prize for competitions, as award on special occasions or merely as ornaments. Cups of such form but of much smaller size are sometimes called a posset-pot or a caudle cup and too often in England have confusedly been called a porringer....
....The "small two-handled cups" are a type of circular cup that is of small size (about 10 to 18 cm high) and that has baluster or ogee shaped sides, two opposed vertical handles that are thin and usually in the form of a debased caryatid handle and generally no cover.
Other information about the porringer are supplied by Giovanni Ciceri in ASCAS web site at http://www.ascasonline.org/newsGIUGN49.html
Any further information by ASCAS members will be welcome.
Giorgio Busetto
---
Yosef Shlingbaum writes:
...I wondered if any member could assist me in the identification of the marks of this item: origin, maker, Date, and use for.
I was told this is A Jewish "Spice Box" and it is very old (17 c.)??
Thank you
Yosef Shlingbaum
Your item is marked with "13" and a "lozenge". The "13" mark was used in German area (Germany and Austria) for 13 lot silver fineness (812,5/1000).
I am unable to identify the maker and to date the item (I do not believe it is 17th century. Possibly 19th century).
In my opinion it is a spice tower and, as you live in Israel, I believe that you can find there the most qualified sources about its use.
Information ad images about Jewish ritual silver are available in ASCAS web site at http://www.ascasonline.org/articoloAGO63.html
Any further suggestion will be appreciated.
Regards
Giorgio Busetto
---
Donna Wills writes:
...I have a piece that I would like your comment/opinion. It is Arlecchino but I cannot find anyone who can give me an opinion of age or value.
It has a 4 ½ inch base with the engraved name "Brullu??". The base also has the following stamped/engraved:
a small engraved rectangle with a "*52" then the letters "MC"
to the right of this is a stamped square with the letter "R" an oval with "800" to the right of the "R", and the stamped number "20" to the right of the oval.
The piece is approximately 9 3/4 inches high including the base.
The Arlecchino has a multi colored patchwork costume – black pilgrim type shoes with gold laces, a black mask, and a silver "matador" style hat.
His arms are crossed behind him with a sword type object in his hands that extends just above his left shoulder.
Regards,
Donna Wills
Your Arlecchino was made in Italy by Brumal snc di Malizia R & C, Potenza Picena.
This piece is made with a thin sheet of silver filled and weighted with a resin.
The "R" is the symbol meaning "Riempito" (filled), and the "20" and "800" mean that the precious metal is about 20 grams of silver of 800/1000 fineness.
The mark "star MC 52" (MC stands for the name of the province: Macerata) is used from 1970 onwards. The firm is still active in present days as Studio M srl (from 2002).
Information about the Italian silver marking system and the use of this technique is available in my web site at http://www.silvercollection.it/italianhallmarks.html
Regards
Giorgio Busetto
---
Doug Gow writes:
...Just wondering if you could help me identify the maker of this WW1 German sweetheart badge?
The silver mark is .800. The other mark looks like a lizard or a crocodile
Many thanks!
Doug Gow
New Zealand
According to Waliczek-Rasala book the maker is Hepke & Lichtenfels - Pforzheim (bijouterie- u.Knopffabrik).
Regards
Giorgio Busetto
---
---
In this column we present a page obtained from makers' brochures, books, auction catalogs, advertising or whatever other printed paper, related to silver, that may be of interest for ASCAS members.
The images will be published at a "low resolution" level and for private and personal use only
This month ASCAS presents an ancient advertisement of

SIMONS BRO. & CO
616 Chesnut Street and 611 & 613 Sansom Street
Philadelphia
Silversmiths and Manufacturing Jewelers

In its advertisement the firm wrote that ... Although showing only Toilet Ware so far, we wish Jewelers to understand that we are silversmiths in the fullest sense of the word making a full line of Everything in Sterling Silverware....
Simons, Bro. & Co was established in 1840 by George W. Simons, father of John F., Frederick M. and Edwin S. Simons, who later entered in the firm. The firm changed its name to George W. Simons & Bro when Peter B. Simons joined to the business.
In 1908 the firm ceased the manufacture of flatware and patterns and dies were sold to Alvin Mfg. Co.
---
"A WORD per MONTH"
ITALIAN PSEUDO HALLMARKS

Since 1935 the Italian hallmarking silver is based on a number (e.g 800, identifying 800/1000 silver fineness) and a sort of lozenge (in reality an oblong hexagon) containing two letters (the province code - until 1944 also a "fascio") and one or more digits (the number identifying the maker).
The presence of a personal maker's mark (letters or symbol) is rare.
In objects manufactured in the 1950s/1960s sometimes can be found, besides the official hallmarks (800 and lozenge), one or more pseudo-hallmarks similar to those used in the 19th century in Lombardo-Veneto....... more

---
"A SILVERSMITH per MONTH"
WILLIAM HUTTON & SONS LTD

The firm was established in Birmingham by William Hutton in 1800 and transferred in Sheffield in 1832 where the firm was active as manufacturing silversmiths and platers at 27 High Street (140-146 West Street from 1886).
After his death the business was continued under the same style by the founder's son William Carr Hutton until 1864, when the name was changed to William Hutton & Son. This was a partnership of William Carr Hutton and his eldest son Herbert Hutton (senior).
William Carr Hutton died in 1865 and c. 1870 Herbert Hutton Sr. was joined by his brothers Robert and James Edward Hutton and the name was changed to William Hutton & Sons.
A London showroom was opened in 1863 (13 Thavies Inn Holborn until 1891, and later 7 Farrington Road until 1918).....
more
---
"A BOOK ON MY SHELF"
In this column we present books, new or ancient, dealing with silver in all its aspects (history, marks, oddities...). This isn't a "book review" but only a fair presentation of some useful "tools" that anyone may have in the shelf of his bookcase.
ASCAS members are invited to contribute to this column
(click to enlarge images)
In the "book on my shelf" of this month ASCAS presents:
---
Custom Search
---
If you like this newsletter, support ASCAS clicking on the +1 button of google
Closing our August 2011 edition of ASCAS Newsletter I hope you have appreciated its content.
Your comments, suggestions and advice will be of great help.

My thanks to Jayne Dye, Joanne and Emmett Eldred, Christophe Ginter, Doug Gow, Gye-Alexandre Jacquot, Karen S. Rabe, Sandra Sheek, Yosef Shlingbaum, Donna Wills, Norma L. Young, for their invaluable contributions.

Giorgio Busetto
Secretary
DISCLAIMER AND PRIVACY POLICY
ASCAS is a community of people having a common interest in antique silver.
It is a non-profit association without commercial links. Membership is open to whomever has a true interest in this subject matter.
ASCAS has no real property and no fees are requested nor accepted from members.
ASCAS keeps in touch with its members only through periodical newsletters, e-mails and web-site updating and ignores and is not responsible for any other activity pursued by its members.
Likewise, ASCAS is not responsible for opinions, evaluation and images displayed, and in any form published or supplied for publication, by its members who, in any case, maintain the property of their works and assure the respect of national and international legislation about Intellectual Property.
ASCAS does not have the full addresses of its members (only town, country and e-mail address are requested for membership).
ASCAS handles and protects with care its members' e-mail addresses, will not disclose the addresses to third parties, will use this information only to reply to requests received from members and for communications strictly related to its activity.
These rules are expressly accepted by submitting the membership request.