YOUR GUIDE TO APRIL NEWSLETTER: articles
new members
members' window
mail to ASCAS
replies to questions
a page per month
a silversmith per month
a word per month
a book on my shelf
a crest per month
contributors to this Newsletter
search engine
disclaimer and privacy policy
---
A new article for ASCAS website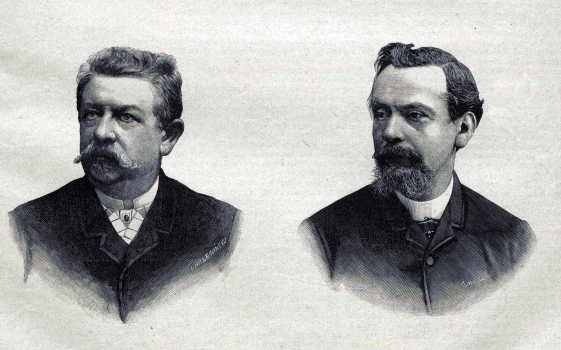 Joanna Paprocka-Gajek and David N. Nikogosyan present:

Warsaw Silver Plate Companies: II. Norblin / NBW



Continuing our presentation of Warsaw silver plate industries, started with the description of Fraget firm activity, we will turn now to its all-time rival, the Norblin company. Later, with the development of this foundry, its name was changed for Norblin, Bros. Buch & T. Werner, shortly, N.B.W. The founder of this enterprise, Vincent Norblin (1805-1872) was born in Paris. His life story reads like a cheap fiction. At the age of fourteen, Vincent appeared in Warsaw, where his father, Alexandre Jean Constantin Norblin (1777-1828) together with Vincent's uncles was running a small bronze foundry (founded in 1819). After the apprenticeship at his father's factory and studies abroad together with traditional wandering, in 1822 Vincent found work in the first Warsaw silver plate company managed by the French jeweller Jean Cerisy....
click here

---
New members
Welcome to new ASCAS members:
Gary Allen - Northern Ireland UK
Abigail Julie Clifton Westwood - USA
Nik Gribenko - Ukraine
Thomas Kitson - England UK
Joseph C.F. Lufkin - Philippines
Raul & Robert Pilling-Riefkohl - USA
Jean-Francois Rauscher - France

---
Members' Window # 111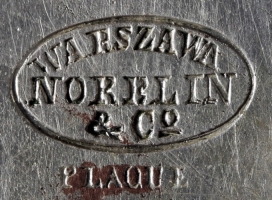 David N. Nikogosyan and Joanna Paprocka-Gajek present:

Marks used by Norblin / Bros. Buch / N.B.W. companies on silver-plated hollow ware

Before listing of Norblin/Bros. Buch/N.B.W. marks, it should be reminded that in Russia before 1850s, all silver-plated objects were produced by soldering of a thin sheet of silver to a red-heated copper plate with subsequent rolling (so-called, rolled silver technique). Such a copper base with a fused silver layer was called "SILVER PLATE" or simply "PLATE" ("PLAQUÉ" in French, "PLATER" in Polish). In 1850s, the revolutionary method of silver deposition on the surface of a base metal using the electrolysis process under high voltage was implemented. The great advantage of "galvanic" approach was the possibility of deposition of a very thin silver layer, which led to economic consumption of precious metal and significant decrease in price for the final product. Towards the end of the XIXth century the galvanic method of silver deposition practically replaced the old rolled-silver technique. Nevertheless, until now in Polish and English literature the confusion remains, the Polish term "PLATER" and the English term "PLATE" refer simultaneously to both, old (rolled) and new (galvanic) silver deposition techniques......
click here

---
Mail to ASCAS: e-mail
silverassociation@yahoo.it
E. Endre writes:
... This sugar bowl is marked Martin. I'd wish to know more about this French maker
Thank you
E. Endre
The maker is Marie Martin, veuve (widow) née (born) Rache, Rue Halévy, Paris, from 1886
Giorgio Busetto
---
Courtney Klugel writes:
... I'd wish to know what is this item and its use.
Courtney Klugel
---
---
Deana Parr writes:
... Today I visited your site to see if I could determine the marks on a piece donated to us.
I have included pictures of the marks and of the item itself, I believe it to be condiment container, and by the markings I think it was an item manufactured for the Grand Trunk Pacific Railway here in Western Canada. From what I can find GTP was started in the early 1900s and was sold in the early 1920s.
So, after running on for so long, I was wondering whether or not you could confirm some of this with the marks ( I also see that the mark under the flag could be the Hebrew symbol "Vet").
I use your site frequently and find it to be an enormous help.
Thanks so much for all you do to lend a helping hand,
Deana Parr
Thrift Store Coordinator Salvation Army Nanaimo Ministries
Information about Walker & Hall date letters are available in my site at http://www.silvercollection.it/ENGLAWALKER&HALLDATE.html
The image of the mark isn't well readable. Anyway if the letter is "vet" the exact date is 1909.
Giorgio Busetto
---
---
"A PAGE per MONTH"
In this column we presents a page obtained from makers' brochures, books, auction catalogs, advertising or whatever other printed paper, related to silver, that may be of interest for ASCAS members.
The images will be published at a "low resolution" level and for private and personal use only.
This column is published under the kind permission of Giorgio Busetto's website

This month ASCAS presents an ancient advertising label:

KALLMEYER & HARJES

Gothaer Metallwarenfabrik "Kallmeyer & Harjes", Gotha (Germany) was founded in 1887 by Philipp Harjes (1860-1933) and Hermann Kallmeyer. After Kallmeyer's death (1897) Philipp Harjes became unique owner of the firm in 1899.





ADVERTISEMENTS IN SILVER - SILVER ADVERTISING section of www.silvercollection.it website
---
"A WORD per MONTH"
In this column we present an abstract from a page of the "What is? Silver Dictionary"


courtesy of





THE ILLUSTRATED DIRECTORY OF UK FAMILY CRESTS

The crest is one component of a coat-of-arms, which can be used as a simplified symbol on engraved silverware.
Objects frequently borne as crests include animals, mythological creatures, human figures, hands or arms holding weapons, birds.
In this page is illustrated a selection of crests belonging to English, Irish and Scottish families ordered according to the main subject that characterizes this part of the coat of arms.
MORE
---
"A SILVERSMITH per MONTH"
CHARLES MAAS & CO

Charles Leopold Maas was active in London from 1883 at 13 Jewin Crescent, EC as manufacturer and importer of smokers' pipes of various types, including "recherché" and "meerschaum".
The firm entered various silver hallmarks as pipes were often silver-mounted as were manufactured in precious metal many smokers' accessories and walking sticks.
In 1890 (London) and 1910 (Chester) Charles Maas entered a conjoined hallmark with Marcus Maas (manager).
In 1910 the firm removed to 1A Aldermanbury Avenue. Interesting to note that from 1891 the firm used a hallmark "CM surmounted by a crown" to characterize its "Unsurpassed quality Corona Mounts"....
more
---
"A CREST per MONTH"
PRINCESS ABBESS MARIA WILLIBURG FREY

This coat of arms belongs to Pricess Abbess Maria Williburg Frey, Abbess of Rottenmünster 1687-1725.
The coat of arms was found on a beaker by Augsburg Silversmith Johannes Zeckel 1695-1700. It is also engraved with the letters MW AZR which stand for Maria Williburg Abtisin Zu Rottenmünster ie. Maria Williburg Abbess at Rottenmünster.
It is interesting to note that the "bend sinister gules" should be represented by vertically engraved lines, but as is often the case the engraver just did a decorative fill.













---
---
Closing our APRIL 2016 edition of ASCAS Newsletter I hope you have appreciated its content.
Your comments, suggestions and advice will be of great help.

My thanks to E. Endre, Courtney Klugel, Luigi Masciullo, Maurice Meslans, David N. Nikogosyan, Paprocka-Gajek Joanna and Deana Parr for their precious contributions.

Giorgio Busetto
Secretary
DISCLAIMER AND PRIVACY POLICY
ASCAS is a community of people having a common interest in antique silver.
It is a non-profit association without commercial links. Membership is open to whomever has a true interest in this subject matter.
ASCAS has no real property and no fees are requested nor accepted from members.
ASCAS keeps in touch with its members only through periodical newsletters, e-mails and web-site updating and ignores and is not responsible for any other activity pursued by its members.
Likewise, ASCAS is not responsible for opinions, evaluation and images displayed, and in any form published or supplied for publication, by its members who, in any case, maintain the property of their works and assure the respect of national and international legislation about Intellectual Property.
ASCAS does not have the full addresses of its members (only town, country and e-mail address are requested for membership).
ASCAS handles and protects with care its members' e-mail addresses, will not disclose the addresses to third parties, will use this information only to reply to requests received from members and for communications strictly related to its activity.
These rules are expressly accepted by submitting the membership request.