---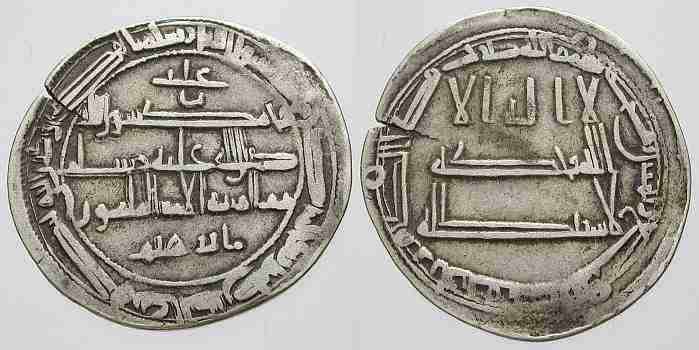 Lauren Chung presents:

To be a wise silver collector



Collecting antiques and old objects can be a thrilling experience, as these objects take you to the ancient times. You can visualize and re-live the history of a particular era just by looking at the collectible item. However, you need to be careful while investing in antique silver collection, so that you do not end up buying a fake item or pay more than its worth. Before buying any collectible, it is advisable to go for professional appraisal. Correct identification and appraisal of an object help in insuring the object against loss or damage. Besides, it gives information about the historical significance of the object, how to care for your possession and how to preserve it......
click here

---
Welcome to new ASCAS members:
---
Members' Window # 106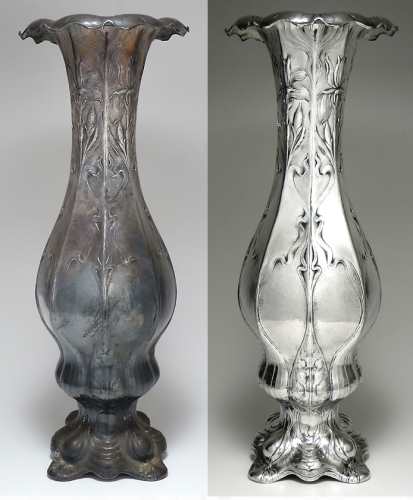 Jeffrey Herman presents:

Before and After on a Gorham MartelÚ Vase

This 76-ounce, 19" Gorham MartelÚ vase (design #1479) was created in 1899 and is made of 950/1000 purity silver.
I removed a small panel dent, leveled the feet, then ......
click here

---
Stefano Donaggio writes:
I need your help to identify an ancient silver salt (I believe it's German).
Its measures are 19 cm long, 7.4 cm high, 11.7 cm wide, weight 213 grams. The shape is an oblong basket with three wheels and an ivory handle.
I'd wish to know who is the maker and its age.
Thanks in advance
Stefano Donaggio
I don't believe that your "wheeled basket" is a salt. In my opinion it is a decanter wagon or wine trolley. Information about these objects is available in my website at http://www.silvercollection.it/dictionarywinetrolley.html.
The mark isn't German but English and the metal is silverplate. The maker is Roberts & Belk, Sheffield (see my website at http://www.silvercollection.it/ENGLAROBERTS&BELK.html and the date is late 19th century.
Giorgio Busetto
---
Gary D. Gardner writes:
I am a collector as well as independent scholar of American Southern history & material culture, currently researching an Inverness, Scotland trained silversmith named Robert Anderson who emigrated to the US about 1819 when he appeared in Knoxville, Tennessee.
I noticed that Mr. Robert Massart had supplied one on-line marks reference with images of silver marks by this man's father or grandfather who was active ca. 1760-1780. I didn't know if ASCAS members have any biographical information on the elder silversmith.
I think the younger Robert Alexander was born ca. 1756, but again the smith who settled in America could be a grandson of the Inverness smith.
Thanks so very much!!
Gary D. Gardner
Hodgenville, Kentucky
USA
---
Stuart Bennett writes:
Mote Spoon: An Original Theory
I have a very strong theory about the mote spoon and its usage. My idea shatters the considered opinion that they were used in relation to tea. My theory is as follows:
I think the mote spoon originated out of a drink that was and still is, a Chilean beverage known as "Mote con Huesillo".
After voyages to the New World and South America I think this fascinating drink would have brought back and taken up by the gentry of the day. All the ingredients were available in the UK at that time and would explain why it could possibly have been a "fad" for less than a century.
The drink itself consists of cooked husked wheat, dried peaches, sugar, water and cinnamon - where the peaches and wheat were soaked overnight, then once hydrated cooked with sugar and water and maybe a cinnamon stick.
Once put in a glass the sweet liquid (anything sweet was popular in this era!) the wheat or motes sank to the bottom. Hence the need for a long pierced bowled spoon to eat the motes and a toothpick (the spiked end of the mote spoon) to remove the wheat husks from the teeth.
I argue this point that if the mote spoon was meant for tea then there would be far more of them in extant than there are, they would be found made in other materials (for the less well-healed) like plate, copper, brass or pewter - and they would have come en-suite inside tea caddies.
I would be interested what your opinion might be?
Stuart Bennett, RA (Antq.)

An idea against the current thinking. Any comment by ASCAS members will be welcome
Giorgio Busetto
---
Michael Thomas writes:

Sri Lankan Silver dish (sandakada pahana)
This piece of slightly tarnished Colonial silver shown in the main photograph is repoussÚ work and the underside reflects this exactly. It has been handed down but there is no clear provenance. I have done some investigation and have little doubt it comes from Sri Lanka, as it is similar to many other examples from that area. The detail photograph shows two intriguing stamped marks on the edge (one could be a stylised mythical animal or body and the other looks like the letters &KA&).
I have two requests:
Can someone confirm (or deny) my view about its origin?
Throw light on the stamped marks?
Here are the main facts:
- Diameter: 160 mm
- Depth: 10 mm
- Weight: 142 grams
My view
The interesting design for this small dish is based on the half-moon stone motif, which is found at the entrance to many Buddhist temples in Sri Lanka and symbolises Buddha's journey through life and the cycle of Samsara (birth, life, death and reincarnation). The bands starting from the outside signify:
The rim - stylised flames and worldly existence.
The elephant - birth and growth, The horse - energy and effort in the path of purification, The lion - power and teaching in maturity, the bull - acceptance of death. There is an alternative version.
The foliage (a liyavel) symbolises worldly desire.
Geese - examples of ideal qualities and understanding good from bad.
The unfurling lotus represents the unblemished spirit or nirvana.

Silver from the subcontinent is very difficult to pin down not least because there are so few hallmarks let alone maker's marks but I guess it dates from the early 1900s say 1920.
Here we have two clues so I would be grateful for any feedback from other members.
Thank you. Michael Thomas
---
David Nikogosyan writes:
Dear Giorgio,
I bought a small ladle with two marks. One mark is a woman head with a small digit 3 and a small letter A. Other mark is the inscription LG.
Any idea about the maker?
Thanks,
David.
The ladle bears Austrian mark (1867/1922), town of Vienna (A), silver fineness 800/1000 (3). The maker is Ladislaus Jarosinski (active 1879-1903)
Giorgio Busetto
---
Willliam Coultas writes:
...I have this Walker & Hall silver plated ladle. It is quite unusual as it is very large and I have never seen one so big.
I was a bit stuck on dating it I just wondered if you could help me out.
Your help would be much appreciated.
Thanks
Willliam Coultas
Walker & Hall began to add the date letter to its silverplate in 1884. Your mark is missing of the date letter and moreover has a "crown", which use was forbidden c. 1895.
This suggests that your item was made before 1895 and before 1884. According to E.R. Matheau-Raven book this mark was used 1852-1897.
But I found some exceptions to these rules. In my webpage http://www.silvercollection.it/ENGLAWALKER&HALLDATE.html you can see a similar mark bearing the date letter "u gothic" which according to P.A. Hulme book was used in 1913 (a series of gothic letters used from 1912 to 1918).
My personal opinion is that your ladle was made in late 19th century, but I'm unable to attribute an exact date.
Giorgio Busetto
---
Don Sheasby writes:
...I am attaching photographs of the marks on a Russian salt. The Assayer's Mark belongs to Aleksandr Alekseevich Smirnov, but I was unable to find the Silversmith's name corresponding to the Cyrillic
If you do know who the silversmith is, I would appreciate your input.
Regards
Don Sheasby
The maker of your Russian salt is Vasily Ivanov, active 1870-1908.
Giorgio Busetto
---
---
This month ASCAS presents an ancient advertisement of:

GEO.BUTLER & CO LTD

BUTLER'S FAMOUS SHEFFIELD CUTLERS
"CAVENDISH" CUTLERY & PLATE
KEEN RAZORS


The firm was founded in 1681 and in 1922 was active in its Trinity Works in Sheffield with Showroom at 62 Holborn Viaduct, London. George Butler & Co Ltd had a wide range of patterns of stainless, silver plate and sterling silver flatware. The firm used the trade mark ART



This image is part of the ADVERTISEMENTS IN SILVER - SILVER ADVERTISING section of www.silvercollection.it website
---
"A WORD per MONTH"
MOUSTACHE SPOON
MUSTACHE SPOON

A later addition to the mustache cup was the mustache spoon, invented in the latter half of the 1800s to allow the man to consume liquids without spillage onto either the mustache or clothing.
The first patented mustache spoon was claimed in March 1868 by New York spoon designer, Solon Ferrer, and was a soup spoon with a guard to hold the mustache free and unsoiled of the liquid beneath it
In the letter patent No. 135,141, dated January 21, 1873, a mustache spoon is described as:
....the shield being such that, while it permits the user of the spoon to receive into the bowl by the usual dipping process a proper quantity of soup, the latter can be conveyed to the mouth without any portion of the liquid being brought into contact with the mustache.... The shield extends longitudinally from the tip of the bowl to the point where the latter is united to the handle, so as to leave about one-half of the bowl exposed. The shield, however, is so cut away as to leave an opening of such dimensions that it can be easily overlapped and underlapped by the lips, and yet permit the contents of the bowl, when the latter is tilted, to flow freely into the mouth.... more
---
"A SILVERSMITH per MONTH"
GEORGE RICHMOND COLLIS & CO
successors to SIR EDWARD THOMASON

Sir Edward Thomason (c.1769-1849) was a dominant and memorable figure in Birmingham industry.
He was the son of a bucklemaker and apprenticed in Matthew Boulton factory. In 1793 he set up a shop in the button trade, diversifying and expanding the business into gold, silver and medals. In 1806 he entered a hallmark in Birmingham Assay Office as Thomason & Co. In 1810 Thomason extended his factory starting the production of close plated knives, forks and spoons.
In 1817 Thomason entered into an agreement with James Mudie to strike a series of medals recording British victories over Napoleon; the dies were engraved by English and French artists, and the results were published by Mudie in An Historical and Critical Account of a Grand Series of National Medals (1820). Thomason subsequently purchased the dies.
In 1819 he began a series of forty-eight medals of the Elgin marbles in the British Museum, which was completed by 1823. In 1828 his workmen finished a series of sixteen medals on scientific subjects, and two years later sixty medals on biblical subjects. Developing his usual practice of presenting medals to important figures, he sent examples of the biblical series to all European monarchs, as well as to the president of the United States and the emperor of China....
more





---
"A BOOK ON MY SHELF"
In this column we present books, new or ancient, dealing with silver in all its aspects (history, marks, oddities...). This isn't a "book review" but only a fair presentation of some useful "tools" that anyone may have in the shelf of his bookcase.
ASCAS members are invited to contribute to this column
(click to enlarge images)
In the "book on my shelf" of this month ASCAS presents:
AMERICAN JEWELRY MANUFACTURERS
by Dorothy T. Rainwater
Schiffer Publishing Ltd - Atglen PA
1988

The identification and dating of American jewelry herefore has been difficult because few pieces bear standard markings and the references have been diverse, hard to find, and incomplete. Using old trade journals and their related directories as her primary sources, the eminent silver historian Dorothy Thornton Rainwater has exhaustively compiled here for the first time a comprehensive reference of jewelry trademarks and manufacturers in alphabetical order. She has also written a history of jewelry making in the United States which explains the framework upon which this enormous industry was built- The large scale manufacturers which began in the 1840's form a major portion of this directory. It is surprising to learn that only in 1961, after years of effort by the Jeweler's Vigilance Committee and the backing of trade journal, did American law require makers' marks on new jewelry. Therefore, this reference should become an important sourcebook for every jeweler, collector, antique jewelry dealer and manufacturing historian for the foreseeable future.
---
Custom Search
---
Closing our APRIL 2014 edition of ASCAS Newsletter I hope you have appreciated its content.
Your comments, suggestions and advice will be of great help.

My thanks to Stuart Bennett, Lauren Chung, Willliam Coultas, Stefano Donaggio, Gary D. Gardner, Jeffrey Herman, David N. Nikogosyan, Don Sheasby and Michael Thomas for their precious contributions.

Giorgio Busetto
Secretary
DISCLAIMER AND PRIVACY POLICY
ASCAS is a community of people having a common interest in antique silver.
It is a non-profit association without commercial links. Membership is open to whomever has a true interest in this subject matter.
ASCAS has no real property and no fees are requested nor accepted from members.
ASCAS keeps in touch with its members only through periodical newsletters, e-mails and web-site updating and ignores and is not responsible for any other activity pursued by its members.
Likewise, ASCAS is not responsible for opinions, evaluation and images displayed, and in any form published or supplied for publication, by its members who, in any case, maintain the property of their works and assure the respect of national and international legislation about Intellectual Property.
ASCAS does not have the full addresses of its members (only town, country and e-mail address are requested for membership).
ASCAS handles and protects with care its members' e-mail addresses, will not disclose the addresses to third parties, will use this information only to reply to requests received from members and for communications strictly related to its activity.
These rules are expressly accepted by submitting the membership request.