---
2013 ASCAS membership
No fees are requested for ASCAS membership.
Members still interested to ASCAS and its activity are invited to send an e-mail to
confirming their 2013 membership (the simplest way is to use the 'reply' button on our December e-mail).
I apologize for this little effort asked to whomever appreciates and supports ASCAS activity.

No action is required to unsubscribe. Members not confirming their membership will be automatically deleted from the sending of our monthly Newsletter and will be suspended on February 2013.

Please accept my best wishes for a happy Christmas and a prosperous New Year and my thanks for your present or past appreciation of my work.
Giorgio Busetto
ASCAS Secretary
---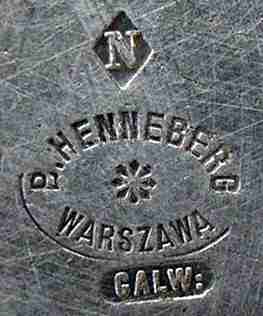 Dr. David N. Nikogosyan presents:

Hollow Ware Marks of Warsaw Silver Plate Factories Operated in the Russian Empire:
Bros. Henneberg, Bros. Buch, Wola Factory, Plewkiewicz & Schiffers.



Recently, I published two Members' Windows in the ASCAS Newsletter Journal devoted to hollow ware marks used by the Warsaw silver plate companies Józef Fraget and Norblin. These firms were founded in the first quarter of the XIXth century, in 1824 and 1819, respectively, and they both pioneered galvanic silver-plate production in Russia in 1850-1860. Other Warsaw firms also started to apply this cutting-edge technology, first Brothers Henneberg and Brothers Buch (between 1872 and 1882) and later, (in 1885-1888), Wola factory, Roman Plewkiewicz, and Schiffer. By the end of the XIXth century practically all Russian manufacture of silver-plated tableware and utensils was concentrated in Warsaw.
It should be remembered that, before 1850, in Russia all silver-plated objects were produced by soldering of a thin sheet of silver to a red-heated copper plate with subsequent rolling. Such a copper base with a fused silver layer was called "SILVER PLATE" or simply "PLATE" ("PLAQUÉ" in French, "PLATER" in Polish)......
click here

---
Welcome to new ASCAS members:
---
Members' Window # 103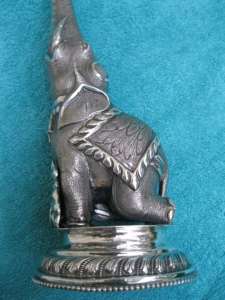 Alan Yates presents:

Silver of Colonial interest

My first piece of Indian colonial silver was purchased in Durban (South Africa) in 1982, a good Hamilton & Co 'melon shaped' tea pot which I still own to this day. The price then was lower than the equivalent piece of Victorian English silver. Those were the days of Grand Apartheid and I bought it at auction from Sotheby's when they were 'in association' with the local firm of Stephan Welz. I have managed to find a perfectly matching sugar bowl but I am still searching for a matching milk jug.
In this page I present a pocket watch of Indian interest bought from an English dealer.
It has a trademark with a lion inside a double circle with the inscription "FL Bombay & Calcutta".....
click here

---
Walter W. Snyder writes:
... I'm trying to find out when this sauceboat was made. I believe it is French, but the hallmarks seem to be not very clear. The A with a crown would indicate the "ancien regime", but the A seems to be a fake. The other marks, a P with a crown, a fleur de lys with a crown, a v in a circular hallmark, 88 with a crown and the marks WK or KW seem to be a strange combination. I have found no French silversmith with the initials KW or WK.
I have been told that the sauceboat is probably from the late 19th century and the hallmarks are not a normal combination. It seems that they are forged to give the impression that the piece is older.
Thank You,
Walter W. Snyder
Your item is an excellent example of "Hanau Silver" (Germany late 19th – early 20th century) made by Wolf & Knell - Hanau (founded 1887). Information about Hanau Silver is available in ASCAS website at http://www.ascasonline.org/articolo13.html
Giorgio Busetto
---
***ANSWER PUBLISHED IN JANUARY 2013 NEWSLETTER***
---
Alan Yates writes:
... I'm trying to identify the origin and any other possible information about this silver coffee pot. I have researched in many sources but all to no avail.
The item is a good quality silver coffee pot with hardwood handle, clearly modelled on the standard English Georgian shape.
It is a good weight (35 oz.), 24 cm high. From appearances only, my guess is Colonial, c. 20th century. But from where? The marks are small but clear.
Thanks for any suggestion you can supply.
Alan Yates
---
The mark looks that of Bruckmann & Sohne (see at http://www.silvercollection.it/germansilverhallmark22.html
I trust in ASCAS members with a better knowledge of German silver for further information.
Giorgio Busetto
***ANOTHER ANSWER PUBLISHED IN JANUARY 2013 NEWSLETTER***
---
***ANSWER PUBLISHED IN JANUARY 2013 NEWSLETTER***
***ANSWER PUBLISHED IN JANUARY 2013 NEWSLETTER***
I have researched the mark on this silverplated pitcher but haven't found anything. It's 8" high x 7.75" wide x 3-5/8" deep. Not all areas of the mark are legible, but this is what I can read:

Thanks for your help
Debbie Rindge
---
***ANSWER PUBLISHED IN JANUARY 2013 NEWSLETTER***
---
Wayne Holmes writes:
... please could you tell me what the hallmarks mean on the silver spoon I found under some old floor boards in an old house?
Thanks
Wayne Holmes
---
---
In this column we presents a page obtained from makers' brochures, books, auction catalogs, advertising or whatever other printed paper, related to silver, that may be of interest for ASCAS members.
The images will be published at a "low resolution" level and for private and personal use only
This month ASCAS presents a 1902 advertisement of International Silver Co, acting as successors of Holmes & Edwards Silver Co, Bridgeport, Conn.

HOLMES & EDWARDS
STERLING INLAID

Long Service
Spoons and Forks

"Silver plated ware that's guaranteed for twenty-five years. It means that sterling silver is inlaid at the points which are subject to hardest wear, giving these goods the durability of solid silver at less than half the cost. Sold by jewelers everywhere....."

The firm began its activity in 1882 succeeding to Rogers & Brittin. The plant was taken over in 1898 by the International Silver Company continuing to operate in Bridgeport until 1931 when moved to Meriden.

The process of inlaying solid silver at points of greatest wear was patented by William A. Warner of Syracuse, NY (No 309,-013 of December 9, 1884 and No 337,099 of March 2, 1886). A solid block of silver was inlaid at the critical points preventing the base metal to be exposed to wear.
Holmes & Edwards acquired the patent rights and continued to use the process for a long time in its flatware production.
---
"A WORD per MONTH"
BUTTER DISH
BUTTER COOLER
REVOLVING BUTTER DISH

Silverplate butter dishes were made in the US from about 1855, but was not until 1880 that they were made in great number and variety.
In America the production of butter, until the rise of factory production about 1860, was a household affair and wooden round, cup-shaped butter molds or 'prints' were used by farmers.
It was to accommodate this 'prints' that most butter dishes had the shape of a round vessel with a high-domed cover and a pierced platform, so that the melted ice used to cool the butter could drain into the container below...... more




---
"A SILVERSMITH per MONTH"


MERIDEN BRITANNIA COMPANY

The business was organized in 1852 by Horace C. and Dennis C. Wilcox who were marketing under the name of H.C. Wilcox & Co Britannia ware produced by several small factories in Meriden.
By 1855 Meriden Britannia Co supplied Britannia, Albata and German silver ware, both plated and unplated, to many other firms.
In 1862 Meriden Britannia Company bought the hollowware division, tools and dies of Rogers Brothers Mfg Co (incorporating Rogers, Smith & Co).
The production of the '1847 Rogers Bros' line continued under the direction of William Rogers and in 1865 the plating shop was transferred from New Haven to Meriden and merged with Meriden Britannia Co in 1866.......
more



---
"A BOOK ON MY SHELF"
In this column we present books, new or ancient, dealing with silver in all its aspects (history, marks, oddities...). This isn't a "book review" but only a fair presentation of some useful "tools" that anyone may have in the shelf of his bookcase.
ASCAS members are invited to contribute to this column
(click to enlarge images)
In the "book on my shelf" of this month Dr. David N. Nikogosyan presents:
GLASS HOLDERS

SOVIET, RUSSIAN, FOREIGN
Identification Guide
by Sergey Kruglov

This magnificent album authored by Sergey Kruglov and published by Russian Publishing House Hobby Press is a bilingual Russian/English hardcover book (456 pages) describing metal tea glass holders, one of the most popular objects widely used, together with "samovars", in Russian tea-drinking culture.
This book is a first serious investigation in this area. The main goal of the book is to describe metal, enamelled and filigree Soviet tea glass holders, which are presented in 2000 high-quality colour photographs.
Less attention (about 500 colour photographs) is given to Russian silver-plated tea glass holders (mostly made in Warsaw) together with items from neighboring countries such as Germany, Austro-Hungary and France. The author also presents the marks of all items. There is a historical 40 pages introduction and a 50 pages part devoted to the producers of all presented tea glass holders. The bibliography consists of 71 sources. It is certainly a "must" book for any serious collector of that kind of table ware.

The contact e-mail of Sergey Kruglov is kruglov.catalog@gmail.com







---
Custom Search
---
Closing our December 2012 edition of ASCAS Newsletter I hope you have appreciated its content.
Your comments, suggestions and advice will be of great help.

My thanks to Renata Camozzi, David Dishart, Wayne Holmes, George L. Lee III, Dr. David N. Nikogosyan, Debbie Rindge, Walter W. Snyder and Alan Yates for their invaluable contributions.

Giorgio Busetto
Secretary

DISCLAIMER AND PRIVACY POLICY
ASCAS is a community of people having a common interest in antique silver.
It is a non-profit association without commercial links. Membership is open to whomever has a true interest in this subject matter.
ASCAS has no real property and no fees are requested nor accepted from members.
ASCAS keeps in touch with its members only through periodical newsletters, e-mails and web-site updating and ignores and is not responsible for any other activity pursued by its members.
Likewise, ASCAS is not responsible for opinions, evaluation and images displayed, and in any form published or supplied for publication, by its members who, in any case, maintain the property of their works and assure the respect of national and international legislation about Intellectual Property.
ASCAS does not have the full addresses of its members (only town, country and e-mail address are requested for membership).
ASCAS handles and protects with care its members' e-mail addresses, will not disclose the addresses to third parties, will use this information only to reply to requests received from members and for communications strictly related to its activity.
These rules are expressly accepted by submitting the membership request.