---
2016 ASCAS membership
No fees are requested for ASCAS membership.
Members still interested to ASCAS and its activity are invited to send an e-mail to
confirming their 2016 membership (the simplest way is to use the 'reply' button on our December e-mail).
I apologize for this little effort asked to whomever appreciates and supports ASCAS activity.

No action is required to unsubscribe. Members not confirming their membership will be automatically deleted from the sending of our monthly Newsletter and will be suspended on February 2016.

Please accept my best wishes for a happy Christmas and a prosperous New Year and my special thanks to members who have provided new articles or have expressed their support in response to my appeal on November newsletter.
Giorgio Busetto
ASCAS Secretary
---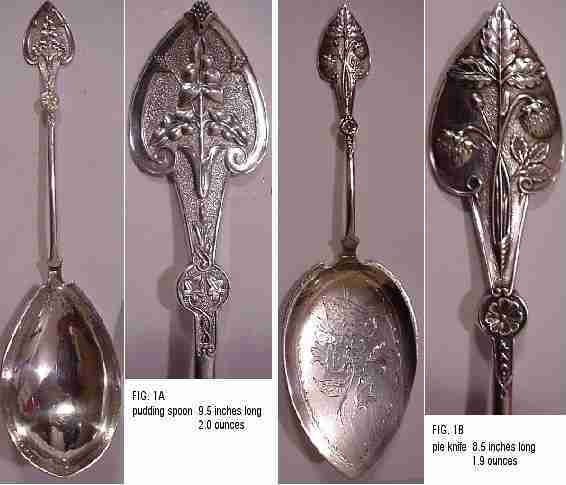 Stanley Hayes presents:

Attribution of Two Single-die-struck Patterns



Over the years I've looked for the two related "LEAF & BERRY" single-die-struck (*) patterns shown in Fig 1.
At first I believed that I would find other leaf and berry motifs and thought of them as parts of a multi-motif pattern, but as time has passed, I've come to the conclusion that there are only two variants, so I simply called them "LEAF & BERRY #1" and "LEAF & BERRY #2."
However, at this point they probably should be rechristened--as "STRAWBERRY" and whatever is the first motif's berry.
Readers who are more knowledgeable than I about botanical subjects might let ASCAS know...
click here

---
Welcome to new ASCAS members:
Patti Benson - USA
Megan Geggatt - USA
Anne Marie Olofson - USA

---
Lucian Mursa writes:
... Can you help me to identify this mark?
Thanks in advance
Lucian Mursa
---
Robin Holmes writes:
...May I ask assistance with these marks that are on a toddy or small delicate ladle?
There is no wear through the silver so I make a tentative judgement that it is silver but the country of origin has me stumped.
Best regards
Robin Holmes
---
Michael Skriletz writes:
...I was looking through your Silvercollection site recently, which is an excellent resource, and was wondering if you might be able to identify a couple of pieces of cutlery in my militaria collection.
The first is a 1937 dated fork, made for the British Army (certainly made somewhere in England). The second is a spoon made for the Canadian Army (so probably a US or Canadian manufacturer).
Any help or leads would be greatly appreciated!
Thank you,
Michael Skriletz
The maker of the British spoon is Cooper Brothers, see my website at http://www.silvercollection.it/electroplatesilverCdue.html
Obviously you know that the "broad arrow" is the symbol of property of the British Government, see my website at http://www.silvercollection.it/dictionarybroadarrow.html
I have no information about the Canadian/USA spoon
Giorgio Busetto
---
Nichola Hanson writes:
.... I was wondering if you could tell me any more about a silver spoon we have acquired.
The 1st letter is B. Not sure what the next two symbols are but the 4th symbol is a circle/orb with a cross coming from it then a shield and in it a crown at the top and the initials JG underneath.
Regards
Nichola Hanson
---
Antonio Rodriguez writes:
I was hoping you could tell me about this spoon. The only thing I know is that it is Sterling. Not sure if made in USA.
Thank you
Antonio Rodriguez
Your spoon is British. The date is London 1751. The maker isn't well readable: could be James Tookey (mark entered on 11.5.1750) or Lawrence Johnson (mark entered 3.4.1751)
Giorgio Busetto
---
---
In this column we presents a page obtained from makers' brochures, books, auction catalogs, advertising or whatever other printed paper, related to silver, that may be of interest for ASCAS members.
The images will be published at a "low resolution" level and for private and personal use only.
This column is published under the kind permission of Giorgio Busetto's website

This month ASCAS presents an 1884 advertisement of:

DERBY SILVER COMPANY

The firm was founded in Derby (Birmingham), CT, in 1873 purchasing the tools and materials from the Walcottville flatware factory of the Redfield & Rice Manufacturing Co which had gone bankrupt in 1872.
Initially the firm continued the production of flatware obtaining various U.S. patents for new flatware designs.
From the late 1870s the firm moved towards the manufacture of holloware producing a wide variety of items, including a large line of plated tablewares and dresserwares.
Derby Silver Co was one of the original firms which formed the International Silver Co in 1898. ADVERTISEMENTS IN SILVER - SILVER ADVERTISING section of www.silvercollection.it website
---
"A WORD per MONTH"
In this column we present an abstract from a page of the "What is? Silver Dictionary"


courtesy of





APPLE CORER

Apple corer is a utensil used to remove the corer from an apple.
It has the form of a long cylindrical handle extending to a hemispherical tube having the end sharpened and pointed for cutting....
more
---
"A SILVERSMITH per MONTH"
DOBSON & SONS
THOMAS WILLIAM DOBSON & HENRY HOLMES DOBSON - PERCY HOLMES DOBSON & CHARLES WESCOTT DOBSON

The origins of the firm are in c. 1814 when Thomas Wilkinson founded a retail silversmiths and jewellers business. In 1845 the business was continued by his son John Wilkinson in partnership with Henry Holmes Dobson (born 1798) under the name Wilkinson & Dobson. In 1851 the partnership was dissolved and Henry Holmes Dobson continued the business under his own name at 32 Piccadilly. In 1877 the firm's name changed to Dobson & Sons when Thomas William Dobson (born 1824) and Henry Holmes Dobson II (born 1826) entered in the partnership. At the death of Henry Holmes Dobson II (1886) the business was continued by Thomas William Dobson until his death in 1905....
more
---
"A CREST per MONTH"
FALCONER - FAULKNER

The crest of Scottish family Falconer and Hugh Faulkner esq. of Castletown County Carlow

An angel praying within an outskirt of laurel.

The Latin motto is 'Vive ut Vivas' (live, that you may have life)

The crest was found in a set of 12 forks, marked Edinburgh 1812, makers Walter & Patrick Cunningham










---
---
Closing our DECEMBER 2015 edition of ASCAS Newsletter I hope you have appreciated its content.
Your comments, suggestions and advice will be of great help.

My thanks to Nichola Hanson, Stanley Hayes, Robin Holmes, Lucian Mursa, Antonio Rodriguez and Michael Skriletz for their precious contributions.

Giorgio Busetto
Secretary
DISCLAIMER AND PRIVACY POLICY
ASCAS is a community of people having a common interest in antique silver.
It is a non-profit association without commercial links. Membership is open to whomever has a true interest in this subject matter.
ASCAS has no real property and no fees are requested nor accepted from members.
ASCAS keeps in touch with its members only through periodical newsletters, e-mails and web-site updating and ignores and is not responsible for any other activity pursued by its members.
Likewise, ASCAS is not responsible for opinions, evaluation and images displayed, and in any form published or supplied for publication, by its members who, in any case, maintain the property of their works and assure the respect of national and international legislation about Intellectual Property.
ASCAS does not have the full addresses of its members (only town, country and e-mail address are requested for membership).
ASCAS handles and protects with care its members' e-mail addresses, will not disclose the addresses to third parties, will use this information only to reply to requests received from members and for communications strictly related to its activity.
These rules are expressly accepted by submitting the membership request.