---
2012 ASCAS membership
No fees are requested nor accepted for ASCAS membership.
Members still interested to ASCAS and its activity are invited to send an e-mail to
confirming their 2012 membership (the simplest way is to use the 'reply' button on our December e-mail).
I apologize for this little effort asked to whomever appreciates and supports ASCAS activity.

No action is required to unsubscribe. Members not confirming their membership will be automatically deleted from the sending of our monthly Newsletter and will be suspended on February 2012.

Please accept my best wishes for a happy Christmas and a prosperous New Year and my thanks for your present or past appreciation of my work.
Giorgio Busetto
ASCAS Secretary
---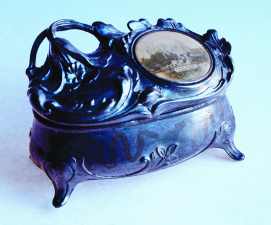 Joanne Wiertella presents:

Antique Jewel Boxes as Souvenirs - American and German



With the advent of the Industrial Revolution, developments in metals production and the concept of mass production were adopted in America and Europe by the late 19th century. In the early 1900's, metal objects like jewelry boxes and other novelties, could be manufactured in quantity-far less costly to produce than the one-on items created by craftsmen previously available only to the wealthy.

International trade between countries had brought attention to new decorative styles from all over the world. The Industrial Revolution also encouraged the development of a middle class which was now also able to purchase not just the essentials, but also to travel to points of interest and purchase decorative items.....
click here

---
Welcome to new ASCAS members:
---
Members' Window # 91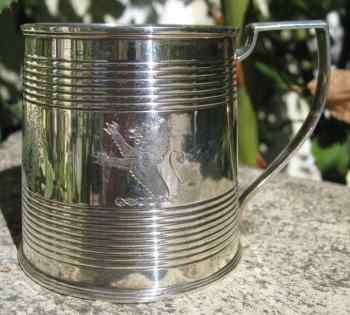 Alan Yates and Giorgio Busetto present:

Three Newborns for a Silver Mug

I married at the age of 50 and my son Marcus was born shortly thereafter. To commemorate his birth I bought him a typical silver Georgian mug.

The mug bears London 1807 hallmark, maker S. Godbehere & Co.

This mark (SG over EW over IB) was entered in London Assay Office on 15.3.1800 and identifies the partnership of Samuel Godbehere with Edward Wigan and James Bult, active at 86 Cheapside, London (but entering this mark he signed as Goodbehere)........
click here

---
Franck Bonnard writes:
...I have a set of Russian Silver, five vodka beakers and tray. They are dated 1874 and 1875.
This set belonged to my great great grandfather.
I would like to identify the maker's mark. I did some research on sites of antiquity, but in vain.
Could you help me?
Franck Bonnard
The marks on the beaker belong to A. Svyechin, Moscow 1862-1875 (assayer mark AC) and M. Dmitriyev, Moscow 1854-1877 (silversmith's mark MD)
The marks on the tray belong to Victor Savinkov Moscow 1855-1888 (assayer VS in Cyrillic = BC in Latin) (according to Postnikova) or to Viktor Savinskij (1859-1894) or Veniamin Savinskij (1862-1875)(according to Assay charters and records), and, possibly, to Nicholai A. Kraslyeninikov, Moscow 1874-1890 (silversmith)
Giorgio Busetto
---
Wayne Bednersh writes:
... I have these two silver trays that I have been unable to identify or even understand. I was hoping that you could ask your readers to help me figure out what I have.
The tray measures about 9" wide. There are no marks of any kind to indicate either location or metal content.
The trays have been tested and are of high quality silver. I suspect that these are Victorian era 'calling card' trays, but am open to other suggestions.
The trays have been hand hammered. The outer rim is fine quality repousse work and depicts birds and flowers.
The handles appear to be cast and soldered to the tray. The inside border is engraved but there is no bright cut engraving.
All of the interior workmanship which depicts everyday workers, dogs and background buildings are engraved.
In the lower center is a reclining man who is being propped up by another man. An axe has dropped from his hand. A woman is standing over the man in period dress. Five other men appear to be standing around or talking. Some of the men are bearded and some are clean shaven. The three dogs are just sniffing around.
There are four small buildings in the background. I suspect that the style of dress is the only clue as to origination.
The second tray is almost the same measurements as the other tray and the handles and outer rim are basically the same (except for minor hand differences).
The central figure is a horse and rider. There is also a second horse and rider.
There are six other male figures talking or working. One is working on a sheaf of wheat. There are three dogs, one goat and one rabbit (hare?) and four small buildings in the background.
Again there are no marks. I would appreciate any information or guesses you might have as to the purpose and where these pieces might have originated.
Wayne Bednersh
Any suggestion will be appreciated.
Giorgio Busetto
---
I believe you are right. I presume that the tray is German and not French. The mark with the "swan" look like the French import mark in use at the end of the 19th century.
Giorgio Busetto
---
---
Gerald Gerhart writes:
.... I rescued this beautiful nut dish from the "scrap" pile of a local jeweller and would appreciate any help possible in determining its origin and the meaning of the hallmarks.
Thanks, in advance
Gerald Gerhart
Your dish is typical example of Hanau silver (see more at http://www.ascasonline.org/articolo13.html ). The maker is (possibly) George Roth, Hanau, but another source attributes the mark to Wolf & Knell, founded in 1887.
Giorgio Busetto
---
---
In this column we present a page obtained from makers' brochures, books, auction catalogs, advertising or whatever other printed paper, related to silver, that may be of interest for ASCAS members.
The images will be published at a "low resolution" level and for private and personal use only
This month ASCAS presents an advertisement published in December 1925 :

GORHAM SILVER
for Christmas.....


The Masters Craftsmen at the three division factories of the Gorham Company have worked throughout the year preparing for this Christmas. Every conceivable gift that can be wrought in sterling silver has been produced by these distinguished artists. Your best jeweler has them.
---
"A WORD per MONTH"
LUCKENBOOTH

A Luckenbooth brooch is a Scottish heart-shaped brooch.
Luckenbooth is traditionally given to a bride by her groom on her wedding day as a symbol of love (heart) and loyalty (crown).
They were also attached to either the bedclothes or the clothing of a newborn child as it was believed to ease child birth and insure good breast milk.
These brooches often have a crown above one heart, or two intertwined hearts with Scottish motifs like the St. Andrew's Cross or the thistle.
The crown is designed after that of Mary Queen of Scots. She gave a Luckenbooth brooch to her betroth decorated with her monogram and a thistle. The thistle is the national emblem of Scotland along with the Latin motto, Nemo me impune Laecessit ("No one provokes me with impunity").
Silver was the usual material, although gold heart brooches were made for wealthy people...... more

---
"A SILVERSMITH per MONTH"
HORACE WOODWARD & CO LTD

The firm was established in Birmingham c. 1850 by George Cartwright and Joseph Hirons, trading as Cartwright & Hirons.
In 1853, when Horace Woodward entered in the partnership, the firm changed to Chartwright, Hirons & Woodward.
The firm was active as electroplate manufacturers and silversmiths at 138/139 Great Charles Street, Birmingham, with London showrooms at 41 Hatton Garden.
In 1859 Joseph Hirons left the partnership and the firm changed its name to Cartwright & Woodward.
In 1865, after George Cartwright's retirement, the business was continued by Horace Woodward under the name Horace Woodward & Co. In 1883 Horace Woodward left the company and the business was continued by Edgar Finley and Hugh Taylor, maintaining the same name until 1893 when the firm was converted into a limited liability company as Horace Woodward & Co Ltd......
more
---
"A BOOK ON MY SHELF"
In this column we present books, new or ancient, dealing with silver in all its aspects (history, marks, oddities...). This isn't a "book review" but only a fair presentation of some useful "tools" that anyone may have in the shelf of his bookcase.
ASCAS members are invited to contribute to this column
(click to enlarge images)
In the "book on my shelf" of this month ASCAS presents:
HIGHLAND GOLD & SILVERSMITHS

by GP Moss & AD Roe
NMS Publishing Limited, Royal Museum, Edinburgh
- 1999 -

A comprehensive look at the gold and silversmiths of Highland Scotland, whose lives and work are revealed for the first time.
Original documentation brought together over years of careful research provide illuminating insight into the everyday lives of the skilled craftsmen, while photographs of notable objects highlight the techniques and materials they used.
An invaluable source of reference for collectors, dealers, museums and libraries.
---
Custom Search
---
Closing our December 2011 edition of ASCAS Newsletter I hope you have appreciated its content.
Your comments, suggestions and advice will be of great help.

My thanks to Wayne Bednersh, Maria Bigliani, Franck Bonnard, Gerald Gerhart, Enzo Vanarelli, Joanne Wiertella, Alan Yates for their invaluable contributions.

Giorgio Busetto
Secretary
DISCLAIMER AND PRIVACY POLICY
ASCAS is a community of people having a common interest in antique silver.
It is a non-profit association without commercial links. Membership is open to whomever has a true interest in this subject matter.
ASCAS has no real property and no fees are requested nor accepted from members.
ASCAS keeps in touch with its members only through periodical newsletters, e-mails and web-site updating and ignores and is not responsible for any other activity pursued by its members.
Likewise, ASCAS is not responsible for opinions, evaluation and images displayed, and in any form published or supplied for publication, by its members who, in any case, maintain the property of their works and assure the respect of national and international legislation about Intellectual Property.
ASCAS does not have the full addresses of its members (only town, country and e-mail address are requested for membership).
ASCAS handles and protects with care its members' e-mail addresses, will not disclose the addresses to third parties, will use this information only to reply to requests received from members and for communications strictly related to its activity.
These rules are expressly accepted by submitting the membership request.