---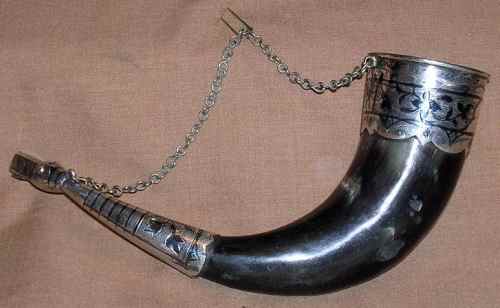 Lazar Freidgeim presents:

Niello Drinking Horns of Kubachi



Kubachi is the village whose name is known far beyond the borders of Dagestan (Russia). It is located high in the mountains. The Darghins live there, representatives of one of indigenous nationalities of Dagestan. During the middle ages the village was widely known in Dagestan and abroad as an important metalworking centre, where coats-of-mail, swords, daggers and the like were produced.
This village is located very close to the Dagestan's capital Makhachkala. But it's more than 40 hours by train from the Russian capital Moscow. Dagestan is a small part of federal Russia.
The name of the village - Kubachi - represents the Turkic from the Persian word "Zirihgheran", which means "makers of weapons". This land was mentioned by some Arab and Iranian historians and travelers as early as the 9th and 10th centuries.
Silversmiths manufactured many different elements of arms and the costumes for warriors such swords, daggers, guns and cartridge belts, or belts......
click here

---
Welcome to new ASCAS members:
---
---
---
a name="RONCALLI">Enzo Roncalli writes:
... I need information about this silver coffee pot hallmarked London 1773.
I'd wish to identify the maker and possibly the crest.
Furthermore, what is the meaning of the little symbol besides the maker's mark?
Thanks in advance for your help.
Enzo Roncalli
The coffee pot is hallmarked London 1773 and the maker's mark is ": IC pellet between". In this period three silversmiths used a similar mark:
John Cormick (from 1760), John Cox (from 1763) and Joseph Creswell (from 1767). They were still active in 1773 as "smallworker" but I believe unlikely that a similar coffee pot has been made by a "smallworker".
Another maker using a similar mark was John Carter II, registered as "plate worker", but his hallmark was entered three years later (1776). Nevertheless Grimwade states for John Carter II "a similar mark found earlier. Not in register" and "there is evidence that he was supplying candlesticks to the firm of Parker and Wakelin as early as 1769 (Wakelin, Workman's Ledger)".
Adding these notes to the "journeyman mark" (you describe it as "the little symbol besides the maker's mark") it's possible that the maker of the coffee pot was indeed John Carter II (other hypothesis or suggestions by ASCAS members will be welcome).
The crest was identified as belonging to various English and Scottish families as described in the "A crest per Month" column in bottom page of this newsletter.
Giorgio Busetto
---
Wladimir Armando Balaic writes:
... , I would like to know if you have any information on this piece. Manufacturer, year, country.
Wladimir Armando Balaic
---
Christophe Ginter writes:
... Maybe an ASCAS fellow member would be so kind to tell me who is the silversmith FD on this Mexican mark
Christophe Ginter
---
Peter Staniunas writes:
... I found a divided oval side dish by J.B. Chatterly & Sons, EPNS, Made in England.
I am curious to know if you can identify the time period of manufacture.
Sincere thanks,
Peter Staniunas
Your piece is marked ENGLAND (not MADE IN ENGLAND): it could be of early production (c. 1890/1900).
To date silverplate items see my suggestions at http://www.silvercollection.it/dictionarydecryptingsilverplatemarks.html
Giorgio Busetto
---
Karin Sixl-Daniell writes
The item appears to be plated to me at first sight, displaying a c. mid-19th century shape (I would say c 1850-60), but it would be good to know more about the object. The mark could point to Franz Schiffer whose excellent workshop does not appear after 1855, but if these marks pictured are the only ones, I would not want to assume it is made of solid silver.
Karin Sixl-Daniell
---
Karin Sixl-Daniell writes
The hallmark looks a bit unusual (it comes across as stretched on the pictures) and the marks are indeed not easily identified. The hallmark shows that the item would have been made between 1800 and 1806/07 which would also correspond with the design. The maker's mark looks like #1765 and #1766 in Waltraud Neuwirth's book Wiener Silber 1781-1866, where the maker is not identified either. However, the other marks on this page show marks for a Karl Giesswein. The marks' tablet on page 101 of the same book shows a mark for Karl Gieswein entered in 1792. On page 56, a jug made in 1805 by a maker KG is shown, both marks looking like the ones on the egg cup. Waltraud Neuwirth's other book Marks of Viennese Gold and Silversmiths 1781-1866 shows a mark for Karl Gieswein on page 136, Viktor Reitzner's book on Viennese silver ("Alt Wien Lexikon für Österreichische und Süddeutsche Kunst und Kunstgewerbe") mentions Karl Giesswein being active from 1792-1805 (page 197). Maybe his mark was modified a little (corners and not rounded corners) later on, which would mean that the makers was indeed Karl Giesswein.
Karin Sixl-Daniell
---
Ricardo Moreira writes
The pair of candlesticks are of origin Brazilian. The marks "BK" are in reality BR, the mark "10" corresponds the mark "10 dinheiros" that is 833/1000 silver.
The mark "JG" corresponds the silversmith José Ferreira Guimarães (1855-1880) of Rio de Janeiro.
The pair of candlesticks are not sabbath silver but pieces used by the bourgeoisie in tableware and illumination
I hope have helped
Ricardo Moreira
---
---
This month ASCAS presents an ancient advertisement of:

JAMES ALLPORT

MANUFACTURER OF
PLATED WARES
Table Services, Epergnes, Bread Cake and Fruits Baskets
CANDLESTICKS and BRANCHES


The firm was active at 12 Weaman Row, Birmingham and 4 Thavies Inn, Holborn, London



This image is part of the ADVERTISEMENTS IN SILVER - SILVER ADVERTISING section of www.silvercollection.it website
---
"A WORD per MONTH"
TOAST RACK
TOAST TRAY

Toast rack or toast tray is a serving piece having vertical openwork partitions and a vertical ring for carrying several slices of toast (usually four to eight).

The slices stand upright in each space, sometimes with a flat bottomed tray to support them.

Early examples were in the form of a single row of vertical posts on a wire-ring base but later ones have circular wire loops to separate the slices...... more
---
"A SILVERSMITH per MONTH"
ROBERT FEAD MOSLEY
R.F. MOSLEY & CO - R.F. MOSLEY & SON - MOSLEY & CO LTD

Robert Fead Morley was born into a family of well-known London jewellery and allied trades manufacturers. Since the early 1800s several branches of the family were active or had connection with the jewellery trade around Hatton Garden area of London.
Robert Fead Mosley (1841 - 1921) was the son of Cornelius Lewis Morley a "steel pen holder & pencil case makers & Birmingham & Sheffield factors". He began his own business in Sheffield and in 1864 when was listed as "scissor and table knife manufacturer, 214 Brook hill", moving to Portland Works in Portland Lane just off West Street in 1871 (Portland Works consisted of small units used as temporary manufactories for smaller businesses unable to keep a whole premises)....
more





---
"A CREST per MONTH"
ASELOCK (1), BLADES (2), BLAYDESS (3), BLAYDESS-MARVEL (4), BOWER (5), BRAYBROOK (6), CLARK (7), CLIFFORD (8), DESBROWE (9), ELLERKER (10), GEORGES (11), GRIFFIN (12), HAIGH (13); HALL (14); JEAFFRESON (15), JEFFERSON (16), KNIGHT (17), KYRELL (18), LESLIE-MELVILLE (19), M'KILLOP (20), MELVETON (21), MILL (22(, MORHAM (23), PATTERSON (24), TANNER (25), TAYLOURE (26), THAYER (27), WILSON (28)

A crest used by many English and Scottish families.
(1) Suff. (2) Yorks. (3) Notts. (4) Yorks. (5) Dors. (6) Baron (Neville-Griffin) (7) unknown (8) Unknown (9) unknown (10) Yorks. (11) Glouc. (12) unknown (13) Yorks. (14) Durh. and Oxon.(15) unknown (16) unknown (17) unknown (18) Kent (19) Earl of Leven (20) Sco. (21) Sco. (22) unknown (23) Eng. (24) unknown (25) Somers. (26) unknown (27) Ess. (28) Sco.


The crest is described as "a talbot's head erased or guttée" (talbot: a hound with long pendent ears).

The crest was found on a silver coffee pot, hallmarked London, 1773, silversmith maker John Carter II (possibly)



---
Custom Search
---
Closing our FEBRUARY 2014 edition of ASCAS Newsletter I hope you have appreciated its content.
Your comments, suggestions and advice will be of great help.

My thanks to Wladimir Armando Balaic, David Boddy, Lazar Freidgeim, Christophe Ginter, Enzo Roncalli, Karin Sixl-Daniell, Peter Staniunas for their precious contributions.

Giorgio Busetto
Secretary
DISCLAIMER AND PRIVACY POLICY
ASCAS is a community of people having a common interest in antique silver.
It is a non-profit association without commercial links. Membership is open to whomever has a true interest in this subject matter.
ASCAS has no real property and no fees are requested nor accepted from members.
ASCAS keeps in touch with its members only through periodical newsletters, e-mails and web-site updating and ignores and is not responsible for any other activity pursued by its members.
Likewise, ASCAS is not responsible for opinions, evaluation and images displayed, and in any form published or supplied for publication, by its members who, in any case, maintain the property of their works and assure the respect of national and international legislation about Intellectual Property.
ASCAS does not have the full addresses of its members (only town, country and e-mail address are requested for membership).
ASCAS handles and protects with care its members' e-mail addresses, will not disclose the addresses to third parties, will use this information only to reply to requests received from members and for communications strictly related to its activity.
These rules are expressly accepted by submitting the membership request.