Letter from the secretary
February Newsletter, for the first time, does not contains an article or a "members' window" written by Giorgio Busetto.
I'm particularly proud to present the qualified contributions supplied by other members that enrich our monthly newsletter.
My hope is that many other contributions will follow and many other members will be available to share their knowledge on matters of common interest.

This month about 150 members, that haven't renewed their membership, will be cancelled and will not receive February Newsletter. ASCAS does not seek "great numbers of addressee", has no commercial objectives and will continue to send its Newsletters only to people demonstrating a real interest in its work.
My thanks to the 250+ members that have renewed their 2007 membership and to the many that were so kind with their e-mails of wishes and encouragements.
Many of them have been members since 2004 and, next April, ASCAS will celebrate its third anniversary!

ASCAS Newsletter was intended for reading on the screen. Its wide net of links and photo enlargements isn't suitable to be transferred on paper. Nevertheless, some of ASCAS members prefer to print their newletter and the results are ... pitiful.
I'm not a professional webmaster and I'm unable to offer a " printable version " of this page. This month I've realized also a modified version of the newsletter, hoping to offer a better result if you try to print the page.
Please, note that this isn't a " printable version " but only a modest attempt to offer another option to my readers.
You may click on the following link (PRINT) and, if you wish, let me know your suggestions and what you think about it

Giorgio Busetto
ASCAS Secretary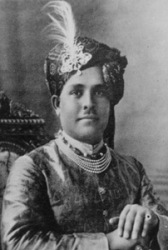 Fredric Sinfield presents:

A presentation from His Highness



A gilded silver box containing a personal card informing that the presentation was With Compliments from His Highness the Maharawat of Partabgarh, Partabgarh, South Rajputana 1935.
The decoration of this box was different to other types of embellishments used on box lids and is known as theva or thewa work that is unique to Partabgarh in the Chittorgarh district of India. There are differing stories of how this technique was developed, one is that Nathu Soni invented the process but was imprisoned when he refused to impart his secret to his ruler or the goldsmith Nathuni Sonewalla developed the process in the second quarter of the 18th century....

click here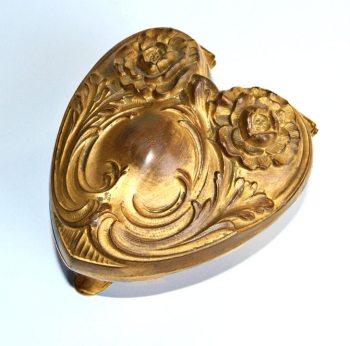 Steven P. Pody and Joanne Wiertella present:

Romance in metal: When Love, Beauty, Devotion and Mass Production intertwined



Valentine's Day has, for more than six hundred years, signified that special time for expressing one's love. It originated in recognition of St. Valentine, a bishop martyred in 270 AD. He was known for going from house to house, leaving food on the doorsteps of the poor.
Valentine's Day became popular in England, Scotland and France, evolving in significance over the years. Chaucer and other early English poets wrote of the country "notion" that birds chose their mates on this day......

click here

---
Welcome to new ASCAS members:
James Baldwin - England UK
Amelia Bellora - Italy
Paule Bane - Australia
Angela Bowey - New Zealand
Joseph Bozzino - Malta
Pamela Coates - USA
Christine Cope - England UK
Denise Dominguez - USA
Wes Fultz - USA
Cameron Gardner - Australia
Faith Gardner - USA
Roberto Giansanti - Italy
Christopher Langdon - England UK
Mary Ellen Lawrence - USA
Valerio Martucci - Italy
Susan Miley - USA
Francine Proulx - USA
Marvin Sokolow - USA

---
Members' Window # 34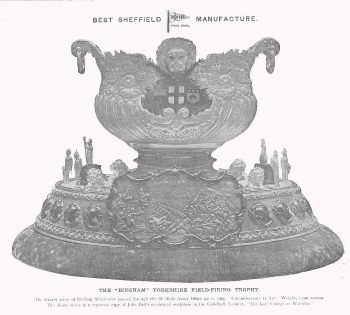 Fredric Sinfield presents:

A large unsolved mystery!



starting from his illustrated Walker & Hall catalogue from the early 20th century, Fredric Sinfield presents the story of the "Bingham" Yorkshire Field-Firing Trophy.

The Trophy, won by the Brighouse Volunteers in 1912 and in 1913, was displayed in the local museum and disappeared without a trace in the '40s.

click here

---
Dariusz Malinowski writes:
...I'm trying to identify the origin of a Russian sugar bowl with the mark as on the attached image.
Any help would be greatly appreciated.
Dariusz Malinowski (Poland)
---
Ian Cook writes:
I would like to send you the attached pictures of a pair of pepper pots that I picked up on my travels. Although only silver plated, I thought that might spark some interest among other members because of the rare base metal used. (Lead)
They do have seams, which apart from the base alloy used could perhaps point them to being of OSP. Markings on the base are:
W.A.R
S.P LEAD
404
I have tried to research the maker W.A.R, through my documentation, but to no avail.
They are a beautiful design and stand 11cm high. Rather heavy as you can imagine each piece weighs 266grms.
The screw tops seem very primitive and do not appear to be machine made.
I hope that fellow members can help me to identify and perhaps date the pieces.
Good luck to you and other members in 2007.
Best Regards
Ian

---
Wes Fultz writes:
I collect smaller items of silver and gold. I have a spoon that I would hope someone in your membership would be able to identify. I think it is gold but am not sure.
Best regards
Wes Fultz

---
Victoria and Larry Sherlaw write:
We have two spoons with this unusual hallmark. Can you please identify this hallmark, the maker, and any other pertinent information you can give us.
Thank you
Victoria and Larry Sherlaw

---
Janet Rose and Kathy Lattin write:
We have a mystery item that I hope you can help us identify. The piece looks like a small open handled backsaw, measuring 12 inches from the start of the saw to the end of the handle. It appears to be silver plate with an elephant ivory handle. There are 4 marks - RR in a square, an S within a shield, what appears to be a back to back RR or clover like image within a double pointed shield and then an EP sideways in an oval. We are still searching to identify this item and we would really appreciate any help you might give us.
Thank you.
Janet Rose and Kathy Lattin
I believe that the maker is Richard Richardson, Cornwall Works, Sheffield but I'm unable to date your piece. I do not know the use of this item and I trust in the support of ASCAS members to reply to your question Giorgio Busetto
---
Gino Gatta writes:
I found this item in the shape of a nut with WMF marks. It is high 24cm, wide 21cm and deep 13cm. I'm well aware that it isn't sterling silver but silver plate but I do not know its use.
Any suggestion by ASCAS members would be greatly appreciated.
Gino Gatta

---
Ruth Kusiowski writes:
I am trying to find out who the artist is of this 1882 Russian silver sculpture. It has 84 mark with date 1882 and is signed by an artist unknown to me. It is 3"wide and 7 1/2" long and weighs about 690 grams.
Thank you in advance for your help.
Ruth Kusiowski
---
---
Replies to questions
Leslie Gray receives this reply about the marks on her Fish Service ( see January Newsletter)

there are two hypothesis for this mark:
Fredric Sinfield writes:
Regarding Leslie Gray's inquiry. John Sherwood & Sons were Birmingham platers active during the second half of the 19th century.
Fred.
Hymie Dinerstein writes:
J S & S was probably James Savory & Sons and is E.P. A Law was passed in 1894, that made illegal the use of marks that looked like the Sheffield marks that resembled the Crown or the lion or any other government Hallmarks and was considered in the same way as counterfeiting
Hymie Dinerstein.
Dorothea Burstyn writes:
inquiry by Leslie Gray: the mark shown was used by John Sherwood & Sons, Birmingham 1858-1896. Maybe the animal, which slightly resembles a beaver, might have suggested to you a Canadian connection
Dorothea
---
Joan Barrington receives this reply about the marks on her maker of this bowl and serving spoons ( see January Newsletter)

for this mark there are three hypothesis:

Fredric Sinfield writes:
Regarding Joan Barrington's inquiry.
A check of the base of the bowl might reveal the maker who had John Grinsell & Sons of Birmingham supply the plated pieces in the last two decades of the 19th century.
Regards,
Fred.
Hymie Dinerstein writes:
JG &S is probably Joseph Gloster of Birmingham and this is silver plate
Hymie Dinerstein.
Maja Heynecke writes:
reply to Joan: The markings sound like it could be Joseph Gilbert - Birmingham? Not sure,I would have to see the markings
Maja
---
Alfonso Samayoa receives this reply about Joseph Rodgers & Sons pieces ( see January Newsletter)

Hymie Dinerstein writes:
Rodgers sugar and Coffee pot are both English Electroplate - probably on Britannia Metal, which was the least expensive metal to work with and ca.1890 to 1914. The Cream Jug is American Sterling of the same period.
Hymie Dinerstein
Fredric Sinfield writes:
Regarding Joseph Rodgers & Sons Ltd inquiry from Alfonso Samayoa. The star and cross continued in use after Joseph's sons joined the firm in 1871 up to about 1900.
The '2900' would be a catalogue reference number for the various components of the tea or coffee set.
Hymie Dinerstein
Maja Heynecke writes:
reply to Alfonso - Joseph Rodgers & Sons
This tea set is EPNS, probably hotelware. The marking and pattern suggests it was made between 1840 and 1940.
The background on JR&S is as follows:
Starting life in 1724 (although other sources suggest 1682), Joseph Rodgers & Sons are one of the longest established cutlery companies in Sheffield.
They were granted the Royal warrant in 1821 by George IV, this accolade continuing through the reign of Queen Victoria and they proudly display their "by appointment" on knife blades. They produced a large amount of silver and plated flatware, but are particularly well known for the fine quality of their knives and carving sets.
Joseph Rodgers & Sons were taken over in 1975, but their name and trademarks are still used.
Maja
---
Michael Kaufman receives this reply about his pieces ( see January Newsletter)

Hymie Dinerstein writes:
the server is either American or Canadian electro plate, probably made after 1945, and the inkstand with the rubbed marks was made in Birmingham around 1930.
Hope this information is helpful
Hymie Dinerstein
Maja Heynecke writes:
reply to Michael: the ink well looks like sterling silver. the markings are unclear. The middle marking of the three grouped together looks like a lion passant, which denotes the item is sterling. The left marking on those same three looks like it might be the marking for Sheffield or Newcastle, but they are not clear on the photograph.
Maja
---
Wayne Robbins receives this reply about his cheese scoop with unknown marks (see January Newsletter)

Maja Heynecke writes:

reply to Wayne: The cheese scoop could be made by William Brearly - 1863 - 1872.
Not sure, need a pic of makers mark
---
---
---
"A PAGE per MONTH"
In this column we present a page (one page only) obtained from makers' brochures, books, auction catalogs or whatever other printed paper, which may be of particular interest for ASCAS members.
The images will be published at a "low resolution" level and for private and personal use only
This month ASCAS presents a page from the New Illustrated Catalogue 1907-08, The Gordon co., Bridgeport , Conn (image supplied by Joanne Wiertella)
It's interesting the detail of item Number 975 - Trick Match Safe:

"Made of polished nickel, oxidized silver finish, embossed on both sides, oval shape. Corrugated on two sides. The trick is that you can open it on four sides and it will never open by itself, but opens easily when you know the trick."
Who knows what the trick was?
---
"A WORD per MONTH"
In this column we presents an abstract from a page of the "What is? Silver Dictionary"
courtesy of


CLOSE PLATING

The 'close plating' is a method of applying a layer of silver foil to tinned steel by heat fusion and burnishing. It was largely used for plating knives, scissors, spurs and the like. The burnishing brought silver to a high finish by rubbing the surface with a hard smooth object such as agate or other hardstone, a dog's tooth or very high grade steel.....
more
---
---

Closing our FEBRUARY 2007 edition of ASCAS Newsletter I hope you have appreciated its content.
Your comments, suggestions and advice will be of great help.

My thanks to Steven P. Pody (USA), Dorothea Burstyn (Canada), Ian Cook (UK), Hymie Dinerstein (UK), Jayne Dye (USA), Wes Fultz (USA), Gino Gatta (Belgium), Maja Heynecke (South Africa), Ruth Kusiowski, Janet Rose and Kathy Lattin (USA), Dariusz Malinowski (Poland), Victoria and Larry Sherlaw, Fredric Sinfield (Australia), Joanne Wiertella (USA) for their invaluable contributions.

Giorgio Busetto
Secretary
DISCLAIMER AND PRIVACY POLICY
ASCAS is a community of people having a common interest in antique silver.
It is a non-profit association without commercial links. Membership is open to whomever has a true interest in this subject matter.
ASCAS has no real property and no fees are requested nor accepted from members.
ASCAS keeps in touch with its members only through periodical newsletters, e-mails and web-site updating and ignores and is not responsible for any other activity pursued by its members.
Likewise, ASCAS is not responsible for opinions, evaluation and images displayed, and in any form published or supplied for publication, by its members who, in any case, maintain the property of their works and assure the respect of national and international legislation about Intellectual Property.
ASCAS does not have the full addresses of its members (only town, country and e-mail address are requested for membership).
ASCAS handles and protects with care its members e-mail addresses, will not disclose the addresses to third parties, will use this information only to reply to requests received from members and for communications strictly related to its activity.
These rules are expressly accepted by submitting the membership request.