Two new articles for ASCAS website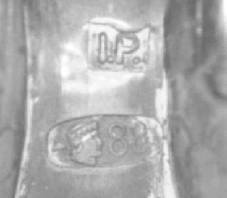 Pierre Gagnaux presents:

FAuxBERGE'

FAkeBERGE'

There's a wide production of modern silver artifacts with fake Tsarist Russia hallmarks. They come from Poland, Ukraine, Romany, Hungary and other East European countries. Many of these pieces are offered on eBay but they are also presented on European Markets by Russians and East European sellers.
The author analyses two pieces with Russian hallmarking, demonstrating that their marks are counterfait.
English

/ Francais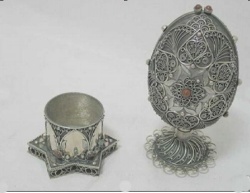 Pascal Jonnaert and Giorgio Busetto present:

A collection of Judaica silver

Judaica' is highly appreciateds by antique silver collectors and Sotheby's and Christie's dedicate specific auctions to this theme.
In this article we present a selection of Judaica trays and spice towers belonging to Pascal Jonnaert, a new ASCAS' member from Brussels.
click here
New members
Welcome to new ASCAS members:

Paul Austin - England UK
Beth Barker - USA
Robert Bettinger - USA
Rachelle Cambell - USA
Philippe Choix - France
Fausto de Longis - Italy
Angela Fontana - The Netherlands
Steve Holden - England UK
John Ireland - England UK
Ann Jacks - Australia
Michael Kaufman - USA
Darryl King - USA
Larry Krug - USA
Luca Mastrodonato - Italy
Paul Mincey - USA
Bill Moss - England UK
Lloyd Prator - USA
Dawn Regler - England UK
Fran Schreiber - USA
Cherie Teitelbaum - USA
Denis Tournoux - France
Tommie S. Weldon - USA
Temel Yaksi - Turkey
Maria Giovanna Zappulla - Italy

Members' Window # 21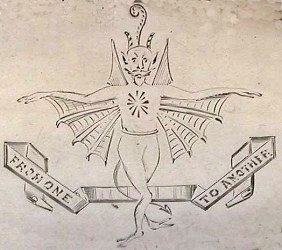 Fredric Sinfield presents:

Demons & Devils: an interesting addition

Demon and devils on December Newsletter has obtained a great success.
This month Fredric Sinfield submits an interesting 'silver devil' engraved on a 1804-1805 English nutmeg grater.
Wonder if this will bring out more devils?
click here
Questions from ASCAS members
Ned Mancini writes:
...these pieces were commissioned by a nobleman of unknown name. Documents say he ran through his wealth and sold these with the pretense he remain anonymous.
The paper work also says they were made in France in 1780 and are carriage robe decoration. I was wondering if you have seen any like this. I would guess the crown weighs approx.16 ounces, the lion and oak tree a little less.
I removed the crown from the plaque and the reverse needs a thorough cleaning. Would be great to find a hallmark.
Thank you for any help with these pieces.
Ned
Enrico Spirito writes:
...I've just bought a silver pitcher.
It is hallmarked: M. 925 KNIGHT
I'm unable to identify the maker nor its origin and age.
I wonder if any reader knows these marks, can date it or has any information about the maker. Grazie
Enrico Spirito
Robert Waldron writes:
...I have a tea service comprising a tea pot, milk jug and sugar bowl. The assay mark on the bottom of all three items is CW ??? EP NS. I know the EPNS is electro plated nickle silver but what does the CW mean?.
The symbol represented by three question marks looks like an oval or carrot shape divided into three.
Please tell me what they all mean and by whom it was made
Thanks in anticipation.
Robert Waldron
Ed Knapp writes:
...I have in my possession a small early silver? hinged top box with a drape design around the sides and the 'last supper' on the top.
The hallmarks are not familiar to me. There are 3 hallmarks on the bottom. What looks like an M or N with a crown, a T. with a crown, and a top view of a bird (dove?) in flight with a crown.
On the hinged cover, in the lower left corner of the alternating scroll S and flower frame, surrounding the 'last supper', are the initials E.R. and then ED followed by an R that has a dot under it.
It measures approximately 2 3/4" long x 1 3/4" wide x 1" high. On the inner lip of the base opening, which the cover overlaps is crudely scratched 941K.
Any ideas or assistance would be greatly appreciated.
Also if I believe irrelevant for dating this piece, I add another information: this object was uncovered at Ossernon which was the site of a massacre of several French Jesuits, by the Indians, during the late 17th century.
Thank you,
Ed Knapp
Giorgio Busetto writes (yes, also ASCAS Secretary has questions about silver):
...At last I was able to buy a nutmeg grater! Unfortunately my putchase isn't an ancient and highly expensive Georgian silver nutmeg grater, but a more modern (and far less costly) piece with Dutch hallmarks.
I believe it is a piece made for 'decorative purpose only', in an age when these odd devices had no more practical use.
I'd wish to date this item, hoping that the mark GG do not belongs to a 'too modern' silversmith
The question has received a prompt reply by Janjaap Luijt:
the makers mark belongs to Gerrit Regtdoorzee Greup from Schoonhoven and was used from 1888 until 1915. The sword is the standard mark for 835 Dutch silver.
Met vriendelijke groet,
Janjaap Luijt
Replies to members' questions
Karin Sixl-Daniell writes:
...the cup is indeed made by Jezler (from Eastern Switzerland: Schaffhausen, a place well known for watch-making), a fairly recent piece. It still exists and as far as I know is the only silver manufacturer (solid silver, not plated) in Switzerland these days. I have just checked on the web and their webpage is http://www.jezler.ch/index.html which seems to be in German only.

Karin Sixl-Daniell writes:
...This tea strainer is not Russian but is actually Austrian.
The Diana head was used in the Austro-Hungarian Empire between 1867 and 1922, with a small change regarding the letter indicating the town after 1872.
This piece was made between 1872 and 1922 and is from Vienna.
It was made or retailed (see below) by Vincenz Mayer's Soehne, a very good silversmith company, and the eagle is the Imperial Warrant this company was entitled to use.
The company was founded in 1810 and produced medals and orders for the Imperial Court as well as gold- and silverware and was the Jeweller to the Crown.
During the time the strainer was produced, they already exported in other European countries.
The additional hallmark looks to me to be the one of Wuerbel & Czokally of Vienna – maybe one company produced and the other one retailed and hence both stamps can be found.
The knife rest is also Austrian, also carries the mark of Vincenz Mayer's Soehne, the Diana head and the Imperial Warrant, but this time the additional hallmark is the one of Jarosinski & Vaugoin of Vienna, another very well known maker. This company also still exists today.
...as to the spoons with the unusual markings, this same mark is on the back of a souvenir spoon I have that was made by Levi and Salaman to commemerate the maiden voyage of the RMS Olympic, but I also have seen it on other souvenir spoons.
I suspect that it refers to the silverplating procedure that was patented by L&S shortly after they acquired the Petosi Silver mine....
Closing our January edition I hope you have appreciated its content.
Your comments, suggestions and advice will be of great help.
My thanks to Pascal Jonnaert (Belgium), Pierre Gagneaux (Switzerland), Douglas Hawkes (Canada), Ed Knapp (USA), Janjaap Luijt (The Netherlands), Ned Mancini (USA), Fredric Sinfield (Australia), Karin Sixl-Daniell (Austria), Enrico Spirito (Italy), Robert Waldron (USA) for their invaluable contributions.

Giorgio Busetto
Secretary