---
2015 ASCAS membership
LAST WARNING
Members still interested in ASCAS and its activity are invited to send an e-mail to:
Confirming your 2015 membership please compile a new mail and don't use the "reply" button on this mail.

No action is requested to unsubscribe. Members not confirming their membership will be automatically deleted and shipping of our monthly Newsletter will be suspended on February 2015.

Giorgio Busetto
ASCAS Secretary

PLEASE IGNORE THIS ANNOUNCEMENT IF YOU HAVE ALREADY CONFIRMED YOUR INTEREST, BY EMAIL, WITHIN THE LAST DECEMBER.
---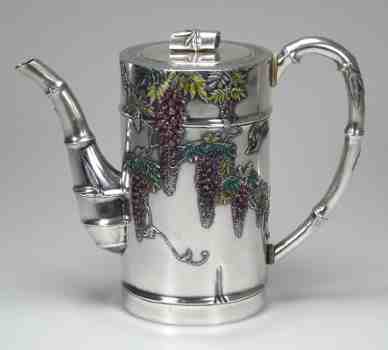 Jeffrey Herman was just elected into the prestigious Fellow category of the Institute of Professional Goldsmiths in England. He's the only Fellow living outside England. Herman was nominated by three other Fellows of the IPG that felt him worthy of this honor.

In this newsletter Jeffrey Herman presents:

The Beauty of Pulse Arc Welding



This Meiji-era teapot needed its handle secured and its dents removed from the single-walled body, double-walled cover, and removable tea strainer that sits under the cover.
There had been a rod extending through both ivory insulators. One end was hard soldered to the handle and the other was peened over on the inside of the pot. Over time, this assembly loosened.
I removed both rods then welded new ones to the body, covering the holes.
I then drilled holes through the handle for the rods to extend and countersunk the holes.
After I reinstalled the insulators over the rods, I attached the handle with the rods protruding through the holes.
I then pulsed down over the rods, spreading the silver into the countersinks and securing all parts for an undetectable repair...

click here

---
Welcome to new ASCAS members:
---
Sheldon Blom writes:
...My brother's friend was working in the garden at home, and came across this. He since gave it to me, and I've been asking around, and no one seems to have any idea what this is, or used for? A garden fork, a bread fork, a serving fork even?
I did some browsing online and came across your site.. Well it's great and very helpful! So I thought I'd send some pictures of what the item looks like, as well as the zoomed in photo showing the hallmarks.
The hallmarks read, "E & Co" with the letter " C" or "G" (But looks like a "G" to me) and an emblem with a "Crown with E&CO"
Sheldon
It's a silverplate meat fork made by Elkington & Co, year 1892. see my website at http://www.silvercollection.it/Elkington.html
Giorgio Busetto
---
Chris & Sue Driver write:
...Please can you give me a clue as to what the marks mean on the spoons shown in the attached photograph?
Chris & Sue Driver
---
Michael B. Neville writes:
...I am trying to identify the maker of a silver electroplated candelabra but I could not find the markings on your site.
I have attached a photograph of the candelabra as well as a close up of the markings found on the side of the base.
I would appreciate it if you could help me to identify the maker as well as provide any additional information you may have regarding the possible age of the piece.
Michael B. Neville
---
---
---
Charles C. Cage writes
I believe the Rev. Dr. Long is mis-reading the marks on his Swedish pipe.
The "H" is not the date letter, but the city mark of Harnosand, and the "purity" mark "8.4" is actually the date code "S.4. " for 1848.
The maker "E.W.G." is Eric Wilhem Gellerstedt (1814-1856; master 1842).
[Ref: Erik Andren, Bynole Hellner, Carl Hernmarck, & Kersti Holmquist,Svenskt Silversmide 1520-1850 : Guld- och Silverstamplar, 3rd rev. ed. (Stockhom: Nordiska Museets, 2000), p. 345, marks 4069-4070]
Charles C. Cage
Janjaap Luijt writes
The letter H is not the date-letter but the mark S4 (not 84) which is the date-letter for 1848.
I lack Swedish references to be able to determine the other marks
met vriendelijke groet,
Janjaap Luijt
Rod Hall writes
The Meerschaum pipe head is indeed Swedish and was made by Erik Wilhelm Gellerstedt in the Swedish coastal town of Harnosand in 1848. The "8.4" stamp is actually the year stamp S4 for 1848, while the H indicates the town of Harnosand, where Erik Wilhelm Gellerstedt worked as a master silversmith. He was also born in Harnosand in 1821, the son of a master pewter maker. He was granted the status of master silversmith in 1842, a few years before he made the pipe head.
Rod Hall
NOTE: in this webpage "Harnosand" is written without the special characters of the Swedish alphabet. Rod Hall specifies that the pronunciation is (approximately) Hair-nur-sand in Swedish
---
Hans Demel writes
The three letters under the Austrian hallmark (appr. 1806-1812) seem to be Cyrillic. Therefore the tobacco box could come from Galicia, e.g. from Ternopil.
(There were probably assay offices in Ternopil, Berezhany, Zolochiv, Zalischyky. But even the Viennese assay office had no further information on the hallmarks.)
Hans Demel
---
---
This month ASCAS presents a 250 Francs stock issued by:

SOCIÉTÉ FRANÇAISE DE JOAILLERIE & D'ORFÈVRERIE

ROBERT LINZELER & Cie
---
"A WORD per MONTH"
ETUI

Etui (a French word) is a small case made in different materials such as wood, leather, ivory, silver, gold, tortoise shell, mother of pearl or shagreen.

They are variously shaped and decorated and mounted with gilt hinges and collars......
more




---
"A SILVERSMITH per MONTH"
MATTHEW BOULTON

Boulton was not a "goldsmith" or a "silversmith" in the accepted sense, yet for his achievements and services to the craft of goldsmithing he is fully worthy of inclusion in the list of great English goldsmiths.
Matthew Boulton was born in Birmingham on 3 September 1728. His father Matthew Boulton (senior) was a "toy maker" and silver stamper specialized in the production of shoe-buckles.
Boulton junior was taken into partnership in 1749 and was left in sole charge of the business after the death of his father in 1759.
Boulton had the ambition to establish a manufacturing complex where craftsmen in the various branches of the "toy" trade would work together under one roof, enabling him to reap both wholesale and retail profits. In 1761 he realized his project purchasing a one-hundred- year-lease of the "Soho" estate at Handswoth Heath (two miles from Snow Hilton the Wolverhampton Road).
In 1762 Boulton took into unofficial partnership John Fothergill who would act as a travelling salesman to advertise his wares and the factory moved to Soho in the same year......
more










---
"A CREST per MONTH"
---
Custom Search
---
Closing our JANUARY 2015 edition of ASCAS Newsletter I hope you have appreciated its content.
Your comments, suggestions and advice will be of great help.

My thanks to Sheldon Blom, Charles C. Cage, Allen Carlson, Hans Demel, Chris & Sue Driver, Rod Hall, Jeffrey Herman, Janjaap Luijt and Michael B. Neville for their precious contributions.

Giorgio Busetto
Secretary
DISCLAIMER AND PRIVACY POLICY
ASCAS is a community of people having a common interest in antique silver.
It is a non-profit association without commercial links. Membership is open to whomever has a true interest in this subject matter.
ASCAS has no real property and no fees are requested nor accepted from members.
ASCAS keeps in touch with its members only through periodical newsletters, e-mails and web-site updating and ignores and is not responsible for any other activity pursued by its members.
Likewise, ASCAS is not responsible for opinions, evaluation and images displayed, and in any form published or supplied for publication, by its members who, in any case, maintain the property of their works and assure the respect of national and international legislation about Intellectual Property.
ASCAS does not have the full addresses of its members (only town, country and e-mail address are requested for membership).
ASCAS handles and protects with care its members' e-mail addresses, will not disclose the addresses to third parties, will use this information only to reply to requests received from members and for communications strictly related to its activity.
These rules are expressly accepted by submitting the membership request.