2008 ASCAS membership
LAST WARNING
Members still interested to ASCAS and its activity are invited to send an e-mail to
confirming their 2008 membership (the simplest way is to use the 'reply' button on our January e-mail).

No action is requested to unsubscribe. Members not confirming their membership will be automatically deleted and shipping of our monthly Newsletter will be suspended on February 2008.
Please IGNORE this announcement if you have yet sent (on past month) your renewal e-mail
Giorgio Busetto
ASCAS Secretary
---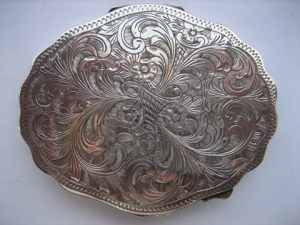 Robert Massart presents:

Powdering with Style
Silver Powder Puff Boxes of the 20th Century



Since centuries women use make-up to make themselves more attractive to please men. During the Art Nouveau and Art Deco periods it was not different and the powder puff box was part of the vanity accessories of a lady's make-up........
click here

---
Welcome to new ASCAS members:
Stéphanie Brown - Canada
Paola Continella - Italy
Frank Church - Australia
Ian Fleming - Australia
Neil Freeman - Australia
David Gogulski - USA
Nael Hamdy - Egypt
Linda A. May - USA
Francisco J. Morales - USA
Michael Roche - USA
Stephen Wooster-Goodwin - USA

---
Members' Window # 44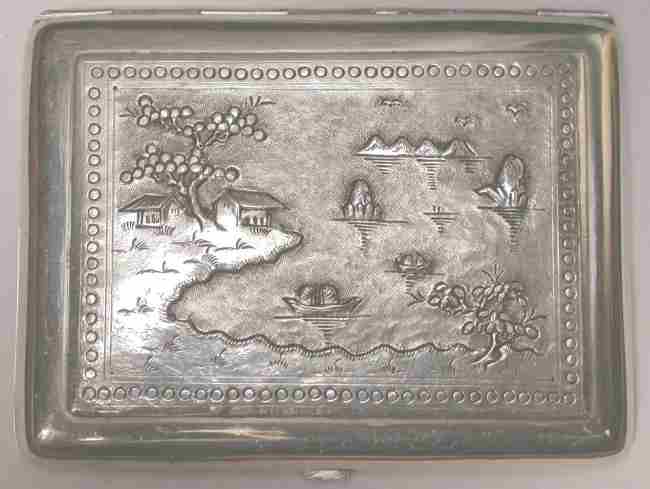 Fred Sinfield presents:

Trust a dealer?



A dealer at a flea market had a 77gram calling card case that was, according to him, made in Imperial Russia......

click here

---
Darcy Williamson writes:
... I came across an antique silver teapot my Great Grandmother gave to my Grandmother. I was interested in its history and I can send some pictures if you would like to give it a look.
Thanks for your time,
Darcy Williamson
Your teapot was made by Philip Ashberry & Sons 21 Bowling Green St, Sheffield - 1856-1935
Philip Ashberry began trading in 1829 making Britannia metal wares. The names SAVOY and STAYBRIGHT were used in early 20th century cutlery. Your mark was used 1861-1915.
Further images and information are available in my private website at http://www.silvercollection.it/electroplatesilver.html
Giorgio Busetto
---
Laura A Bürgermeister writes:
... I am writing to ask for your help identifying a silver hallmark, that I have never seen before and that I can find no description of anywhere.
I was told it is supposed to be from Belgium, but would kindly ask you to help me identify the hallmarks (they are stamped on a coffee pot).
Thank you very much for your time and effort in advance!
Laura A Bürgermeister
---
Christophe Ginter writes:
... Does anybody by ASCAS know about this silversmith (his name and period of activity) ?
Please find herewith the marks: top is Geneva (Switzerland),ca. 1710.
Bottom is the silversmith named "ET", his initials with a crown and a star. Still unknown for me.
By the way, I would be very grateful to learn about a book refering to swiss hallmarks (even in German language).
Many thanks in advance for your help.
Christophe Ginter
---
Cristina Speluzzi writes:
... I saw your page about " Chatelaines" in December Newsletter. I include some pictures of a couple of "chatelaînes" I bought long ago.
The first one is not silver and in my opinion is very pretty. I stuffed it with a pink cloth to show the details better.
It is some sort of purse.


Cristina Speluzzi
Unfortunately I was unable to find information about the maker Accarisi, Florence.
Giorgio Busetto
---
David Appleton writes:
... I have been doing research into some old croquet trophies and have found your web-site very useful.
With its help I have been able to identify the makers of all 5 of the trophies we have from 1875 to 1913 (editor's note: Mr. Appletom refers to the English hallmarks pages in my private website www.silvercollection.it ).
The only satisfactory photographs I have so far were provided by Gail & Tremaine Arkley of Independence, Oregon, who recently donated several trophies to the Scottish Croquet Association.
They are of a cup which a Mr CJK Woolston of Wellingborough, Northamptonshire, England gave to the winner of the 1913 Scottish Croquet Championship. In fact he gave a cup each year from 1902 to 1913, and probably 1901 and 1914 as well.
One of his sons had won the Championship in 1900, which may have prompted this very generous gesture.
The Arkleys also gave us the 1906 trophy. The cups were both bought from the Edinburgh shop of Wilson & Sharp, whose hallmark (and the date-letter for Birmingham assay office, 1912) appears on the 1913 trophy; that on the 1906 one is for the firm of Hawksworth, Eyre & Co Ltd (with the date-letter for London, 1905).
They have been made to similar designs but are not identical. The 1906 trophy has been engraved with the name of the winner (AG Boumphrey) but there is no name on the 1913 trophy (which was won by J Hughes).
Including the handles the cups are 23 cm wide and 12.5 cm high.



There are also two interesting medals which I have scanned in.
The first, a silver medal inscribed "United All England Croquet Association", and won by Miss M Fenwicke of Darlington, Co Durham, England, is about 2.7 cm in diameter. It was made by the firm of Cornelius Desormeaux Saunders & James Francis Hollings Shepherd of Holborn Circus, London and has the London date-letter for 1898, the year it was played for according to the bar on the ribbon.
The United All England Croquet Association was founded in 1897 and changed its name to the Croquet Association in 1900, so this little item must be comparatively rare.

The second is a replica of the medal struck to commemorate the coronation, in 1911, of King George V and Queen Mary. It is 3.8 cm in diameter and weighs about 22 gm. It is housed in a case labelled JS & WW Lawson, 172 Buchanan Street, Glasgow, but the hallmark is that of Marples & Beasley and the assay office Birmingham.
The firm produced a number of interesting items, such as Masonic and military badges as well as the Robertson's golly [a marmalade advert].
There is no record of the medal having been played for.
The donor was Daniel Macaulay Stevenson. Although he never won the Championship he was twice runner-up. Possibly he was too busy to practise quite enough as he was Lord Provost of Glasgow for three years from 1911, receiving a baronetcy in 1914 [Provost in Scotland = Mayor in England].
As a town councillor he had succeeded, in the face of Scottish Presbyterianism, in having Glasgow open its libraries and museums to the public on Sundays. He made his fortune from coal and shipping and was one of Glasgow University's greatest benefactors, endowing chairs in French, Spanish and Italian (among others) in an effort to promote understanding between nations.
In 1934, though aged over 80, he was elected Chancellor of the university, a post he held until his death ten years later. [Craiglockhart Croquet Club was in Edinburgh and was also where the Championship was played.]

I hope that is of some interest to you. If you ever hear of any more Scottish coquet trophies being available I would be pleased to know.
David Appleton
David Appleton is the Treasurer of the Scottish Croquet Association.
Information to contact Mr. Appleton is available in the Scottish Croquet Association website at http://www.scottishcroquet.org.uk/contacts.htm
Giorgio Busetto
---
---
Replies to questions
Mario Galasso receives another reply to the question about his candlesticks: ( see October/November Newsletter)

Karin Sixl-Daniell writes:
... AS usually stood for "Alpacca Silber" – I presume that the maker intended to use the year of production (which was given in the Viennese hallmarks until 1866) but showed that it is Alpacca Silber, and not solid silver (13 or 15 Loth). As to the maker, a Josef Bachmann was entered in the mid 19th century (examples shown in Neuwirth (Wiener Silber 1781-1866) for 1857 and 1860) and Wenzel Bachmann & Co. are shown in Neuwirth (Wiener Gold- und Silberschmiede und ihre Punzen 1867-1922) on page 86, but with a different hallmark from what is shown on the candlesticks. I was not aware of Bachmann having been warranted to use the Hapsburg eagle (and cannot find any mentioning thereof in any of Neuwirth's books), so am unable to help here.
Karin
---
Dave Weinhandl receives this reply to his question about E.P.C.A. ( see December Newsletter)

Ian Cook writes:
... I would like to respond to Dave Weinhandl's question on EPCA. I believe that this means Electro Plated Copper Alloy, although I have heard it referred to as Electro Plated Copper Alternative.
Ian
---
Damien Francois receives this reply to the question about his Danish cup: ( see December Newsletter)

Fred Sinfield writes:
... In response to Damien Francois - The "DA" mark is found on various metal products dating from a period of high unemployment in the 1920's.
It was "Dansk arbejd" or made in Denmark with a hammer.
The maker's mark is G. Guldbrandsen of Vejle.
Fred
---
---
"A PAGE per MONTH"
In this column we present a page obtained from makers' brochures, books, auction catalogs, advertising or whatever other printed paper related to silver, which may be of interest for ASCAS members.
The images will be published at a "low resolution" level and for private and personal use only
| | |
| --- | --- |
| | This month ASCAS presents the " Baby Rattles" page from the 1917-18 Webster Company - North Attleboro "Sterling Silverware and Novelties" catalog |
---
"A WORD per MONTH"
In this column we presents an abstract from a page of the "What is? Silver Dictionary"
courtesy of


JEWELERS TRADE CARD

The history of trade cards begins with the problem American manufacturers had in the 1870's.

They were beginning to produce and distribute consumer goods on a national wide scale - but there was no advertising medium of truly national circulation.

Their need, together with the perfecting of inexpensive methods of color lithography, gave birth to a fascinating phenomenon, at once folk art and effective business device; the trade card..........
more
---
"A BOOK ON MY SHELF"
In this column we present books, new or ancient, dealing with silver in all its aspects (history, marks, oddities...). This isn't a "book review" but only a fair presentation of some useful "tools" that anyone may have in the shelf of his bookcase.
ASCAS members are invited to contribute to this column
(click to enlarge images)
The "book on the shelf" of this month is

SILVER
by Gerald Taylor
printed by Penguin Books Ltd
Harmondsworth, Middlesex
Second Edition 1963
---
A New Book by an ASCAS Member
Graham Hodges is a member of ASCAS with a particular interest in British Silver Sugar Tongs.
In August 2005 he published for ASCAS an interesting article " Georgian Silver Sugar Tongs of the Period 1770 - 1820", still
available in our website
About the matter of his interest he has written now a book titled Georgian Silver Sugar Tongs (expected publishing date: 10th January 2008).
Information about the book and how to order it are available in author's website at http://www.silversugartongs.com
---
---

Closing our JANUARY 2008 edition of ASCAS Newsletter I hope you have appreciated its content.
Your comments, suggestions and advice will be of great help.

My thanks to David Appleton (Scotland UK), Laura A Bürgermeister, Christophe Ginter (France), Robert Massart (Belgium), Fredric Sinfield (Australia), Karin Sixl-Daniell, Cristina Speluzzi (Argentina) and Darcy Williamson, for their invaluable contributions.

Giorgio Busetto
Secretary

DISCLAIMER AND PRIVACY POLICY
ASCAS is a community of people having a common interest in antique silver.
It is a non-profit association without commercial links. Membership is open to whomever has a true interest in this subject matter.
ASCAS has no real property and no fees are requested nor accepted from members.
ASCAS keeps in touch with its members only through periodical newsletters, e-mails and web-site updating and ignores and is not responsible for any other activity pursued by its members.
Likewise, ASCAS is not responsible for opinions, evaluation and images displayed, and in any form published or supplied for publication, by its members who, in any case, maintain the property of their works and assure the respect of national and international legislation about Intellectual Property.
ASCAS does not have the full addresses of its members (only town, country and e-mail address are requested for membership).
ASCAS handles and protects with care its members e-mail addresses, will not disclose the addresses to third parties, will use this information only to reply to requests received from members and for communications strictly related to its activity.
These rules are expressly accepted by submitting the membership request.