---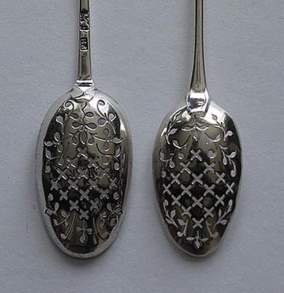 David McKinley presents:

The Significance of Mote Spoon Piercing



I have recently been made aware of misunderstandings in the minds of some collectors of English silver plate concerning the piercing of mote spoons which has led to the belief that these little spoons were not entirely English in origin and it would seem appropriate therefore to say a few words on this subject.
There is no evidence of the existence of mote spoons anywhere in the world until they appeared in London in the late 17th century when they were known as "long tea strainer spoons". Although they were in use in connection with tea drinking for about a century it has still not been established for certain how they were used, but what is known is that the original examples were utilitarian in design with nothing but simple holes drilled through their bowls thus allowing the straining which their name implied.
By the turn of the century these simple holes had given way to quite decorative design and this was experimented with throughout the 18th century. However to date no evidence has been discovered to suggest that any of this experimentation originated outside London although a few of these spoons were made in America and some may even have been made in Dublin.......
click here

---
Welcome to new ASCAS members:
---
---
Claudio Morelli writes:
... am looking for information on this object whose use is a mystery to me. It is 17 cm. high, the size of the plate is 8x2 cm, the weight is 45 gr.
Thank you
Claudio Morelli
---
---
Michael Carter writes:
I fear that the marks in the three photos Marco posts are fakes.
The crowned A in the first photo looks like the Parisian charge mark used from 1768-1774, but the small mark next to it doesn't correspond to any of the discharge or other general marks for that period that I'm aware of. Also, the V-shape of the cross-bar in the A is not consistent with other examples I have seen.
The second photo seems to show a maker's mark (large fleur-de-lys with the initials TG underneath). Again, this is not consistent with the style of Parisian maker's marks for this period.
The third photo doesn't look like an 18th century hallmark at all.
Michael Carter
---
---
In this column we presents a page obtained from makers' brochures, books, auction catalogs, advertising or whatever other printed paper, related to silver, that may be of interest for ASCAS members.
The images will be published at a "low resolution" level and for private and personal use only
This month ASCAS presents an ancient advertisement of À la Gerbe d'Or, Paris

À LA

GERBE D'OR

fondée en 1797
The firm was active at 86, Rue de Rivoli, Paris
Bijouterie d'Argent, Orfèvrerie d'Argent, Pensules, Bronzes d'Art
---
"A WORD per MONTH"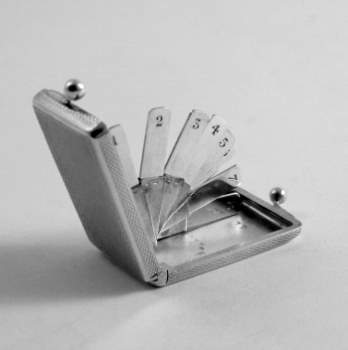 SHOTGUN PLACE FINDER
SHOOTING FIELD PLACE FINDER
BUTT MARKER
A device used to choose the first shooting position in a game shoot.

The most common shape is similar to a Vesta case containing until 10 numbered ivory pegs, but examples are known in the shape of a cartridge or a flask containing numbered balls.... more
---
"A SILVERSMITH per MONTH"
SAMPSON MORDAN - S. MORDAN & CO - S. MORDAN & CO LTD

Sampson Mordan (1870-1843), apprentice and assistant of the mechanic John Bramah, established his own business in 1815.
The first patent for a "metal pencil with an internal mechanism for propelling the graphite 'lead' shaft forward during use" was obtained in 1822 (his co-inventor was John Isaac Hawkins).
In 1823 Mordan bought out the rights of Hawkins, entering his first mark as "smallworker" in London Assay Office on 9 June 1823 (SM oblong). In 1824 he entered in partnership with Gabriel Riddle, registering a new mark (SM.GR) in London Assay Office.
The partnership with Riddle was dissolved in 1836 and he continued the business as S. Mordan & Co. Sampson Mordan died in 1843 and the business was taken over by his sons Sampson (Jr) and Augustus. They were later joined by Edmund George Johnson and Zachariah Watkins who retired in 1879.
After the death of Sampson Mordan (Jr) his share of the business passed to his brother Augustus, joined as partner in 1890 by Harry Lambert Symonds.
In 1898 the company was converted to a limited liability company under the name of S. Mordan & Co Ltd.
In 1933 the distribution rights on the propelling pencil business were given to L. G. Sloan Ltd, and in 1941, following the destruction of the factory by enemy bombing, the patents were sold to Edward Baker. The firm went into voluntary liquidation in 1952.....
more
---
"A CREST per MONTH"
In this column we present images and descriptions of Crests and Mottoes of British, Irish and Scottish families as engraved on silver items.
BENNIE - BENNY - BENZIE - BINNIE

Scottish families.
The crest is described as "horse's head, bridled".
The Latin motto is Virtute et Opera (By virtue and deeds).
The crest was found on silver plate meat cover bearing an unidentified maker's mark


---
Custom Search
---
Closing our JUNE 2013 edition of ASCAS Newsletter I hope you have appreciated its content.
Your comments, suggestions and advice will be of great help.

My thanks to Riccardo Bonardi, Michael Carter, David McKinley and Claudio Morelli for their precious contributions.

Giorgio Busetto
Secretary
DISCLAIMER AND PRIVACY POLICY
ASCAS is a community of people having a common interest in antique silver.
It is a non-profit association without commercial links. Membership is open to whomever has a true interest in this subject matter.
ASCAS has no real property and no fees are requested nor accepted from members.
ASCAS keeps in touch with its members only through periodical newsletters, e-mails and web-site updating and ignores and is not responsible for any other activity pursued by its members.
Likewise, ASCAS is not responsible for opinions, evaluation and images displayed, and in any form published or supplied for publication, by its members who, in any case, maintain the property of their works and assure the respect of national and international legislation about Intellectual Property.
ASCAS does not have the full addresses of its members (only town, country and e-mail address are requested for membership).
ASCAS handles and protects with care its members' e-mail addresses, will not disclose the addresses to third parties, will use this information only to reply to requests received from members and for communications strictly related to its activity.
These rules are expressly accepted by submitting the membership request.