---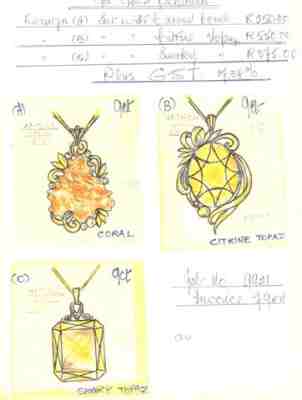 Fred van Staden presents:

Joe Calafato: A South African creative jeweller and silversmith (1947-1984)



Joe Calafato designed and manufactured silver jewellery, flatware and hollowware during the mid to late 20th century in a career spanning 37 years in Pretoria, South Africa. His work made an important contribution to the development of a uniquely South African design domain and has become increasingly sought after at antique and collectible markets.

Of Sicilian parentage, Giuseppe Leonardo Calafato was born on the 10th of July 1912 in the then Lorenšo Marques (now Maputo) Mozambique. In the 1920s the family moved to Johannesburg. Here he did his apprenticeship as a manufacturing jeweller under Jack Friedman - a well known local jewellery manufacturer of his time.
From April 1938 until June 1945, Joe worked for the South African Mint in the capacity of Jeweller and Silversmith in the Medal and Badge Department.....

click here

---
Welcome to new ASCAS members:
---
Yosef Shlingbaum writes:
...May I ask for your help in finding the origin & date of this magnificent silver filigree spice box?
Thank you,
Yosef Shlingbaum
A hypothesis could be "Malta", but I have little knowledge about Maltese hallmarks.
Any help will be welcome
Giorgio Busetto
---
Allen Carlson writes:
I have recently purchased a Sterling cake knife by Georg Jensen.
Can someone in the group assist me in naming the pattern?
I have looked in all the references that I have and cannot find the pattern name or number.
Thanks,
Allen Carlson
---
Reg Lennox writes:
...I have a set of silver tableware for 6 made in Portugal and marked with the cocks head turned left over 833. I have been able to identify the mark as being of the town of Porto and after 1938. I have not however been able to identify the maker or pattern and have included a hand drawn facsimile of the mark in the hope that someone can. They must have used a very minute stamp as the cancellation mark is only about 3/4 of a millimeter wide and the makers mark less than 2 mm wide.

As an interesting side note, when I received the set one of the knife handles was loose so I removed it for repair and found that the handle itself was very heavily cast in 2 pieces. Out of curiosity wondering exactly how much silver was used in the casting I removed all of the cutlers resin within and weighed the handle. To my amazement I found that the manufacturer had used an astonishing 62 grams of silver to cast the handle. The 6 forks and spoons weigh 594 grams.
No shortage of silver in Portugal I guess!
Reg Lennox
---
Paola Continella writes:
...I'm trying to obtain information about the marks of this little spoon.
I trust in your assistance for the identification
Paola Continella
I believe they are ancient Swiss hallmarks, but I need to be confirmed and, possibly, receive further information and details by someone more acquainted about the matter.
Giorgio Busetto
---
Luis Castelo Lopes writes:
...Once again I would like to ask for your help, or for the help from someone among the ASCAS members.
Please find here the photos of a two handle silver bowl and of its hallmarks which I have not been able to identify.
Could you please help me?
Best regards
Luis Castelo Lopes
---
---
Graham Hodges writes
The maker's mark on the sauce boat is that of Stephen Adams. The mark is overstruck on top of another, but unfortunately cannot make out who the original maker was.
Graham Hodges
Jolyon Warwick James writes
This maker's mark is surely an overstrike. One can see the two overlapping cartouches and the witness marks on the lettering SA - who may well be Stephen Adams. The latter looks like it is overstriking something possibly beginning with I. A closer and sharper image might enable one to decipher the original mark.
Jolyon Warwick James
Laurence Joyce writes
In response to Zelda's question about the maker's mark on her sauce boat: it appears to be Stephen Adams overstriking another maker, perhaps someone with the second initial K. The underlying maker's mark I take to be upside down in the photograph.
Laurence Joyce
---
---
This month ASCAS presents an ancient advertisement of:

SIMPSON, HALL, MILLER & CO

WALLINGFORD CONN.USA


The firm was founded in 1866 by Samuel Simpson, a Britannia ware manufacturer active in Wallingford, CT.
In 1878 he made a contract with William Rogers to supervise the manufacture and marketing of Simpson, Hall, Miller & Co 'Eagle' Brand.
In 1879 the firm established a Canadian branch in Montreal: Simpson, Hall, Miller & Co (Canada).
In 1895 the firm started the manufacture of sterling silverware and in 1898, being one of the original founders, became part of the International Silver Company



This image is part of the ADVERTISEMENTS IN SILVER - SILVER ADVERTISING section of www.silvercollection.it website
---
"A WORD per MONTH"
BEEHIVE HONEY-POT

Honey-pot is a receptacle used for serving honey in the table.

Usually it is of cylindrical shape with a cover and, often, a fixed saucer-like stand with a serving spoon..... more




---
"A SILVERSMITH per MONTH"
JAMES DEAKIN & SONS
JAMES DEAKIN & SONS LTD

The firm was founded in Sheffield by James Deakin in 1866.
The first mark was entered by the firm in Sheffield Assay Office on 31 January 1878. It was a "JD" over "WD" and, possibly, represented the partnership of James Deakin and his son William Pitchford Deakin. The firm was active at Sidney Works, Matilda Street, Sheffield.
In 1886 two further sons entered in the partnership, John Deakin and Albert Deakin, and the firm was then known as James Deakin & Sons.
Further marks were entered in London Assay Office (1888) by William and John Deakin (subsidiary offices and showrooms at 48 Holborn Viaduct, London), Chester and Birmingham. Further offices and showrooms were opened at Gardiner House, 14 Charterhouse Street, London, 34 St. Enoch Square, Glasgow and 7 Queen Street, Belfast....
more





---
"A CREST per MONTH"
BORTHWICK

A Scottish family. A Negro's head. The Latin motto is: Qui Conducit (He who leads)

The crest is on a silver spoon hallmarked Edinburgh 1829, maker 'AE' (possibly Adam Elder or Alexander Edmonstoun III)
---
Custom Search
---
Closing our JUNE 2014 edition of ASCAS Newsletter I hope you have appreciated its content.
Your comments, suggestions and advice will be of great help.

My thanks to Allen Carlson, Luis Castelo Lopes, Paola Continella, Graham Hodges, Jolyon Warwick James, Laurence Joyce, Reg Lennox, Yosef Shlingbaum, Fred van Staden for their precious contributions.

Giorgio Busetto
Secretary
DISCLAIMER AND PRIVACY POLICY
ASCAS is a community of people having a common interest in antique silver.
It is a non-profit association without commercial links. Membership is open to whomever has a true interest in this subject matter.
ASCAS has no real property and no fees are requested nor accepted from members.
ASCAS keeps in touch with its members only through periodical newsletters, e-mails and web-site updating and ignores and is not responsible for any other activity pursued by its members.
Likewise, ASCAS is not responsible for opinions, evaluation and images displayed, and in any form published or supplied for publication, by its members who, in any case, maintain the property of their works and assure the respect of national and international legislation about Intellectual Property.
ASCAS does not have the full addresses of its members (only town, country and e-mail address are requested for membership).
ASCAS handles and protects with care its members' e-mail addresses, will not disclose the addresses to third parties, will use this information only to reply to requests received from members and for communications strictly related to its activity.
These rules are expressly accepted by submitting the membership request.