YOUR GUIDE TO JUNE NEWSLETTER:
articles
new members
members' window
mail to ASCAS
replies to questions
a page per month
a silversmith per month
a word per month
a book on my shelf
a crest per month
contributors to this Newsletter
search engine
disclaimer and privacy policy
---
A new article for ASCAS website
Magdalena and William Isbister present:

Novelty Thimbles
Although 'Novelty' thimbles or 'Sewing Toys', as they have been called, are principally associated with the late 18c and early 19c they were being made in Nürnberg as early as the late 16c. The first description of a novelty thimble that we were able to find was written by Johann Christoph Weigel, a German copper engraver, art dealer and publisher. He was born in Bohemia in 1654 and died in Nürnberg some 70 years later. In 1698 he wrote one of his most important works, Abbildung Der Gemein-Nützlichen Haupt-Stände Von denen Regenten Und ihren So in Friedens- als Kriegs-Zeiten zugeordneten Bedienten an, biß auf alle Künstler Und Handwerker (reference 1). (Illustrations of common utilitarian occupations of the Regent and his servants in both peace and in wartime including all the artists and hand workers). It was published in Regensburg and in it he described more than 200 artisans and craft workers whom he had observed personally in their workshops and other workplaces. Each description was accompanied by an engraving of the activity......
click here

---
New members
Welcome to new ASCAS members:
Chris Donovan - England UK

---
Mail to ASCAS: e-mail
silverassociation@yahoo.it
I'm unable to identify your item (Sheffield Assay Office, date 1907, maker Walker & Hall).
Any suggestion will be welcome
Giorgio Busetto
---
Sarah Timewell writes:
...I am a big fan of your extraordinarily comprehensive website. I cannot imagine how long it took you to amass all that knowledge! I am very grateful you have shared it, however.
I attach two photographs of an item I believe to be a silverplate inkstand. The top rolls back, and I presume once had a glass pot inside. The interior and the base are a bit rusty now.
I have identified Birmingham, 1921/22, all but the maker's mark. It is rather worn, but the attached photograph is as good as I can get it. I read this as (W)(M)(Co).
It's not mentioned on your site as such, but I wonder if you have heard of it lately?
With many thanks,
Kind regards
Sarah Timewell
The maker of your inkwell is Wilmot Manufacturing Co, Camden Street, Birmingham
Giorgio Busetto
---
Maurice Meslans writes:
Here is a mark I have not been able to find in 30 years.
This is a rather small (dia. 23.5 cm) 18th. c. solid silver dish. It is what I would call a dish (compotier) as opposed to a plate (plat rond). It is typically French or European.
The centering punch is on the top and it is marked on the back. The mark BH is rather large, 7.5 mm long, and does not look like a normal French mark. There are no control marks.
It was purchased in America. American plates or dishes are very rare. There is always the possibility of French Colonial, but I have had no luck finding anything similar. It has a lot of patina, and I could find no scratch engraving anywhere.
Best regards,
Maurice Meslans

---
---
"A PAGE per MONTH"
In this column we presents a page obtained from makers' brochures, books, auction catalogs, advertising or whatever other printed paper, related to silver, that may be of interest for ASCAS members.
The images will be published at a "low resolution" level and for private and personal use only.
This column is published under the kind permission of Giorgio Busetto's website


This month ASCAS presents two ancient advertisements of

NIAGARA SILVER CO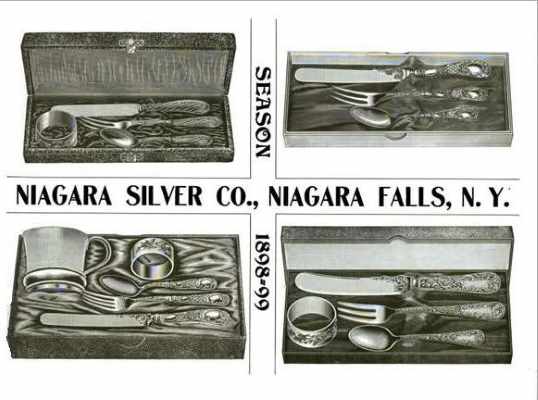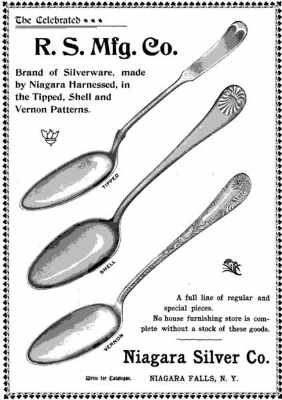 A silverware manufacturer active in late 19th century in Niagara Falls, NY.
In early 20th century the firm was succeeded by Wm. A. Rogers Ltd.
The discontinued Niagara Silver Co trademark was acquired by Oneida Silversmiths in 1929 through the purchase of Wm. A. Rogers Ltd.
---
"A WORD per MONTH"
In this column we present an abstract from a page of the "What is? Silver Dictionary"


courtesy of





OPENWORK
A style of reticulated decoration on silver articles, featuring openings in the body of the piece which permits the passage of light.

Openwork in silver is the technique that produces decoration by creating holes, piercings, or gaps that go right through the metal obtaining the effect on the viewer to see right through the object.

In this case the work is executed with various techniques as

piercing

(metal pierced to make a pattern of small holes),

saw cutting

(using a saw to make holes of irregular and decorative shape) or

wirework

(creating decoration made of silver or plated wire)....

MORE...

---

"A SILVERSMITH per MONTH" HENRY GRIFFITH & SONS - HENRY GRIFFITH & SONS LTD

Henry Griffith (born 1825) opened his silver business in 1850 registering his first hallmark in Birmingham Assay Office in November 1858. Further similar marks were entered in 1861 and 1862.
The firm was active at 161 Warstone Lane, Birmingham (1861) and later at No. 149 and No. 131 (1903).
Henry Griffith was joined in the partnership by John Henry Griffith (son), Edward Sermon (son-in-law, until 1881) and later by Frederic Griffith (another son). In this period the firm carried out the business as Henry Griffith & Son and later as Henry Griffith & Sons.
Various marks were entered in Chester Assay Office in 1887 and 1890 (Henry Griffith & Sons) and in London (1891, Henry Griffith)).
In 1898 Henry Griffith retired and the business was converted into a limited liability company under the style Henry Griffith & Sons Ltd (in 1899 Frederic Griffith was the director).
New hallmarks were entered in Chester Assay Office in 1898, 1899 and 1906..... MORE...

---

"A CREST per MONTH" FAMILY CRESTS: LIST OF NAMES ILLUSTRATED DIRECTORY OF FAMILY CRESTS LITTLE

The crest of Little family (England and Ireland).
The Latin motto is 'Magnum in Parvo' (Much in Little)
The crest is described as 'a demi-bull'
The crest was found on a silver pepperette hallmarked London 1904 maker Thomas Bradbury & Sons

---

"A YEAR per MONTH"
FROM SHEFFIELD ASSAY OFFICE REGISTER
- 1777 -

DISCLAIMER AND PRIVACY POLICY

ASCAS is a community of people having a common interest in antique silver.
It is a non-profit association without commercial links. Membership is open to whomever has a true interest in this subject matter.
ASCAS has no real property and no fees are requested nor accepted from members.
ASCAS keeps in touch with its members only through periodical newsletters, e-mails and web-site updating and ignores and is not responsible for any other activity pursued by its members.
Likewise, ASCAS is not responsible for opinions, evaluation and images displayed, and in any form published or supplied for publication, by its members who, in any case, maintain the property of their works and assure the respect of national and international legislation about Intellectual Property.
ASCAS does not have the full addresses of its members (only town, country and e-mail address are requested for membership).
ASCAS handles and protects with care its members' e-mail addresses, will not disclose the addresses to third parties, will use this information only to reply to requests received from members and for communications strictly related to its activity.
These rules are expressly accepted by submitting the membership request.