YOUR GUIDE TO JUNE NEWSLETTER:
articles
new members
members' window
mail to ASCAS
replies to questions
a page per month
a silversmith per month
a word per month
a book on my shelf
a crest per month
a year per month
contributors to this Newsletter
search engine
disclaimer and privacy policy
---
Marc Faygen presents:
TRADING TIPS IN BUYING COLLECTIBLE SILVER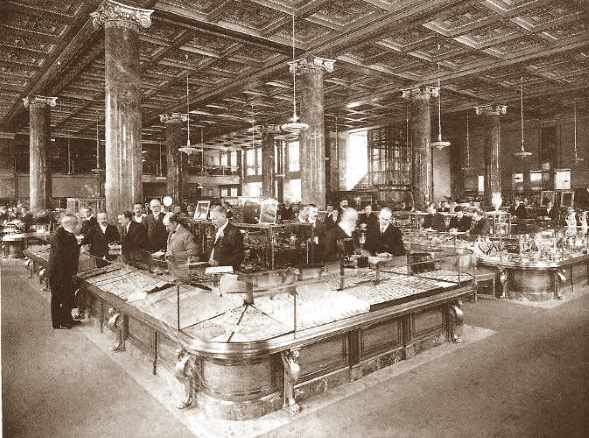 As any collector knows, your wish list is larger than your budget. You thus need to make your money go as far as possible. Many collectors are shy of haggling but you can save a lot of money this way, if you know how to do it. Firstly, remain polite and ensure you don't annoy the seller. Once he is annoyed, you will never succeed in getting a decent discount.
The second rule is to mentally put yourself in the other person's position. Think carefully about how what you say would sound if it was said to you. Don't ever ask "what's your best price?" This is the weakest and worst haggling method. The seller obviously wants the maximum, and he doesn't know how far he has to go. He will drop his price for a token amount and you're hard put to go any lower. He knows that most weak hagglers will accept this price and be happy.....
click here

---
Welcome to new ASCAS members:
Lawrence Boettcher - USA
Christine Braganza - England UK
Rita Buscema - Italy
John McDermott - Australia
Beverly Morris - USA
Parry Amanda - England UK

---
Michelle Horton writes:
...Found your site via Google and it is a brilliant resource. Trying to determine is a thing I have is pewter or silver and wondering if you may have been anything like it in the past. I believe it is Daniel & Arter.
I would appreciate if you would have a quick look at photos please.
Kind Regards,
Michelle Horton
Your teapot isn't silver. The metal is probably Britannia Plate (pewter). It's the first time I see this mark. Anyway I agree with your hypothesis of Daniel & Arter manufacture. I believe this is a special mark used in Australia by D&A. Various makers used trademarks attractive for Australian market as Australian Silver, Sydney Silver and Brisbane Silver, see (see http://www.silvercollection.it/dictionarytrademarkgeography.html.
Giorgio Busetto
---
Ray Baylis writes:
...This is on the back of a gold washed spoon.
I can't place the marks. Any help is appreciated.
Regards,
Ray Baylis
---
Don Huestis writes:
...Dutch silver vesta/match safe from wife's side of the family.
Looking for info on maker and approximate age. Any info appreciated,
Thanks.
Don Huestis
The maker is G. VAN DER DUSSEN, Schoonhoven, 1866 - 1912
Giorgio Busetto
---
---
In this column we presents a page obtained from makers' brochures, books, auction catalogs, advertising or whatever other printed paper, related to silver, that may be of interest for ASCAS members.
The images will be published at a "low resolution" level and for private and personal use only.
This column is published under the kind permission of Giorgio Busetto's website

OTHER SILVER ADVERTISEMENTS


This month ASCAS presents an ancient advertisement of
DEYKIN & SONS
The business was established in 1781 as gilt button makers and was carried on by James Deykin and William Henry Deykin until 1848. The firm was active in its factory, Venetian Works, 5 and 6 Jennens Row, Dale End, Birmingham, mainly as buttons manufacturer, until 1854 when production of electroplated wares was introduced.
---
In this column we present an abstract from a page of the "What is? Silver Dictionary"


courtesy of





TRADEMARK GEOGRAPHY IN BRITISH SILVERPLATE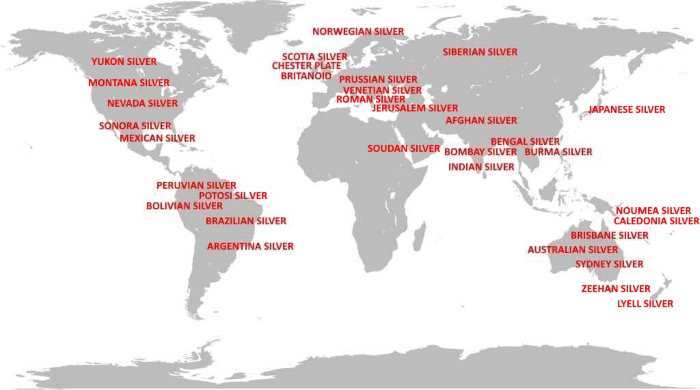 The purpose of a trademark (or trade mark) is to be a recognisable symbol of a specific manufacturer or product.

In the 19th century the use of trademarks was a practice largely followed by British silverplate manufacturers.

Being the base metal and the silvering process substantially similar in all the factories, any manufacturer tried to enhance the quality and the specificity of his product by attributing a name that could attract the customer's interest.

A widespread method was to mark the product with a trademark inspired to geographical locations giving the impression to have used silver of that provenance in the manufacture.

In reality, in few cases as "Nevada" and "Potosi" the place was renowned for its silver mines. In most other cases the trademark referred to British and Empire locations or to South American and European countries.

Daniel & Arter of Birmingham was the leader of this practice, using the wider array of "geographical" trademarks and probably the best known of all, Nevada Silver....

MORE...

---

In this column we present marks, information and history of silversmiths and silver manufacturers.
This column is published under the kind permission of Giorgio Busetto's website
STUART DEVLIN

Stuart Leslie Devlin (9 October 1931 - 12 April 2018) was born in Geelong, Victoria, Australia, and became an art teacher, specializing in gold and silversmithing. In 1957, he obtained a post at the Royal Melbourne Institute of Technology and studied for a Diploma of Art in gold and silversmithing.
In 1958 he was awarded scholarships to study at the Royal College of Art in London where he excelled and, as a result, obtained a Fellowship by the Harkness Foundation of New York. He chose to spend the two-year fellowship at Columbia University in the U.S.
In 1962, he returned to teach in Melbourne, Australia and in 1964 he won a competition to design the first decimal coinage for Australia.
In 1965 he moved to London where opened a small workshop.
Devlin and other silversmiths, as Gerald Benney, were disenchanted with designing anonymously for big manufacturing firms, which were in decline, and they set out on their own. They focused on their own style and had a personal commitment to the marketing of their own productions.
This marked the beginning of Devlin's true style which obtained great success with the idea of limited editions, the most popular of these were the surprise Easter eggs and Christmas boxes which have now become collector's items... MORE...

---

In this column we present images and descriptions of Crests and Mottoes of British, Irish and Scottish families as engraved on silver items.
This column is published under the kind permission of Giorgio Busetto's website
FAMILY CRESTS: LIST OF NAMES ILLUSTRATED DIRECTORY OF FAMILY CRESTS BAIRD

The crest of Baird families:
Sir David, Baronet, of Newbyth, East Lothian
Sir William James Gardiner, Baronet., of Saughton Hall, co. Edinburgh, Scotland
Sir John Kennedy, of 31, Cadogan Place, London
The Latin motto is "Vi et virtute" (By strength and valour).
The crest is described as "a boar's head erased".
The crest has been found on an unmarked Old Sheffield Plate claret jug.