Two new articles for ASCAS website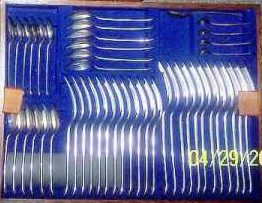 Jayne W. Dye presents

'A canteen of silver'

A 12 place tableware setting made by William Hutton & Sons, Sheffield, at the beginning of 20th century.

click here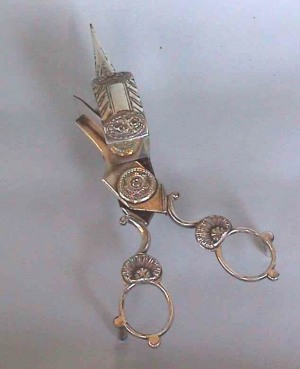 José Luis Muñoz Diaz presents an article on

Candle snuffers - Despabiladeras,

an artifact used in ancient ages to cut candle's wick tip. This article is available in double version
Español

/ English

New members
Welcome to new ASCAS members:
Debbi Cracovia - USA
Carlo Crociatelli - Italy
Calvin Culver - USA
Bill Davis- USA
Julian Dilling - Germany
Maryanna Fournier - USA
Laura Frick - USA
Maria Genni Grassi - Italy
Graham Griffiths - England UK
Graham Hodges - England UK
Michael Hutton - England UK
Berry Jonkers - The Netherlands
David Kurz - USA
Graham Mellors - England UK
Maarten Michiels - Belgium
Gary Orchard - England UK
Anne Shehab - USA
Patricia L. Stafford - USA
Cristopher Wilson - Canada

Members' Window # 15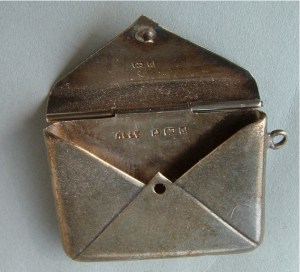 Giorgio Busetto presents:
An Edwardian stamp case
A silver novelty at the end of 19th century.

click here
Questions from ASCAS members
Jerry Hogan writes:
First, I must mention that I am not a collector of flatware, or silverware.
I am somewhat of a 'urban treasure hunter', and a special interest of mine are items of a nautical nature.
Recently, on an expedition to Las Cruces, NM, I found, and purchased three Sterling serving spoons.
The reason why I bought them was because they were crested with the name PHOEBE. The purchase price was silver 'melt'.
Description follows: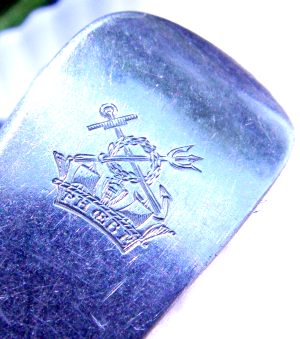 They are in pristine condition. The crest consists of a crossed trident/anchor, with small wreath in the center, sails, and below that the name PHOEBE spelled in the Greek manner.
Each of the three crests are done by hand, as under glass, there are slight differences among the three.
As you might suspect, there are very few resources on British flatware here in El Paso, TX, but there exists seven marks on the back.
From top to bottom, these marks are: EP in an oval, followed an A, then followed by a sprig of leaf with three sections. The other marks mean nothing to me.
I have determined that the "A" indicates London, and the 'EP in an oval' perhaps suggests the manufacture was 1721-1725.
If this is so, these spoons predate the first HMS PHOEBE, launched in 1795.
It has occured to me that a set of 'used' flatware was gifted, to the officer's mess, or perhapes donated by one of the ship's officers.
HMS PHOEBE has a colorful history as she fought the USS ESSEX, (and won) during our American War of 1812.
I had the the spoons tested for 'silver' content. This is of course the 'acid test', no pun intended.
They are not silver plate, as I was offered 'melt' price for them at two different locations.
They are indeed sterling.
I would like to refer you to the following reference:
Wyler, Seymour B. THE BOOK OF OLD SILVER, ENGLISH, AMERICAN, FOREIGN New York : Crown Publishers , 1937
The Cartouche: EP in an oval, on page 192 refers to Ed Peacock, business established: London, 1724.
I would be greatfull for any information that you could provide regarding these spoons.
Jerry Hogan

I'm unable to identify the maker, but these marks don't refer to London 1721-1725 and I believe that EP signifies Electro Plated. If so, your spoons were made after 1840.
Jayne W. Dye (who has previewed this Newsletter) supplies this interesting information about HMS Phoebe:
'Another HMS Phoebe (not the one in battle with the Essex in 1814) was launched 12 April 1854 at Devonport Dockyard. This HMS Phoebe was a sailing frigate from 1854 to 1860 and then was converted to an unarmed wooden screw vessel which was finally scraped in 1876.
It was active during the years of Victorian Plate. The silver might date to its initial outfitting in 1854 as it is not likely it would have required reoutfitting during its short 6 years as a sailing frigate.
Victorian plate is difficult to pin down to a specific date as it has no date letters.
The ship had a crew of 525 men and this would not have been the routine flatware for all hands. It might have been in the officers' mess or even the private property of the captain for entertaining up to 12 or even 24 guests.
Source on the HMS Phoebe: http://www.pdavis.nl/ShowShip.php?id=196 '

Do any members recognize these hallmarks?


Laurence Wade writes:
could you please help me trace the maker and date of the item.
It's a 8 inch high chalice/goblet with the markings as follows R&B S OP and what looks like the welsh feathers. It has a date of presentation of 2nd place in a open sail boat race in the Malahide regatta in 1877.
yours sincearly
Laurence Wade
I believe that your chalice is not sterling silver but ElectroPlated and the maker is Roberts & Briggs , Sheffield UK. I hope that ASCAS' members will be more informative about your item.


Richard Reinhart writes:
I have what I think is a large silver serving spoon made many years ago. I send a picture along with closeups. Can you folks tell me what it actually is?
Dick

Your spoon has only decorative purposes. It is Dutch and was made, I presume, in 1911.


John Imhoff writes:
Could you please identify the maker and pattern of this set I purchased today?
Thank you.


I don't know who is the maker and the model of this spoon, but I hope that ASCAS members will reply to John's question

Sam Mitchelli writes:
I have a question about a mark that some of the members may be able to help with.
My passion for antique Silver is in antique Silver jewelry. I acquired a antique silver Solje from Denmark that appears to be mid 1800's in construction. The piece has a makers mark that I have not been able to identify in any of my silver books or on the internet.
Here are the pictures of the jewel with a closeup of the mark.
Thank you for help you can provide.
Sam Mitchell
I hope that ASCAS members may identify this hallmark
Replies to members' questions
Karin Sixl-Daniell replies to Mark Mandel's question on June Newsletter :
The question about "The maker's mark is a six sided star of David with a Z inside" by Mark Mandel can be answered as follows:
The maker who used this mark was H. Zwernemann in Hanau who started using this mark in 1888.
Kind regards
Karin



A reply to Fred Sinfield's What is this item? on June Newsletter

I have identified the 'mystery cup' of Fred Sinfield,
It's the reproduction of a French cup of late 15th century, with a flat curved handle with rolled-over end and engraved. The cover is missing. It is part of the Franks Bequest at the British Museum of London.
The photo below is published on 'French Silver 1450-1825' by Frank Davis - Arthur Barker Ltd - London, 1970, figure 10
Giorgio Busetto
Closing our July newsletter I hope you have appreciated its content.
Your comments, suggestions and advice will be of great help.
My thanks to Jayne Dye, John Imhoff, Jerry Hogan, Sam Mitchell, José Luis Muñoz Diaz, Richard Reinhart, Karin Sixl-Daniell and Laurence Wade for their sterling contributions.

Giorgio Busetto
Secretary