YOUR GUIDE TO JULY NEWSLETTER: articles
new members
members' window
mail to ASCAS
replies to questions
a page per month
a silversmith per month
a word per month
a book on my shelf
a crest per month
contributors to this Newsletter
search engine
disclaimer and privacy policy
---
A new article for ASCAS website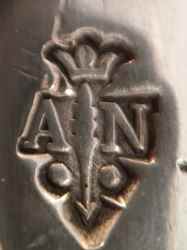 Maurice Meslans presents:

Real or Fake?: Resolving The Issue of Agen Marks of the Fouache Regie



I have always been fascinated by fakes, who made them, how, and why.
When I was new to the business I bought a "fake" Kentucky julep cup. But even it wasn't a real "fake". It was a copy made by a collector, from Kentucky, in the old way, and marked with his own mark.
I remember the first real fake I ever saw, and recognized, a 17th century German beaker. It shouldn't have fooled anyone as it was seamed instead of being raised.
This brings up the two types of fakes one finds. The first I would call a "whole cloth" fake which is a piece made specially to deceive. Most faked 18th century silver can't be made by raising or any of the 18th century methods as these methods require too much skill and are too expensive to be cost effective.....
click here

---
New members
Welcome to new ASCAS members:
Carlo Arcari - Germany
Liz Ledbetter - USA
Luigi Masciullo - Italy
Stephen McKeown - United Arab Emirates

---
Mail to ASCAS: e-mail
silverassociation@yahoo.it
Dani Boyd writes:
... I'm trying to identify the maker of this religious icon. It is signed 'Bola' has the boar's head & a maker's mark that looks like L L.
In between the two L is what appears to be a bell.
I was wondering if you could help me identify the maker
Thank you
Dani Boyd
---
Andrew Brasch writes:
... Can you help with the details of this German silver mark?
Thanks
Andrew Brasch
---
Luigi Masciullo writes:
... I'm trying to obtain information about the marks of these silver "cartagloria" (prayer sheets). They bear the "leone in moleca" mark of the Republic of Venice but I'm unable to identify the assayer and the maker
Thanks
Luigi Masciullo
The mark 'ZC a castle in between' belongs to Sazador in Zecca (assayer) Zuanne Cottini, active from 1712 to 1736.
This punch is documented together with the maker's mark DB belonging to an unidentified Venetian silversmith of the 18th century.
Giorgio Busetto
---
Malcolm Underwood writes:
... I have acquired what I believe to be a silver spirit measure. I am not able to identify the maker mark or the date stamp and would invite any member who has previously seen such marks to help me identify the piece.
It is 53 high and 43 dia, engraved with a warrior holding a sword in his Right hand and a severed head in his left hand. The hallmarks are foreign to me and I would appreciate any help in identification of the piece.
Thanks
Malcolm Underwood
---
---
Peter van Oel writes
Not Dutch but British spoons made in London (crowned Leopard head), the fourth spoon maker's mark; TC on top of WC for Thomas & William Chawner known flatware makers, this particular mark seen 1764-1769. Marks not found in existing registers; they may have been recorded in the missing 1758-1773 Large workers' Register.
The other three spoons are also London made, maker's mark E.C in script letters for Ebenezer Coker, registered june 1739, this particular mark used/seen 1745-1757-1759.
Peter van Oel
---
---
"A PAGE per MONTH"
In this column we presents a page obtained from makers' brochures, books, auction catalogs, advertising or whatever other printed paper, related to silver, that may be of interest for ASCAS members.
The images will be published at a "low resolution" level and for private and personal use only.
This column is published under the kind permission of Giorgio Busetto's website

This month ASCAS presents

INVITATION TO THE GOLDSMITHS' SERVICE 1701

A workshop scene under Goldsmiths' Company coat-of-arms between Britannia and Saint Dunstan illustrating the invitation to the Goldsmiths' service 1701.

Sir You are desired to meet the Rest of the Mystery of Goldsmith's at the Parish Church of St. Lawrence near Guildhall on Friday the Sixth day of February 1701 at nine of the clock in the Morning precisely there to hear a sermon & from thence to accompany ... to Goldsmiths hall in Fosterlane to Dine with

Your Friends and Servants

Gabriel Player John East
Lewis Mettayer Edward Lammas
Robert Balme Thomas Morrey
STEWARDS

please pay the Bearer four shillings
---
"A WORD per MONTH"
In this column we present an abstract from a page of the "What is? Silver Dictionary"


courtesy of





HOW TO READ ENGLISH / BRITISH STERLING SILVER MARKS
THE UK SYSTEM OF HALLMARKS

From the end of the 12th century the craft of silversmith has been regulated in conformity with Royal Ordinances and Acts of the Parliament.

In England the craft was regulated by the Guild of Goldsmiths at London and in Ireland by the Guild of Dublin. In Scotland the craft was theoretically supervised by the Edinburgh Goldsmiths' Incorporation, but in practice its influence outside the capital was limited and a plethora di unofficial Scottish Provincial marks was created.....

MORE...
---
"A SILVERSMITH per MONTH"
HENNELL FAMILY DAVID HENNELL (I) - ROBERT HENNELL (I) - DAVID HENNELL (II) - ROBERT HENNELL (II) - SAMUEL HENNELL - ROBERT HENNELL (III) - ROBERT HENNELL (IV) - JOHN BARCLAY HENNELL

The founder of "Hennell dynasty" was David Hennell (I) (1712-1785), apprenticed to Edward Wood in 1728.
David Hennell obtained his freedom (1735) and opened his own business in Gutter Lane in 1736.
In 1763 he was joined in the business in Foster Lane workshop by his son Robert (I) (1741-1811), entering a joint marks in 1763 and 1768. David Hennell retired in in 1773 c. and the family business was continued by Robert Hennell (I).
In 1795 David Hennell (II) (1767-1829) entered in partnership with his father registering a new conjoined mark (Robert Hennell (I) and David Hennell (II).
In 1802 his brother Samuel Hennell (1778-1837) joined to the partnership but soon after David Hennell II retired from the firm and the business was continued by Samuel Hennell and his father Robert Hennell (I)....
more
---
"A CREST per MONTH"
RATTRAY





The crest of a Scottish family.
The crest is described as "a mullet, ensigned by a flaming heart".
The Latin motto is Super sidera votum (My desires extend beyond the stars).
The crest was found on a sterling silver salt cellar, London 1812, silversmith Samuel Hennell


---
---
Closing our July 2016 edition of ASCAS Newsletter I hope you have appreciated its content.
Your comments, suggestions and advice will be of great help.

My thanks to Dani Boyd, Andrew Brasch, Janjaap Luijt, Luigi Masciullo, Maurice Meslans and Malcolm Underwood for their precious contributions.

Giorgio Busetto
Secretary
DISCLAIMER AND PRIVACY POLICY
ASCAS is a community of people having a common interest in antique silver.
It is a non-profit association without commercial links. Membership is open to whomever has a true interest in this subject matter.
ASCAS has no real property and no fees are requested nor accepted from members.
ASCAS keeps in touch with its members only through periodical newsletters, e-mails and web-site updating and ignores and is not responsible for any other activity pursued by its members.
Likewise, ASCAS is not responsible for opinions, evaluation and images displayed, and in any form published or supplied for publication, by its members who, in any case, maintain the property of their works and assure the respect of national and international legislation about Intellectual Property.
ASCAS does not have the full addresses of its members (only town, country and e-mail address are requested for membership).
ASCAS handles and protects with care its members' e-mail addresses, will not disclose the addresses to third parties, will use this information only to reply to requests received from members and for communications strictly related to its activity.
These rules are expressly accepted by submitting the membership request.