YOUR GUIDE TO MAY NEWSLETTER: articles
new members
members' window
mail to ASCAS
replies to questions
a page per month
a silversmith per month
a word per month
a book on my shelf
a crest per month
contributors to this Newsletter
search engine
disclaimer and privacy policy
---
A new article for ASCAS website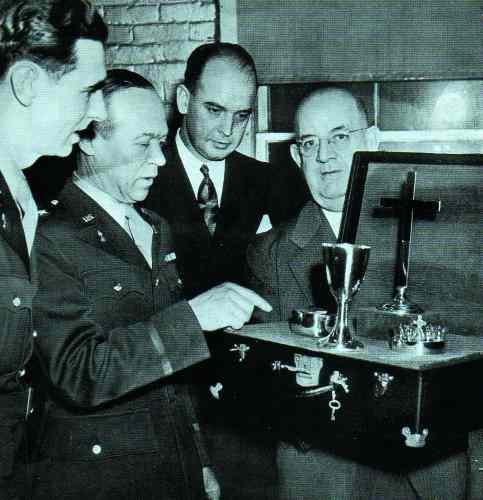 Patricia F. Singer presents:

World War II Chaplains' Kits made by International Silver Co.



During World War II, in many combatant countries, the large silver manufacturing companies switched to war production. For example, WMF in Germany stopped making its well known silver-plated cutlery in order to manufacture war goods. The production change also took place at the International Silver Company, headquartered in Meriden, Connecticut. The firm was the biggest silver manufacturer in the world, employing more than 5000 people.

Even though International continued to market a limited amount of sterling flatware during 1942-45, it made literally millions of items needed for the war effort. According to the company historian Edmund P. Hogan, "almost 100 percent of plant production was devoted to manufacturing supplies for the armed forces" (An American Heritage: A Book about the International Silver Company, Taylor Publishing Company, Dallas, TX, 1977).

A war-products booklet published by the company after the war listed how many ID tags ("dogtags") it produced: ten million. Stamping out flatware for mess kits, International furnished the military with almost thirty-six million pieces. In all, International fulfilled more than 400 prime contracts for the US military...
click here

---
New members
Welcome to new ASCAS members:
Peter Collins - England UK
Igor Manaka - USA
Jonathan Cuthbert - Canada
Neil Maloney - England UK

---
Members' Window # 112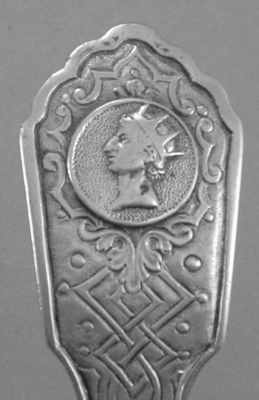 Maurice Meslans presents:

An interesting spoon from Augsburg

Any dealer or collector eventually gets excited about a purchase, overlooked by others. This is a case in point, it was purchased at public auction. If size counts, and some say it does, this spoon must be considered as important being almost 37 cm long. It was made about 1730 by Johann Wagenknecht in Augsburg Germany.

Coin like medallions on early German silver are not rare. It seems obvious that silversmiths when supplied by clients with coins sometimes decided to use them as decorations in the finished product.
If anyone picked the earliest date when silversmith first used an ancient Roman coin as decoration, someone else would find an earlier example. At some later date the style was still popular, but coins probably became less available, so easily cast coin like medallions were used.....
click here

---
Mail to ASCAS: e-mail
silverassociation@yahoo.it
Davide Fratianni writes:
... I'd wish to know who is the maker of this silverplate coffee set.
Thank you
Davide Fratianni
---
---
---
Christophe Ginter writes
The maker is Joseph Philippe Adolphe DEJEAN, registered 1846-1865. Napoléon III period
Christophe Ginter
---
Jean-Gabriel Lamorte writes
This is the chronology of the firm of chalice's maker:
- Martin & Dejean, 1837-1846, (Dejean A., 1846-1886, Succ.), M&D, une ancre et deux étoiles, orfèvrerie: partie d'église et de table, 24 Parvis-Notre-Dame, Paris.
- Joseph-Philippe-Adolphe Dejean, 1846-1865, (Martin & Lebas1865-????, Succ.), DEJEAN, une ancre en haut, une étoile en bas, L'orfèvrerie, 24 rue Notre-Darnes, Paris.
- Joseph-Philippe-Adolphe Dejean, 1861-1865, (Martin & Lebas,1865-????, Succ.), AD, une ancre en haut, une étoile en bas, orfèvrerie d'église argentée, 20 Parvis-Notre-Dame, Paris.
- Martin & Lebas,1865-????, MARTIN & LEBAS, une ancre et deux étoiles, L'orfèvrerie d'église, 20 Parvis Notre-Dame, Paris.
Jean-Gabriel Lamorte
---
---
"A PAGE per MONTH"
In this column we presents a page obtained from makers' brochures, books, auction catalogs, advertising or whatever other printed paper, related to silver, that may be of interest for ASCAS members.
The images will be published at a "low resolution" level and for private and personal use only.
This column is published under the kind permission of Giorgio Busetto's website

---
"A WORD per MONTH"
In this column we present an abstract from a page of the "What is? Silver Dictionary"


courtesy of





TRADE NAMES OF BRITISH SILVERPLATE

E.P.N.S. (Electroplated Nickel Silver) and EPBM (Electroplated Britannia Metal) are the most common names attributed to silver plate items.
EPNS and EPBM are names used by the generality of the manufacturers but many other customized names were adopted.
The objective of British manufacturers was to present their product as "something special", despite that the metal was substantially the same and the electroplating process entirely similar.
Following this commercial strategy, silverplate makers devised a variety of trade names to stamp on their products next to or in substitution of the trade mark.
A wide array of "fantasy" names was adopted but many of them were derived from the firm's name (Martinoid, Culfonia, Leviathan, etc.) or from geographical locations (Bengal silver, Nevada silver, Brazilian silver, Britanoid, etc.).
MORE
---
"A SILVERSMITH per MONTH"
LAMBERT & Co
FRANCIS LAMBERT - LAMBERT & RAWLINGS - HARMAN & CO - HARMAN & LAMBERT

The business was founded by Francis Lambert I (born in 1778) in 1803 opening a shop selling jewellery and silver plate at 11-12 Coventry Street. The manager was William Rawlings, who in c. 1819 entered in partnership with Lambert renaming the firm Lambert & Rawlings.
In this period the firm manufactured on his own workshop situated on the corner of White Hart Court, Leicester Square all types of silver goods (except spoon and forks) using the marks entered at Goldsmiths' Hall by John Wrangham (foreman) and William Moulson (his assistant).
Francis Lambert died in 1841 and the business was continued by William Rawlings and Francis Lambert II (born 1810, son of Francis Lambert I) with his mother Caroline (dead in 1860) as sleeping partner (Francis Lambert II was apprenticed to his father in 1825 obtaining his freedom in 1832)....
more
---
"A CREST per MONTH"
NICHOLLS





A London and Salopshire family.

A dove.

Motto: Dum Spiro Spero (While I breathe, I hope)

The crest was found on a silver matchbox holder hallmarked Chester 1929, maker's mark rubbed, possibly Hilliard & Thomason.
















---
---
Closing our May 2016 edition of ASCAS Newsletter I hope you have appreciated its content.
Your comments, suggestions and advice will be of great help.

My thanks to Davide Fratianni, Christophe Ginter, Jean-Gabriel Lamorte, Maurice Meslans and Patricia F. Singer, for their precious contributions.

Giorgio Busetto
Secretary
DISCLAIMER AND PRIVACY POLICY
ASCAS is a community of people having a common interest in antique silver.
It is a non-profit association without commercial links. Membership is open to whomever has a true interest in this subject matter.
ASCAS has no real property and no fees are requested nor accepted from members.
ASCAS keeps in touch with its members only through periodical newsletters, e-mails and web-site updating and ignores and is not responsible for any other activity pursued by its members.
Likewise, ASCAS is not responsible for opinions, evaluation and images displayed, and in any form published or supplied for publication, by its members who, in any case, maintain the property of their works and assure the respect of national and international legislation about Intellectual Property.
ASCAS does not have the full addresses of its members (only town, country and e-mail address are requested for membership).
ASCAS handles and protects with care its members' e-mail addresses, will not disclose the addresses to third parties, will use this information only to reply to requests received from members and for communications strictly related to its activity.
These rules are expressly accepted by submitting the membership request.