YOUR GUIDE TO MAY NEWSLETTER:
articles
new members
members' window
mail to ASCAS
replies to questions
a page per month
a silversmith per month
a word per month
a book on my shelf
a crest per month
contributors to this Newsletter
search engine
disclaimer and privacy policy
---
A new article for ASCAS website
Christine Erratt presents:

A Loving Cup overflowing with intrigue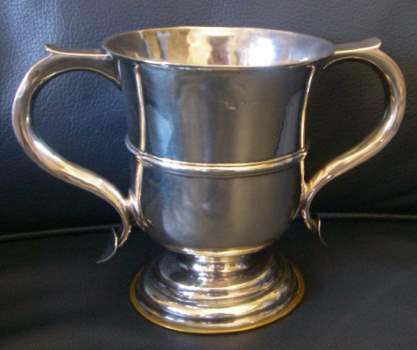 This loving cup holds an interesting provenance yet, at first glance, there is nothing particularly different or fancy about its appearance.
Loving cups have a varied history dating back centuries. They were oftentimes given as christening presents in the 18th and 19th century and this loving cup has that exact history.
Made near Birmingham by the manufacturing business of Matthew Boulton and John Fothergill, the cup bears the hallmarks of the first year of the Birmingham Assay Office - 1773. Boulton (1728-1809) was a key figure in the lobbying of Parliament to open an assay office in Birmingham.
Birmingham is a city located in the Midlands of England and is a highly industrialised area, being noted for manufacturing from 1730 to the present day. In 18th century, Birmingham had a reputation for silversmiths, commonly called "Toy Makers" , who made everyday items such as buckles, snuff boxes, caddy spoons and trinkets. Matthew Boulton's father was one such toy maker. In 1749, at the age of 21, Matthew entered into partnership with his father. By the mid-1750s he was effectively running the business. His father retired in 1757 and Matthew took full control of the toymaking business. He inherited wealth not only from the estate of his father, who died in 1759, but also from the vast estate of his first wife who died a year later in 1760.....
click here

---
New members
Welcome to new ASCAS members:
Fang Gabel-Tang - Germany
Beatriz Garcia - France
Marivic Limcaoco - Philippines
Peter Markham - Belgium
Sarfaraz Shaikh - India
Roslyn Zelenka - Panama

---
Mail to ASCAS: e-mail
silverassociation@yahoo.it
Erik Pollard writes:
...I recently purchased this item. I did not know what it is was but I really liked the item. I have been told a couple different things. Most everyone I asked had no idea. The best answer I received was from a Russian imperial era expert who told me that it was a Russian egg cup.
I was told the inscription said "god is risen" after much research.
I am aware of all the fake silver Russian items being sold today. However I did purchase this for nearly free and it was not off ebay.
I was told it was traveling vodka beakers and traveling chalice.
I really would love to know more about this item even if it is a fake or not.
Thank you for your time
Erik Pollard
Daniel Thuriaux
---
Francesco Rossi writes:
...I need information about the mark of this small silver comport (high cm. 11, wide cm. 13). The "84" suggests a Russian origin.
Best regards
Francesco Rossi
---
Andrew J. Brasch writes:
I'm looking for any possible information about this silver goblet from Tallin ( Revel ), late 18th-19th century.
Andrew J. Brasch
---
Barb Evans writes:
Can you identify the silver manufacturer or country for this tankard with possibly reproduction Guldengroschen coins.
The bottom is marked 800 and an AB in a cartouche
Barb Evans
---
Johannes Wilfred writes:
...Can help me out with these marks? Is it metal, silver plated or something else?
Thank you in advance,
Johannes Wilfred
---
---
"A PAGE per MONTH"
In this column we presents a page obtained from makers' brochures, books, auction catalogs, advertising or whatever other printed paper, related to silver, that may be of interest for ASCAS members.
The images will be published at a "low resolution" level and for private and personal use only.
This column is published under the kind permission of Giorgio Busetto's website


This month ASCAS presents an ancient advertisement of

E.H.H. SMITH SILVER CO
BRIDGEPORT CONN.
Manufacturers of STERLING EFFECTS IN PLATE


The firm was active from early 1900s and obtained a US Trademark Patent in 1905.
First listing in Bridgeport City Directory in 1907.
E.H.H. Smith Silver Co was succeeded by Albert Pick Company in 1920.
---
"A WORD per MONTH"
In this column we present an abstract from a page of the "What is? Silver Dictionary"


courtesy of





EYE BATH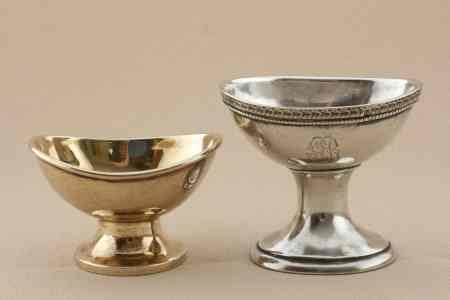 A small vessel with a rim shaped to fit round the eye, used for applying medicated or cleansing solutions to the eyeball. Most of these utensils rested on a stemmed foot.

There are eye baths of all types, from the most mundane plastic example to the beautiful porcelain and silver eye baths produced by such well-known manufacturers as Meissen, Sèvres, Derby and Wedgwood.

Silver eye baths were sometimes a unit of the silver toilet service or were kept separate in a hinged case...

MORE...

Images and information courtesy George Sturrock, author of

Eye Baths: an illustrated survey

Millstream Books, 18 The Tyning, Bath BA2 6AL - email tgmgraham@mac.com

---

"A SILVERSMITH per MONTH" HOTCHKISS & SCHREUDER

David Hotchkiss (1796-1874) was a silversmith active in Palmira (New York) c. 1840.
From 1854 to 1857 Hotchkiss was partner in Syracuse NY of Norton, Seymour & Co with Benjamin R. Norton and Joseph Seymour.
In 1853 Andrew B. Schreuder entered in partnership with Francis A, Bunnelle as Bunnelle & Schreuder, manufacturers of solid silver flatware.
In 1857 David Hotchkiss and Andrew B. Schreuder created a new partnership Hotchkiss & Schreuder, silver wholesale manufacturers at 95 Genesee Street, Syracuse, NY continuing the production of some of the patterns manufactured by Bunnelle & Schreuder. The partnership lasted until 1871 and Andrew B. Schreuder continued in business alone.... MORE...

---

"A CREST per MONTH" FAMILY CRESTS: LIST OF NAMES ILLUSTRATED DIRECTORY OF FAMILY CRESTS ROBERTSON

The crest of Robertson family.

The Latin motto is 'Virtutis Gloria Merces' (Glory is the recompense of valour)

The crest is described as 'a dexter hand holding up an imperial crown'

The crest was found on a silverplate ladle of unidentified maker

---

"A YEAR per MONTH"
FROM SHEFFIELD ASSAY OFFICE REGISTER
- 1776 -

DISCLAIMER AND PRIVACY POLICY

ASCAS is a community of people having a common interest in antique silver.
It is a non-profit association without commercial links. Membership is open to whomever has a true interest in this subject matter.
ASCAS has no real property and no fees are requested nor accepted from members.
ASCAS keeps in touch with its members only through periodical newsletters, e-mails and web-site updating and ignores and is not responsible for any other activity pursued by its members.
Likewise, ASCAS is not responsible for opinions, evaluation and images displayed, and in any form published or supplied for publication, by its members who, in any case, maintain the property of their works and assure the respect of national and international legislation about Intellectual Property.
ASCAS does not have the full addresses of its members (only town, country and e-mail address are requested for membership).
ASCAS handles and protects with care its members' e-mail addresses, will not disclose the addresses to third parties, will use this information only to reply to requests received from members and for communications strictly related to its activity.
These rules are expressly accepted by submitting the membership request.