YOUR GUIDE TO MAY NEWSLETTER:
articles
new members
members' window
mail to ASCAS
replies to questions
a page per month
a silversmith per month
a word per month
a book on my shelf
a crest per month
a year per month
contributors to this Newsletter
search engine
disclaimer and privacy policy
---
Katherine Palthey presents:
Jade Bracelet: Examining a vintage silver 835 jade bracelet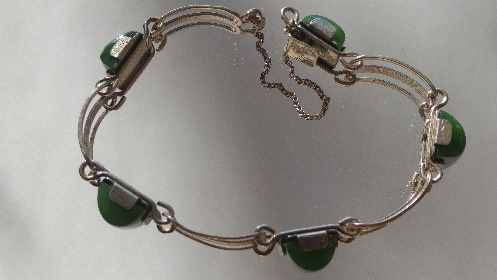 Vintage silver jewelry has become very collectable today and if examined closely can help us identify its origins. In France, the hallmarks on silver jewelry are punched in very specific places. For example, French silver bracelets are hallmarked on the locks, plaques and any plaques in between. In our case, this vintage silver and Jade bracelet shows both French and German hallmarks. Examining these hallmarks near and on the clasp help tell us more of its interesting origin.....
click here

---
Welcome to new ASCAS members:
Stephen Fish - England UK
Paul Micio - France
Fek Neim - USA
William Roberts - Canada

---
Paola Bertelli writes:
...I was wondering if you could help me identify a silver marking that is on a tray. I cannot find this anywhere.
Thank you so much!!
Paola bertelli
Your tray bear Italian hallmark, 800/1000 silver fineness in use from 1872 to 1935. The maker is Anatolio Henin, (see http://www.silvercollection.it/DICTIONARYADVHENIN.html.
Giorgio Busetto
---
Robin Gibson writes:
...I trust you might shed some light on the marks shown in the attached images. Curiously the Four Star brand uses 5 stars
Kind regards
Robin Gibson
---
Pierre Saric writes:
...I'm trying to identify the marks of this spoon
Your help would be highly appreciated

Pierre Saric
---
---
In this column we presents a page obtained from makers' brochures, books, auction catalogs, advertising or whatever other printed paper, related to silver, that may be of interest for ASCAS members.
The images will be published at a "low resolution" level and for private and personal use only.
This column is published under the kind permission of Giorgio Busetto's website

OTHER FACTORIES, PLANTS, SALESROOMS,SHOPS AND WORKSHOPS: OLD IMAGES


This month ASCAS presents an image from a 1931 invoice of
HEIMENDHAL & KELLER AG.




---

In this column we present an abstract from a page of the "What is? Silver Dictionary"

courtesy of





FORGERY IN ITALIAN SILVER
In the 1950s Italian silverware production grew exponentially obtaining a worldwide success. A myriad of new factories and small workshops were opened and flourished domestic and international silverware business.

In this context some manufacturers continued the practice to use, next to the official hallmarks (800 and lozenge), one or more pseudo-hallmarks similar to those used in the 19th century in pre-unification states.

These pseudo-hallmarks were intended to embellish decorative objects made in 19th century style. This practice was widely used by Bruno Zaramella factory, a large manufacture operating in Padova/Padua, a town near Venezia/Venice in Veneto region.

The coexistence of the modern marks excluded fraudulent objectives and the pseudo marks were intended only as a token of the inheritance to the ancient local tradition in silver workmanship.

Obviously, these "modern" objects were sold by Jewelry dealers and not through Antiques Shops...

MORE...

---

In this column we present marks, information and history of silversmiths and silver manufacturers.
This column is published under the kind permission of Giorgio Busetto's website
BLACK, STARR & FROST

The beginning of the firm is controversial. A trace leads to Marquand & Poulding, who began their partnership in Savannah, Georgia in 1801. In 1810 Isaac Marquand moved to New York consolidating the company with several other firms.
Another trail refers to Marquand & Barton, founded in 1810 in New York's Maiden Lane by Erastus Barton and Frederick Marquand.
The firm added and lost partners numerous times and in 1823 became Marquand & Co (late Marquand & Gelston).
Later two store clerks (William Black and Henry Ball) joined to the business and in 1836 Erastus O. Tompkins and J.D. Williams were admitted to the firm, In 1839 the name was changed to Ball, Tompkins & Black moving to a new building at 247 Broadway (1848).
In 1851 the company was one of the few American retailers admitted to participate to the London Great Exhibition. In the same year, when the name was changed to Ball, Black & Co (as a partnership of Henry Ball, William D. Black and Ebenezer Moore), there was no doubt that the firm was the leading jewelry house in the nation.... MORE...

---

In this column we present images and descriptions of Crests and Mottoes of British, Irish and Scottish families as engraved on silver items.
This column is published under the kind permission of Giorgio Busetto's website
FAMILY CRESTS: LIST OF NAMES ILLUSTRATED DIRECTORY OF FAMILY CRESTS LOWNDES

The crest of Lowndes family (Buckinghamshire and Cheshire).
The motto is "Ways and Means".
The crest is described as "a leopard's head, erased at neck, gorged with a laurel-branch".
The crest has been found on a sterling silver vesta case hallmarked Birmingham 1888, maker T. & J. Bragg Ltd.

---

DISCLAIMER AND PRIVACY POLICY

ASCAS is a community of people having a common interest in antique silver.
It is a non-profit association without commercial links. Membership is open to whomever has a true interest in this subject matter.
ASCAS has no real property and no fees are requested nor accepted from members.
ASCAS keeps in touch with its members only through periodical newsletters, e-mails and web-site updating and ignores and is not responsible for any other activity pursued by its members.
Likewise, ASCAS is not responsible for opinions, evaluation and images displayed, and in any form published or supplied for publication, by its members who, in any case, maintain the property of their works and assure the respect of national and international legislation about Intellectual Property.
ASCAS does not have the full addresses of its members (only town, country and e-mail address are requested for membership).
ASCAS handles and protects with care its members' e-mail addresses, will not disclose the addresses to third parties, will use this information only to reply to requests received from members and for communications strictly related to its activity.
These rules are expressly accepted by submitting the membership request.