---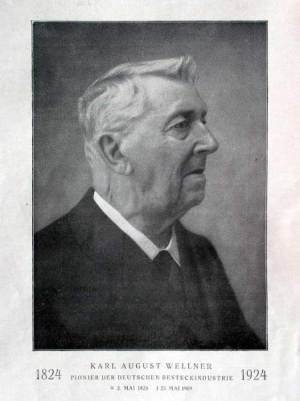 Dr. David N. Nikogosyan presents:

August Wellner & Sons, Silver Plating Foundry in Aue, Saxony



The famous August Wellner metal goods factory was founded by August Wellner's father, Christian Gottlieb Wellner, in the small town of Aue (Saxony, Germany), embedded in the wooded hills of the Erzgebirge (which translates in English to Ore Mountains). This part of Germany was traditionally involved in the smelting business. As early as 1663 a tin foundry was established in Aue (which means "flood plain"), which was in operation until 1803. Fifty years after closure the factory buildings were used as a starting point for the August Wellner metal goods factory. .....
click here

---
Welcome to new ASCAS members:
---
Members' Window # 94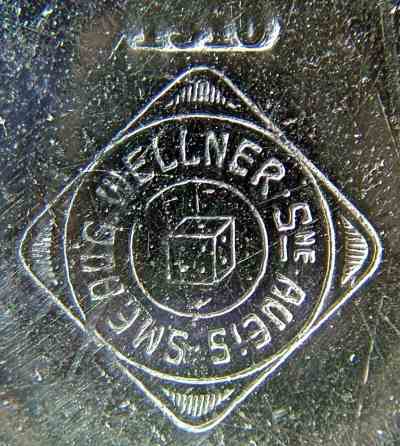 Dr. David N. Nikogosyan presents:

Marks of European Silver Plate: X. Wellner, Germany

This article is devoted to the marks of silver-plated hollow ware (and trays), issued by the August Wellner & Sons foundry in Aue, Saxony and follows my other paper [1] on the history of this company and its heraldry, which is published in this ASCAS Newsletter issue. After studying the history of this foundry one can draw the following table containing the evolution of the firm name during different periods of its history.....
click here

---
Ginny Tucker writes:
...Do you have any idea who the maker of this ladle is? It reads W-E W-F W-C vertically (I think).
I have figured out the sterling mark and maybe the duty mark, but I don't see a city mark so I can't figure out the date.
Ginny Tucker
Your salt spoon is hallmarked London 1809. The maker is the partnership of William Eley I, William Fearn & William Chawner II.
This mark was entered in London Assay Office on 10.4.1808.
A similar mark is illustrated in my website at http://www.silvercollection.it/englishsilvermarksXWDUE.html
Giorgio Busetto
---
Thomas Llywarch writes:
... I'm trying to find out more info on EJ&S ( E Jacobs & Sons) mark Birmingham around 1902.
All I have found so far is:
E Jacobs & Sons.
Registered June 1884.
Vittoria Street, Birmingham.
Hope you can help.
Thomas
This maker entered marks in Chester Assay Office:
- 1884 E Jacobs & Son, 88 Vittoria Street, Birmingham (wholesale jeweller)
- 1899 as Edward Lewis Jacobs and Lewis Henry Jacobs trading as E. Jacobs & Co, 88 Vittoria Street, Birmingham and 15 Charterhouse Street, London (manufacturing jewellers)
- 1904 Edward Lewis Jacobs and Lewis H Goodfrey trading as E Jacobs & Son, 88 Vittoria Street, Birmingham (manufacturing jewellers and silversmiths).
Their private address was The Rookery, Handsworth, Birmingham and Eskdale, Rookery Road, Handsworth, Birmingham
The origin of the firm is, possibly, in Ephraim Jacobs & Son, listed in 1865 as wholesale jewellers at 2 Northampton Street and 179 Warstone Lane, Birmingham. Later, Ephraim Jacobs is recorded at 49 Vittoria Street, Birmingham (1872, 1873, 1911).
Giorgio Busetto
---
Maureen Sullivan writes:
....W.W.Logan Glasgow Scotland.
I have the most beautiful plated set by him. But I cannot find out any info.
Do you know anything?
Thank you, Maureen Sullivan
---
---
In this column we present a page obtained from makers' brochures, books, auction catalogs, advertising or whatever other printed paper, related to silver, that may be of interest for ASCAS members.
The images will be published at a "low resolution" level and for private and personal use only
This month ASCAS presents an advertisement of:

GEORGE S. LEE

Charlotte St, Works
SHEFFIELD
MANUFACTURING
SILVERSMITH
ELECTRO-PLATER
and
BRITANNIA METAL SMITH,
FOR HOME AND EXPORT TRADE

George S. Lee was active in Charlotte Street Works, Sheffield, together with Henry Wigfull.
The partnership between George Shadford Lee and Henry Wigfull was dissolved in 1870. The business was continued by Henry Wigfull under the same style and address (John Street Works, Sheffield).
The firm was converted in 1899 into a limited liability company under the style of Lee & Wigfull (Sheffield) Ltd. The firm used the trade mark INSIGNIA PLATE
---
"A WORD per MONTH"
FOB
WATCH FOB

A Watch fob is an ornament or a medallion attached to a chain and hanging out of the pocket to assist the owner in locating and removing the watch from a pocket in clothing.
About 1770 the fashion of carrying a watch in waistcoat fob pocket was introduced.
The term "fob" identified both the ornament (sometimes purely decorative, sometimes utilitarian, like a seal or key) and the pocket watch chain where it was attached.... more

---
"A SILVERSMITH per MONTH"
ROBERT PRINGLE & SONS

The business was founded in London by Robert Pringle (I) in 1835.
The activity was continued by his son, Robert Pringle (II). In c.1882 the firm was changed to Robert Pringle & Co.
In 1890 the firm was active with premises known as Wilderness Works in all the branches of the trade, as gold, silver and gem, jewellery making, gilding, plating, refining, assaying, electroplate manufactory and silver-plate making.
The proprietor Robert Pringle (II) was assisted by his sons, James & Robert Pringle (III) (bullion e refinery department), William Pringle (silversmith department) and Edwin Pringle (watch department)....... more







---
"A BOOK ON MY SHELF"
In this column we present books, new or ancient, dealing with silver in all its aspects (history, marks, oddities...). This isn't a "book review" but only a fair presentation of some useful "tools" that anyone may have in the shelf of his bookcase.
ASCAS members are invited to contribute to this column
(click to enlarge images)
In the "book on my shelf" of this month Karin Sixl-Daniell presents:
V.O.C. - ZILVER

Haags Gemeentemuseum
- 1983 -

The book deals with silver made in South East Asia for the Dutch East India Company, notably in Jakarta, Indonesia (Batavia). The book is written in Dutch.
---
Custom Search
---
Closing our March 2012 edition of ASCAS Newsletter I hope you have appreciated its content.
Your comments, suggestions and advice will be of great help.

My thanks to Thomas Llywarch, Dr. David N. Nikogosyan, Karin Sixl-Daniell, Maureen Sullivan and Ginny Tucker for their invaluable contributions.

Giorgio Busetto
Secretary

DISCLAIMER AND PRIVACY POLICY
ASCAS is a community of people having a common interest in antique silver.
It is a non-profit association without commercial links. Membership is open to whomever has a true interest in this subject matter.
ASCAS has no real property and no fees are requested nor accepted from members.
ASCAS keeps in touch with its members only through periodical newsletters, e-mails and web-site updating and ignores and is not responsible for any other activity pursued by its members.
Likewise, ASCAS is not responsible for opinions, evaluation and images displayed, and in any form published or supplied for publication, by its members who, in any case, maintain the property of their works and assure the respect of national and international legislation about Intellectual Property.
ASCAS does not have the full addresses of its members (only town, country and e-mail address are requested for membership).
ASCAS handles and protects with care its members' e-mail addresses, will not disclose the addresses to third parties, will use this information only to reply to requests received from members and for communications strictly related to its activity.
These rules are expressly accepted by submitting the membership request.