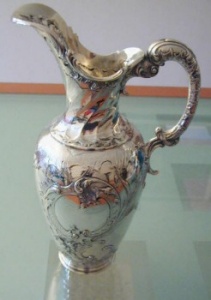 Martine D'Haeseleer presents:

Silverware from the Belgian Workshop Wolfers Frčres in the Belle Epoque Period



In 1852, Louis Wolfers (1820-1892) registered his maker's mark, consisting of a letter W above a boar's head. His workshop was situated at 23 rue des Longs Chariots. In 1858, he married Henriette Ruthenburg who contributed to the development of the firm. They took part in many different exhibitions and competitions and, by 1868, the firm was achieving financial success. After serving apprenticeships, their three sons, Philippe, Max and Robert were sent to France, Germany, the Netherlands and Austria to prospect for business. As a result, the Wolfers firm became associated with Bonnebacker of Amsterdam, P. Kirscher in Düsseldorf, Goldschmidt in Köln, and Friedlander in Berlin...
click here

Giovanni Ciceri presents:

British and Irish commemorative hallmarks

Marchi commemorativi Britannici e Irlandesi



Since 1935 a number of hallmarks (usually optional ones) have been approved and struck on silverware to commemorate some important events such as the sovereign coronation and jubilee, historical anniversaries, the new millennium, etc.
British and Ireland commemorative silver pieces represent a sector of collection very interesting for their historical implication, mainly related to the British monarchy. The items bearing commemorative hallmarks are often very fine replicas of ancient and historical pieces..... click here

clicca qui

---
Welcome to new ASCAS members:
Sugiharto Budiman - Indonesia
Alessandro Colemann - Italy
Ian Cook - England UK
Clair Fink - USA
Mark Hooten - USA
Claudio Immesi - Italy
Margi O'Neill - England UK
Sharon Stevens - USA
Lynne Ward - Spain

---
Members' Window # 31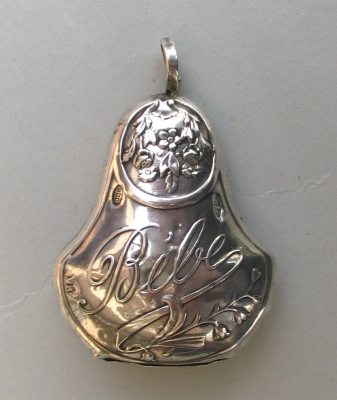 Giorgio Busetto presents:

Italian baby rattles of the 20th century



Baby rattle is a type of instrument which produces sound when shaken. It is an infant toy, often with spherical balls and occasionally a coral teething device and a whistle at the handle end....
click here
---
A question by Giorgio Busetto:
Some time ago I bought a pair of silver pieces supporting an odd crystal container. The seller's definition of the pieces was 'flower holder'. They have the Belgium hallmark used for 833/1000 silver between 1814-1831 (letter N, for town of Luxemburg, now the Netherlands), the Dutch axe-mark used in Netherlands from 1813-1953 and maker's mark PD.
I hope that someone of the many (and well experienced) Belgian members of ASCAS may help me to identify the maker and supply some more information about the 'flower holder' use.
Thank you in advance.
Giorgio Busetto
---
Alessandro Colemann writes:
I bought these objects in France and England and I need members' help to identify their marks:
a tray in Luis XVI style bought in France
Thanks
Alessandro Colemann
---
Fred Lange writes:
Can you please assist with the origin and date of this item? Thank you for whatever assistance you can provide. I have had no luck on the internet identifying this maker and I am trying to authenticate the claim this item is a 'Victorian antique (1850-1899)' versus a contemporary replication.
Thanks
Fred
---
Jaquie Mallory of the Soo Line Historical Museum writes:
... I have a burning question for you.... My board of directors is worried about the constant polishing of our collection. We use Silvo silver polish, and they are worried with the polishing all of the time that we will be getting down to the copper below, on some of the artifacts. Are you aware of a product that helps keep the shine longer? We have a number of airtight cabinets - that can go 3 years or so without cleaning. However we have pieces that sit out that need constant cleaning.
I have 2 elderly volunteers who just slather on the Silvo, and like to polish alot! So I was just curious if you had any information ....
Thank You !!
Jacquie/Soo Line Historical Museum
An appeal worth of a reply by ASCAS members!
Giorgio Busetto
---
Carole McKillop-Mash writes:
... I wish to decipher these 'Chinese' hallmarks (At least I think they are Chinese!). I would be very grateful for any assistance please. This silver bowl has a USA Silver Half Dollar ($) inserted at the base and is dated 1934. So I assume that the bowl was made around that time; although I could be wrong.
With Thanks
Carole McKillop-Mash
Does any member have some knowledge about Chinese silver?
Giorgio Busetto
ASCAS Secretary
---
Ludo D'Haese writes:
I found this coat of arms on a bread-basket of Dutch origin. No marks at all on the basket. Is there somebody who can explain the meaning of this.
Thank you very much.
Ludo D'Haese
---
Max Jimenez writes:
I have a question about a small silver spoon I have owned for many years and for which I do not know the origin. The marks are the MC initials, a crab and a bunch of flowers or a flower.
Thank you for your help
M. Jimenez
---
Malcom Stander writes:
Dear Secretary & members
Newbie in membership & collecting silver.
Help needed on this silver axe I just purchased. I found this interesting piece in an antique shop in Cape Town: Silver ceremonial axe with wooden handle
Makers mark, the initials RMEH in a quatrefoil, manufacturer Martin Hall & Co, Sheffield, England. Other marks include the Lion Passant, the letter D in a square for 1871 & the crown for sheffield & the erased head of Queen Victoria
The axe has a wooden handle which looks ebonised.
On the blade is an inscription: Presented to Miss Fanny Wild on the occasion of her christening of the Screw Steamer "Dale of Boston" dated 27th april 1872
I cannot find any info on this ship, a screw steamer called Dale of Boston which I would appreciate and cannot find any info on the use of the silver axe except on a link to
http://www.nykline.co.jp/engliSH/seascope/200501/index.htm
where I quote a short description from this article: Usually a woman cuts the cord that lets the champagne bottle fall, and she generally uses scissors, a knife or an Axe. In Japan, however, silver axes are preferred, for they are thought to bring good luck and scare away evil.
Any further info would greatly be appreciated
Yours in anticipation
Malcolm Stander
---
---
Replies to questions
Bert Hoebink receives this reply about the mark of his knife ( see October Newsletter)

Mr. Hoebink has a plated knive made by Walker and Hall, Sheffield. The EP means electroplate.
Karin Sixl-Daniell writes:
The mark is the mark for electroplated article from Walker&Hall
---

Graham Griffiths receives this reply about his two set of spoons marked with a logo + CCCP ( see October Newsletter)

Mr Griffiths spoons may have been made in the former Soviet Union. CCCP is the initials for the USSR in the cyrillic (Russion) alphabet
---

Tina Reuwsaat receives this reply about her set of EPNS England silver spoons ( see October Newsletter)

1915-1940 is probably the span of a marriage. 25 years is the so-called silver anniversary and so a set of spoons -even though these are not silver, just cheap electroplate - would be an appropriate, if modest gift. (Who knows,it may have been a modest marriage.) Judging from what appears to be a rough scrape along the edge of the spoon, my guess is that someone cut the end off the bowl to achieve something of a bizarre example of handicraft.
---

Alan Yates receives this reply to his question about English hallmarks ( see October Newsletter) Leslie Salvage writes:
In view of the actual question that Alan Yates asked I decided to get in touch with an existing British Assay Office, and the following is their reply which means that my book of hallmarks has been superseded.

'''''The EU directive didn't happen, much to our relief, but there have been changes to our hallmarks.
From the beginning of 1999, a British hallmark consists of 3 compulsory elements: the sponsor's mark, the town mark and a standard mark consisting of a number, showing the parts per thousand of the precious metal, by weight - eg 925 for sterling silver. Silver standard marks are in an oval, gold in a rectangle with cut corners, platinum in a pentagon.
The date letter is now an optional extra (this was brought about by a European Court ruling). The old pictorial standard marks, such as the lion, can be added to anything not below the standard on which the mark was used before (eg the lion can appear on sterling silver and, at least in theory, on Britannia and the new 999 standard, but not on the new 800.) There are some new standards for all the metals.
We have also agreed to accept the hallmarks of other European countries, if: they have been applied after testing, to satisfactory standards, by an independent body; and they are intelligible to a British purchaser. A list of countries has been issued by the DTI, but the validity of their hallmarks in the UK has not yet been tested in the courts, and we have no statistics for the number of items imported under this system.
Our website www.theassayoffice.co.uk may be helpful ''''

Alan Yates was right! Unaware of most of us the ancient English hallmarking system is dead...
Giorgio Busetto
---
---
"A PAGE per MONTH"
In this column we present a page (one page only) obtained from makers' brochures, books, auction catalogs or whatever other printed paper, which may be of particular interest for ASCAS members.
The images will be published at a "low resolution" level and for private and personal use only
This month ASCAS presents the images of a tea and coffee set in Renaissance style from the 1933 catalogue of A. Calderoni firm (Via Durini 31 - Milano Italy), suppliers of the King of Italy.
The set comprises teapot, coffee pot, milk jug, sugar bowl and tray, weighing about 6100 grams (215 oz.) and claiming 2 months of work by artist silversmith.


---
"A WORD per MONTH"
In this column we presents an abstract from a page of the "What is? Silver Dictionary"
courtesy of

PRICKLING

The technique of decorating a silverware by series of small dots by needle-point by persons who were unskilled in engraving.
Prickling was often used for making monograms, initials or dates....
more
(an ancient example of "prickling" is present also on the Roman Trulla illustrated in past month #30 Members' window)
---
---
DISCLAIMER AND PRIVACY POLICY
ASCAS is a community of people having a common interest in antique silver.
It is a non-profit association without commercial links. Membership is open to whomever has a true interest in this subject matter.
ASCAS has no real property and no fees are requested nor accepted from members.
ASCAS keeps in touch with its members only through periodical newsletters, e-mails and web-site updating and ignores and is not responsible for any other activity pursued by its members.
Likewise, ASCAS is not responsible for opinions, evaluation and images displayed, and in any form published or supplied for publication, by its members who, in any case, maintain the property of their works and assure the respect of national and international legislation about Intellectual Property.
ASCAS does not have the full addresses of its members (only town, country and e-mail address are requested for membership).
ASCAS handles and protects with care its members e-mail addresses, will not disclose the addresses to third parties, will use this information only to reply to requests received from members and for communications strictly related to its activity.
These rules are expressly accepted by submitting the membership request.