---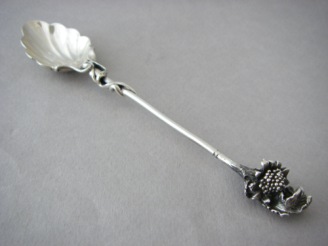 Christine Erratt presents:

Silver Spoons and Australian Flora



Australia's unique flora has been portrayed in the decorative arts since the early colonial times of the last decade of the 18th century. The use of Australian flora to decorate silverware is of particular interest and diversity.
Early colonial works before the 1850s are few and far between a combination of lack of wealth and paucity of available silver. By the second half of the 19th century the colony had become wealthier. The gold rush of the 1850s brought a massive influx of immigrants, as did the promise of a better life for many from Europe at that time. German and Danish immigrants to South Australia included a number of trained silversmiths who found a society ready to support their work, which became prolific.....
click here

---
Welcome to new ASCAS members:
---
Members' Window # 102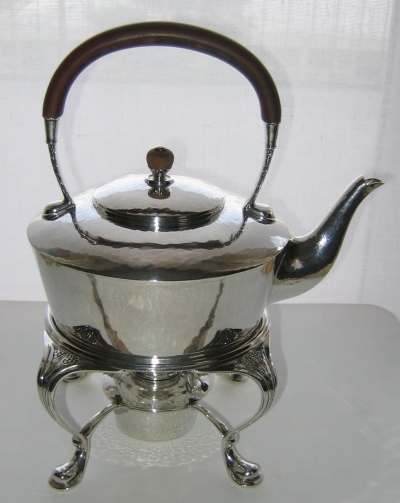 Giovanni Ciceri presents:

A tea kettle by Liberty & Company

From the second quarter of 1900 while in Scandinavia was becoming popular the simple, attractive and functional style introduced by Georg Jensen, in other parts of Europe, including the United Kingdom, the few silversmiths who left the conservatism of their productions, were more aimed at pure lines and geometric forms, not always of functional use, dictated by the Modernism continuing in a non-positive way the path opened by Christopher Dresser.

A pleasant exception in U.K. is represented by the production of Liberty and Co. and the beautiful designs of C. R. Ashbee in "Arts & Crafts" style.

Large manufacturers such as Mappin & Webb, Walker & Hall, Elkington, William Hutton & Sons, Arthur Price & Co were instead mostly concerned to the merely commercial production of silverware and only occasionally engaged talented designers as was Keith Murray by Mappin & Webb......
click here

---
Kevin J. Villa writes:
... I just found this medical kit at an estate. I cleaned out, wondered if you could tell me anymore about it.
It is marked .925. I know that it's English and made by Burroughs Wellcome Co. Is the date 1909?
It is 4 1/4 inches long by 3 1/4 wide by about an inch thick.
Thank You,
Kevin J. Villa
Your item is dated London 1909. The maker is, possibly (the image isn't well readable) Sir Bache Cunard Bt.
Giorgio Busetto
---
Michael Speedway writes:
... Could you help me with two spoons? I think one of them is an Elkington & co, but I am not sure about the other one.
I would much appreciate if you have a look at the pictures attached to this email.
Thank you,
Michael Speedway
---
Chris Madoyris writes:
... I was hoping on some feedback on a sterling silver cigar case that I own. It's been in my possession for nearly thirty years. I bought it at a garage sale when I was in my early teens and have always wondered about its history.
I've conducted some on-line research over the years but ended confused as of its history. Could you shed some light on the hallmarks as attached to the case?
Your thoughts about the item would be welcome.
The measurement are
125mm long - 74mm wide - 17mm thick 157g weight
Once again thank you
Chris Madoyris
Your cigar case is marked London 1841 and the maker is Edward Edwards II. He was, possibly, the son of Edward Edwards I and entered his marks in 1828, 1840 and 1841. He was active at 60 Red Lion Street, London (from 1829).
Giorgio Busetto
---
Hymie Dinerstein writes:
... I need help in identifying a circular box with a pull off lid.
This is a good quality box which is 2 7/8" (73mm) wide and 1" (23mm) thick and weighing 141 grams.
I am attaching pictures with photo of the only mark underneath and the initials on the lid.
Can you help identify this piece.
Regards
Hymie Dinerstein
---
Paola Venturelli writes:
... I need your help to identify the marks of a chalice with silver base and ivory cup. I believe it's a 19th century manufacture.
Paola Venturelli
---
Christophe Ginter writes:
... Regarding the last ASCAS newsletter and precisely Cornelia Thier's request.
Obviously a "danziger" (under German vocable) item, datation 1840-1870, sterling silver.
The silversmith is Michael STUMPF, registered approximately 1835-1870 in this city.
The "W" is punched as a belonging mark to Prussia (Preussen mark), not as a datation mark, the famous city part of German states until 1918, today GDANSK in Poland.
Christophe Ginter
Charles C. Cage writes:
... Regarding Cornelia Thier's lovely candelabrum, it is indeed from Danzig/Gdansk. The maker "M. Stumpf" is the Carl Moritz Stumpf, master 1832, died 1894. The "W" is the mark of assayer Carl August Winkelmann, who served in that office 1841-1844 and again 1846-1849, this narrowing the date of manufacture.
Charles C. Cage
---
---
In this column we presents a page obtained from makers' brochures, books, auction catalogs, advertising or whatever other printed paper, related to silver, that may be of interest for ASCAS members.
The images will be published at a "low resolution" level and for private and personal use only
This month ASCAS presents a National Silver Company 1940 advertisement of their Golden Jubilee Pattern

GARDEN OF ROSES

"All the beauty of an enchanted rose garden faultlessly fashioned in gleaming silverplate to thrill women everywhere with its loveliness! - This Garden of Roses pattern celebrates National Silver Company's Golden Jubilee - 50 years of offering distinguished silverplate design at prices any one can afford to pay!...."

- 81 pieces double tested silverplate $ 22.50 -

The firm began its activity in 1890 with Samuel E. Barnstein and became the National Silver Company before 1904.
It had an English division in Sheffield: Cheltenham & Company Ltd (before 1950).
F.B. Rogers Silver Company was purchased in 1955 and Ontario Manufacturing Company in 1956.
The firm used the trademarks Monarch Silver Company and Viceroy Silver Company.
---
"A WORD per MONTH"
ICE WATER PITCHER

The ice water pitcher is a typical device of American Victorian silverplate.
It was used to maintain cold water drink before mechanical refrigeration outmoded its use.
There were many different styles of these pitchers. The early ones had straight sloping sides (similar to old- fashioned coffeepots); later ones were mounted on tilting racks.
The tilting device permitted to pour water without being compelled to lift the (heavy) pitcher, and, in some cases, was constructed with a base forming a tray for holding goblet and for catching the water that condensed and dripped outside of the pitcher..... more




---
"A SILVERSMITH per MONTH"


ROGERS: A DYNASTY OF AMERICAN SILVER MANUFACTURERS

Rogers is a recurrent name in American makers of sterling and silverplate ware.
There is a great confusion about the firms bearing this name.
The number of companies using the Rogers name is countless. The men managing the various "Rogers" companies sometimes were linked by family relationships but often this was not the case.
Lots of companies with this name were created, merged, separated in an endless succession of intertwined relationships......
more



---
"A BOOK ON MY SHELF"
In this column we present books, new or ancient, dealing with silver in all its aspects (history, marks, oddities...). This isn't a "book review" but only a fair presentation of some useful "tools" that anyone may have in the shelf of his bookcase.
ASCAS members are invited to contribute to this column
(click to enlarge images)
In the "book on my shelf" of this month ASCAS presents:
TEA & TASTE: THE VISUAL LANGUAGE OF TEA

by Tania M. Buckrell Pos
Schiffer Publishing Ltd
-2004-

Never before has there been a book focusing on the theme of tea as it relates to both the fine and decorative arts. With over 330 beautiful color images, this book explores the history of tea with special attention to the impact its popularity has had on the development of porcelain, furniture, silver, and the other decorative objects employed in serving tea. Here are teapots, cups and saucers, kettle stands, tea caddies, silverware, and more, inspired both by the expense of the tea itself and the various social significances surrounding its consumption.
The valued place of tea in society at all levels has also created a subject for the fine arts. From maritime paintings, to portraiture and still lifes, artists have captured the romance of tea through the works shown in this book.
Images from top dealers, galleries, and collectors, representing some of the highest quality tea ware created, illustrate the fascinating and well researched text to please readers around the world.
---
Custom Search
---
Closing our November 2012 edition of ASCAS Newsletter I hope you have appreciated its content.
Your comments, suggestions and advice will be of great help.

My thanks to Giovanni Ciceri, Hymie Dinerstein, Christine Erratt, Chris Madoyris, Michael Speedway, Paola Venturelli, Kevin J. Villa for their invaluable contributions.

Giorgio Busetto
Secretary

DISCLAIMER AND PRIVACY POLICY
ASCAS is a community of people having a common interest in antique silver.
It is a non-profit association without commercial links. Membership is open to whomever has a true interest in this subject matter.
ASCAS has no real property and no fees are requested nor accepted from members.
ASCAS keeps in touch with its members only through periodical newsletters, e-mails and web-site updating and ignores and is not responsible for any other activity pursued by its members.
Likewise, ASCAS is not responsible for opinions, evaluation and images displayed, and in any form published or supplied for publication, by its members who, in any case, maintain the property of their works and assure the respect of national and international legislation about Intellectual Property.
ASCAS does not have the full addresses of its members (only town, country and e-mail address are requested for membership).
ASCAS handles and protects with care its members' e-mail addresses, will not disclose the addresses to third parties, will use this information only to reply to requests received from members and for communications strictly related to its activity.
These rules are expressly accepted by submitting the membership request.