---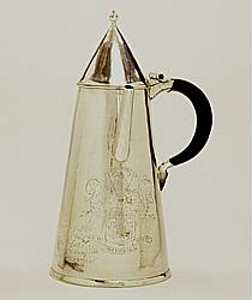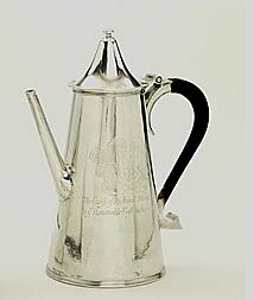 David McKinley presents:

The History of Early English Silver Tea Equipage



It has been said that there is more tea drunk in England than in any other country in the world and tea is known as the English national drink. It is difficult to know why this is but it may be that tea was looked on in its early days as a status symbol. When tea first came to England it was believed to have medicinal properties and was very expensive so that it was only drunk by the wealthy.

Another mystery surrounding the consumption of tea in England is the way in which it is taken. Originally it was imported from China and the Chinese did not, at the time, use dairy products at all yet the English habitually put milk in their tea. It cannot be established when exactly this practice started but it was certainly well established by the 18th century. The international traveller Per Kalm on a visit to England in 1748 wrote "most people pour a little cream or sweet milk into the tea cup when they are about to drink the tea..."....

click here

---
Welcome to new ASCAS members:
---
Iain F. writes:
...I have a gold bonbonniere which looks to have French hallmarks (set of 3), possibly late 1700's.
The item is about 44mm across. Three sets of hallmarks, lid, base & base rim. Possibly one single hallmark on side of base - looks like a head/side face.
I need your help to identify the marks.
Kind regards
Iain
---
---
This month ASCAS presents an ancient advertisement of:

ADAMS, CHANDLER & CO

No 20 John St. New York


Active in the salesroom at 20 John Street, New York (the factory was in Brooklyn).
John P. Adams was active from c. 1868 as Adams & Price. Acquiring in 1869 a new partner (Henry S. Chandler) the firm changed its name to Adams, Chandler & Co.



This image is part of the ADVERTISEMENTS IN SILVER - SILVER ADVERTISING section of www.silvercollection.it website
---
"A WORD per MONTH"
SPOON HOLDER
SPOON GOBLET

(VASE SHAPE)

Spoon holders of the "two handled vase" shape may be considered an exclusively American form.
While spoon trays, spoon racks and various combinations of sugar bowls and spoon racks can be found elsewhere, the "vase-shaped" spoon holder is an American invention.

Their production began in the 1850s, being also called "spoon goblets" in early Rogers Bros Mfg. Co catalogs.

The success of this new type of tea/coffee set implement is demonstrated by the presence of 15 spoon holders of different style in 1867 Meriden Britannia Co, 45 in 1885 Reed & Barton and 42 in 1886 Meriden Britannia Co catalogs.....
more




---
"A SILVERSMITH per MONTH"
C.J. VANDER - C.J. VANDER LTD

successors to ALEXANDER MACRAE - MACRAE & GOLDSTEIN - MARTIN GOLDSTEIN

The origins of the company date back to Alexander Macrae who established his business in 1856 (32 Bow Street, Covent Garden, London). In 1870 he entered in partnership with Martin Goldstein changing the firm's name to Macrae & Goldstein. The partnership was dissolved in 1878 and Martin Goldstein continued to trade under his own name until 1886, when he sold the firm to Cornelius Joshua Vander (1837-1904).
Cornelius Joshua Vanderpump (this was the name before Anglicisation) was apprenticed to Macrae & Goldstein and entered his first mark on 18 October 1886 (the firm's address was now 17 lisle Street, Soho).
C.J. Vander continued the activity until his death (1904), when the business was continued by his sons Henry and Alfred Vander. In the 1920's Henry's sons (Henry and Arthur) and Alfred's son (Norman) entered in the business.....
more





---
"A CREST per MONTH"
CATHCART - CLATER - ELLIOT - ELLIOTT - KERNABY - KNOWS - LEES - LOSH - NAPIER - ROBERTSON - SMELLIE - SOMMERVILLE - SOMERVIL

The crest of various English, Irish and Scottish families: CATHCART (Ayrs.) - CLATER (Eng.) - ELLIOT - ELLIOTT - KERNABY (Eng.) - KNOWS (Sco.) - LEES (Iri.) - LOSH (Eng.) - NAPIER (Sco.) -ROBERTSON (Sco.) - SOMMERVILLE (Sco.) - SOMERVIL (Sco.) - SMELLIE (Lon. and Sco.)
A dexter cubit arm, erect, in hand a crescent.

The crest was found on a silverplate milk jug made by Elkington & Co, dated 1903
---
Custom Search
---
Closing our OCTOBER 2014 edition of ASCAS Newsletter I hope you have appreciated its content.
Your comments, suggestions and advice will be of great help.

My thanks to Iain Fraser and David McKinley for their precious contributions.

Giorgio Busetto
Secretary
DISCLAIMER AND PRIVACY POLICY
ASCAS is a community of people having a common interest in antique silver.
It is a non-profit association without commercial links. Membership is open to whomever has a true interest in this subject matter.
ASCAS has no real property and no fees are requested nor accepted from members.
ASCAS keeps in touch with its members only through periodical newsletters, e-mails and web-site updating and ignores and is not responsible for any other activity pursued by its members.
Likewise, ASCAS is not responsible for opinions, evaluation and images displayed, and in any form published or supplied for publication, by its members who, in any case, maintain the property of their works and assure the respect of national and international legislation about Intellectual Property.
ASCAS does not have the full addresses of its members (only town, country and e-mail address are requested for membership).
ASCAS handles and protects with care its members' e-mail addresses, will not disclose the addresses to third parties, will use this information only to reply to requests received from members and for communications strictly related to its activity.
These rules are expressly accepted by submitting the membership request.