---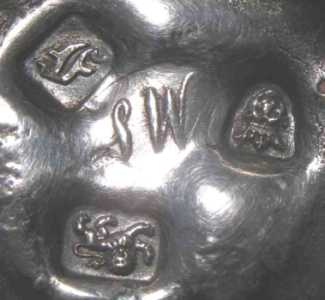 David McKinley presents:

Apprenticeship and Freedom for the English Goldsmith



A subject not dealt with, except in passing, in most books on the subject of antique silver plate is apprenticeship and freedom and the student is left to make what he or she can out of the available information. For this reason a few words about the requirement laid upon all English goldsmiths before they could have any hallmarks applied to their plate would seem appropriate.....
click here

---
Welcome to new ASCAS members:
---
Members' Window # 101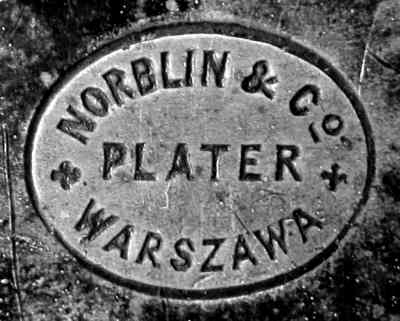 Dr. David N. Nikogosyan presents:

Marks of European Silver Plate: XIII. Norblin, Russia/Poland



Three years ago I published a Member's Window in ASCAS newsletter devoted to the Warsaw silver plate factories Fraget and Norblin. Since then I found new material, both in literature and in my recent acquisitions, which has allowed me the revising and updating of the Fraget part of my previous Members' Window. Now it is time to revise the Norblin part.
The history of the Norblin company is well known. Vincent Norblin (1805-1872) was born in Paris. His life story reads like a cheap fiction. At the age of fourteen, Vincent appeared in Warsaw, where his father, the jeweller Alexandre Jean Constantin Norblin (1777-1828), together with Vincent's uncles was running a small enterprise, a bronze foundry (founded in 1819)......
click here

---
Rosa Pericone writes:
... I'd wish some information about a little object belonging to my family.
Thanks to your site I know that it is marked Birmingham 1904 but any further information would be highly appreciated.
Rosa Pericone
---
Matthew Grieb writes:
... I am unable to identify this dessert flatware set. My Great, Great, Great aunt gave it to my mother.
Please see attached photos.
Any info would be great.
Thank you,
Matthew Grieb
---
Christene de Somer writes:
... May I kindly request for your help in identifying these silver spoons?
I have absolutely no idea about their origin or age.
Many thanks in advance for your help,
Christene de Somer
Your spoons are "Hanau Silver" made in Germany by J.D. Schleissner & Söhne c. 1900.
More about Hanau Silver at http://www.silvercollection.it/dictionaryhanausilver.html
Giorgio Busetto
---
Norbert Mizne writes:
... I own a silver sugar box with a key. Similar items are shown in your article #89.
I cannot decipher the markings:
12 LATH:SILRF1
The A is more like an upside U with uneven legs.
T 1 could be an I.
Can you help or advise me?
Thanking you in advance,
Norbert Mizne
Your box is marked "12 LOTH SILBER". German area (Germany, Austria) used until late '800 a measurement system called Lothige. Markings were numbers such as 12, 13 or 14. Silver fineness 12 Loth is .750 silver content, 13 Loth is .812 1/2 and 14 Loth is .875 silver content.
I have scarce knowledge of the matter, but the marking of your box looks uncommon, lacking any other mark usually present to confirm its quality of solid silver (town mark, silversmith mark).
I hope that someone better acquainted with the matter will be able to supply further information about your item.
Giorgio Busetto
---
Cornelia Thier writes:
... I would like more information on this candle holder (date, maker). It was bought from a Jewish lady.
It bears the mark with the crown and below two crosses, which I believe is the Danzig coat of arms.
Also the letter 'W' is stamped next the Danzig hallmark as well as the name 'M.STUMPE'.
Thanks and kind regards
Cornelia Thier
---
---
In this column we presents a page obtained from makers' brochures, books, auction catalogs, advertising or whatever other printed paper, related to silver, that may be of interest for ASCAS members.
The images will be published at a "low resolution" level and for private and personal use only
This month ASCAS presents an 1870 advertisement of a patented butter dish of Ernest Kaufmann, Philadelphia





KAUFMAN'S PATENT BUTTER DISH

Ernest Kaufmann (not Kaufman as titled in the ad) was active at 248 North 8th Street, Philadelphia, Pa as "Manufacturers of Superior Silver Plated & Britannia Wares, Established in 1857" (but the firm was listed in 1855 Philadelphia City Directory).

In this ad (published in June 1870 edition of The Watchmaker and Jeweler) the firm promoted "...the greatest improvement yet made in REVOLVING BUTTER DISHES. The above is a view of the dish with the inside bowl taken out, overcoming the inconvenience of cleaning , - therefore there were no means by which the obnoxious odor produced by the butter underneath could be removed.
Another great improvement is the spring to hold the cover and the slip-collars which hold the journals, or pivots, of the cover in place.






---
"A WORD per MONTH"
FOLDING BISCUIT BOX
BISCUIT WARMER

This is a type of biscuit box in the form of a stand having two or three bowls hinged at the bottom.
When the device is closed the bowls rise to a vertical position fastening to the central column. The column has a loop handle or an ornamental finial.
The bowls drop to a horizontal position when biscuit box is open. Each bowl has a hinged flap with pierced work to help retain the warmth. .... more




---
"A SILVERSMITH per MONTH"


JOHN ROUND & SON LTD
successors of JOHN ROUND and JOHN ROUND & SON

The firm was established by John Round in Sheffield in 1847 as a small familiar workshop attached to his house in Tudor Street.
The business proved successful and the firm in partnership with his son Edwin went under the title of John Round & Son.
In 1874 the firm became John Round & Son Ltd. At the time the Round family ceased to have an active rule in the business and the firm was managed by Henry Pawson, Joseph Gamble and J.B. Barber as directors (in 1875 Edwin Round & Son Ltd, Holly Street, entered its mark in Sheffield Assay Office).....
more



---
"A BOOK ON MY SHELF"
In this column we present books, new or ancient, dealing with silver in all its aspects (history, marks, oddities...). This isn't a "book review" but only a fair presentation of some useful "tools" that anyone may have in the shelf of his bookcase.
ASCAS members are invited to contribute to this column
(click to enlarge images)
In the "book on my shelf" of this month ASCAS presents:
AMERICAN SILVERPLATE

by Dorothy Rainwater with Donna Felger
Schiffer Publishing Ltd - Atglen PA - USA
-2000-

Beautiful silverplate has graced American homes since the earliest days. Though a source of pride and pleasure for so long, little has been written about it.
Now, in this volume, you find a complete history of silverplating materials, refining process, and design changes. Color illustration and more than 500 photographs and line cuts depict the full range of silverplated articles from colonial days to the present.
In compiling the contents, Mr. and Mrs. Rainwater utilized approximately 28 sources including silverplate manufacturers and collectors.
---
Custom Search
---
Closing our October 2012 edition of ASCAS Newsletter I hope you have appreciated its content.
Your comments, suggestions and advice will be of great help.

My thanks to Christene de Somer, Matthew Grieb, David McKinley, Norbert Mizne, Dr. David N. Nikogosyan, Rosa Pericone and Cornelia Thier for their invaluable contributions.

Giorgio Busetto
Secretary

DISCLAIMER AND PRIVACY POLICY
ASCAS is a community of people having a common interest in antique silver.
It is a non-profit association without commercial links. Membership is open to whomever has a true interest in this subject matter.
ASCAS has no real property and no fees are requested nor accepted from members.
ASCAS keeps in touch with its members only through periodical newsletters, e-mails and web-site updating and ignores and is not responsible for any other activity pursued by its members.
Likewise, ASCAS is not responsible for opinions, evaluation and images displayed, and in any form published or supplied for publication, by its members who, in any case, maintain the property of their works and assure the respect of national and international legislation about Intellectual Property.
ASCAS does not have the full addresses of its members (only town, country and e-mail address are requested for membership).
ASCAS handles and protects with care its members' e-mail addresses, will not disclose the addresses to third parties, will use this information only to reply to requests received from members and for communications strictly related to its activity.
These rules are expressly accepted by submitting the membership request.